Alexander Rossi topped Friday IndyCar practice in Detroit, but Indianapolis 500 winner Simon Pagenaud halted the afternoon session by smacking a wall.
The red flag for that incident prevented most of Rossi's rivals setting a representative time on the alternate compound tires.
Rossi's Andretti Autosport Dallara-Honda had jumped half a second clear of the first frontrunner to set a strong time on alternate compounds, Josef Newgarden of Team Penske, when Newgarden's team-mate Pagenaud struck a wall with his left-rear tyre and ground to a halt on track with a broken toelink.
Rossi's 1m15.1367s lap therefore remained top, 0.5274 seconds clear of Newgarden, with Scott Dixon of Chip Ganassi Racing and Will Power of Penske the only other drivers to break the 1m16s barrier.
Graham Rahal, a double 2017 winner in Detroit, was fifth ahead of Ryan Hunter-Reay in a second Andretti car, with Spencer Pigot, James Hinchcliffe, Pagenaud and Ed Jones completing the top 10.
Hinchcliffe's Arrow SPM team-mate Marcus Ericsson was quickest of the rookies in 11th.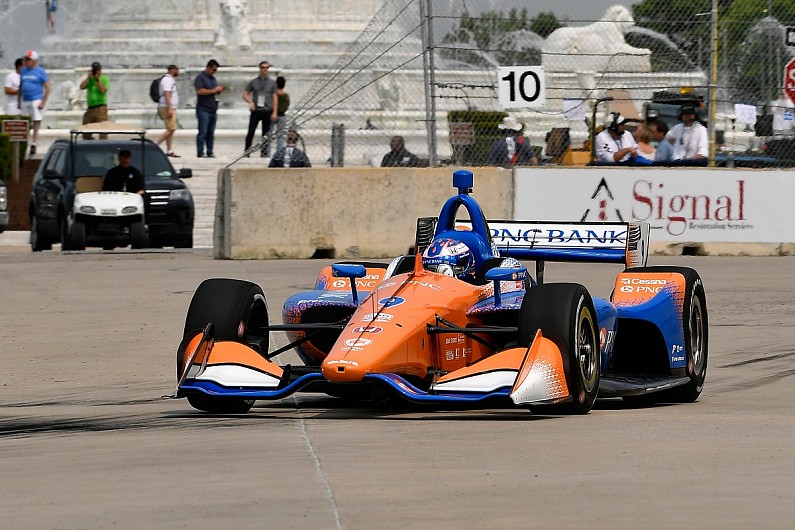 Dixon had been fastest by a daunting margin in opening practice in the morning, lapping in 1m16.7418s on a very 'green' track surface.
Power was left 0.3464s adrift in second place, as he proved the busiest driver of the session, racking up 20 laps - his last being his best.
He was just 0.0178s clear of Hunter-Reay in third, with Newgarden, Rahal and quickest rookie Colton Herta completing the top six.
The only stoppage in the morning was caused by Sebastien Bourdais outbraking himself at Turn 7 and stalling his Dale Coyne Racing with Vasser-Sullivan Dallara-Honda down the run-off area.
Practice one times

| Pos | Driver | Team | Car | Time | Gap | Laps |
| --- | --- | --- | --- | --- | --- | --- |
| 1 | Scott Dixon | Chip Ganassi Racing | Dallara/Honda | 1m16.7418s | - | 13 |
| 2 | Will Power | Team Penske | Dallara/Chevrolet | 1m17.0882s | 0.3464s | 20 |
| 3 | Ryan Hunter-Reay | Andretti Autosport | Dallara/Honda | 1m17.1060s | 0.3642s | 14 |
| 4 | Josef Newgarden | Team Penske | Dallara/Chevrolet | 1m17.1981s | 0.4563s | 17 |
| 5 | Graham Rahal | Rahal Letterman Lanigan | Dallara/Honda | 1m17.2201s | 0.4783s | 15 |
| 6 | Colton Herta | Harding Racing | Dallara/Honda | 1m17.2252s | 0.4834s | 20 |
| 7 | Zach Veach | Andretti Autosport | Dallara/Honda | 1m17.4667s | 0.7249s | 16 |
| 8 | Alexander Rossi | Andretti Autosport | Dallara/Honda | 1m17.5080s | 0.7662s | 16 |
| 9 | Spencer Pigot | Ed Carpenter Racing | Dallara/Chevrolet | 1m17.6079s | 0.8661s | 14 |
| 10 | Takuma Sato | Rahal Letterman Lanigan | Dallara/Honda | 1m17.6555s | 0.9137s | 11 |
| 11 | Patricio O'Ward | Carlin | Dallara/Chevrolet | 1m17.6790s | 0.9372s | 16 |
| 12 | Simon Pagenaud | Team Penske | Dallara/Chevrolet | 1m17.7087s | 0.9669s | 15 |
| 13 | Sebastien Bourdais | Dale Coyne Racing | Dallara/Honda | 1m17.8645s | 1.1227s | 11 |
| 14 | Marco Andretti | Andretti Herta | Dallara/Honda | 1m17.8788s | 1.1370s | 15 |
| 15 | Max Chilton | Carlin | Dallara/Chevrolet | 1m17.9434s | 1.2016s | 12 |
| 16 | James Hinchcliffe | Schmidt Peterson Motorsports | Dallara/Honda | 1m18.2704s | 1.5286s | 11 |
| 17 | Tony Kanaan | AJ Foyt Enterprises | Dallara/Chevrolet | 1m18.4970s | 1.7552s | 16 |
| 18 | Santino Ferrucci | Dale Coyne Racing | Dallara/Honda | 1m18.6083s | 1.8665s | 19 |
| 19 | Marcus Ericsson | Schmidt Peterson Motorsports | Dallara/Honda | 1m18.6412s | 1.8994s | 17 |
| 20 | Ed Jones | Ed Carpenter Racing | Dallara/Chevrolet | 1m18.6861s | 1.9443s | 15 |
| 21 | Felix Rosenqvist | Chip Ganassi Racing | Dallara/Honda | 1m18.6868s | 1.9450s | 20 |
| 22 | Matheus Leist | AJ Foyt Enterprises | Dallara/Chevrolet | 1m19.1186s | 2.3768s | 13 |
Practice two times

| Pos | Driver | Team | Car | Time | Gap | Laps |
| --- | --- | --- | --- | --- | --- | --- |
| 1 | Alexander Rossi | Andretti Autosport | Dallara/Honda | 1m15.1367s | - | 14 |
| 2 | Josef Newgarden | Team Penske | Dallara/Chevrolet | 1m15.6641s | 0.5274s | 13 |
| 3 | Scott Dixon | Chip Ganassi Racing | Dallara/Honda | 1m15.7824s | 0.6457s | 16 |
| 4 | Will Power | Team Penske | Dallara/Chevrolet | 1m15.8713s | 0.7346s | 17 |
| 5 | Graham Rahal | Rahal Letterman Lanigan | Dallara/Honda | 1m16.0757s | 0.9390s | 14 |
| 6 | Ryan Hunter-Reay | Andretti Autosport | Dallara/Honda | 1m16.1964s | 1.0597s | 11 |
| 7 | Spencer Pigot | Ed Carpenter Racing | Dallara/Chevrolet | 1m16.2154s | 1.0787s | 16 |
| 8 | James Hinchcliffe | Schmidt Peterson Motorsports | Dallara/Honda | 1m16.2551s | 1.1184s | 14 |
| 9 | Simon Pagenaud | Team Penske | Dallara/Chevrolet | 1m16.2923s | 1.1556s | 16 |
| 10 | Ed Jones | Ed Carpenter Racing | Dallara/Chevrolet | 1m16.3039s | 1.1672s | 17 |
| 11 | Marcus Ericsson | Schmidt Peterson Motorsports | Dallara/Honda | 1m16.3759s | 1.2392s | 12 |
| 12 | Zach Veach | Andretti Autosport | Dallara/Honda | 1m16.5364s | 1.3997s | 15 |
| 13 | Colton Herta | Harding Racing | Dallara/Honda | 1m16.5965s | 1.4598s | 11 |
| 14 | Sebastien Bourdais | Dale Coyne Racing | Dallara/Honda | 1m16.7427s | 1.6060s | 13 |
| 15 | Takuma Sato | Rahal Letterman Lanigan | Dallara/Honda | 1m16.7481s | 1.6114s | 13 |
| 16 | Felix Rosenqvist | Chip Ganassi Racing | Dallara/Honda | 1m16.8272s | 1.6905s | 24 |
| 17 | Patricio O'Ward | Carlin | Dallara/Chevrolet | 1m16.8539s | 1.7172s | 12 |
| 18 | Santino Ferrucci | Dale Coyne Racing | Dallara/Honda | 1m17.1845s | 2.0478s | 16 |
| 19 | Max Chilton | Carlin | Dallara/Chevrolet | 1m17.1998s | 2.0631s | 12 |
| 20 | Matheus Leist | AJ Foyt Enterprises | Dallara/Chevrolet | 1m17.2856s | 2.1489s | 14 |
| 21 | Tony Kanaan | AJ Foyt Enterprises | Dallara/Chevrolet | 1m17.3131s | 2.1764s | 13 |
| 22 | Marco Andretti | Andretti Herta | Dallara/Honda | 1m17.3325s | 2.1958s | 13 |