Fernando Alonso says failing to qualify for the Indianapolis 500 would be "what we deserve" if McLaren cannot find more speed in Sunday's 'Bump Day' session.
Double Formula 1 world champion Alonso fell 0.02mph short of guaranteeing a place on the grid for his IndyCar return during first qualifying on Saturday, his 227.224mph average from his fifth attempt just shy of Pippa Mann's 30th placed speed of 227.244mph.
That left Alonso 31st fastest of the 36 runners, which means he faces a showdown with James Hinchcliffe, Kyle Kaiser, Sage Karam, Patricio O'Ward and Max Chilton for one of the final three places in the field on Sunday.
The sextet will get half an hour of practice in the morning, then each has a single four-lap qualifying run to try to get into the field.
"We'll try to do these four laps clean, no mistakes, try to be flat all four, and then if it's enough to be in the top three of the six, we'll take it, and we will try to do a good race," said Alonso.
"If it's not enough and we are fourth of six, it's what we deserve; there were maybe three cars quicker than us.
"So nothing we can do more than that. Try to execute the runs the best we can, and the same thing we did [on Saturday]: stay calm, stay focused, and try to do a good job."
Alonso's second Indy 500 bid has been troubled so far, with electrical problems then a crash costing him substantial practice mileage.
He was fastest in the final practice session before qualifying on Saturday morning, but had a rear puncture on an early qualifying run and could not find enough speed on subsequent attempts.
---
How 2019 Indy 500 qualifying works
Saturday's traditional day-long qualifying session began with all 36 drivers getting a four-lap run in an order decided at random.
Once that process was complete, they had the rest of the seven-hour session to attempt further runs to improve their average speeds.
At the end of the Saturday session, positions 10-30 were locked in.
The top nine drivers from Saturday go into a 'Fast Nine' shootout for pole on Sunday, where they each get another run to decide the first three rows of the grid.
That session takes place after the 'Bump Day' runs in which the slowest six from Saturday fight for the last three places in the 33-car field.
If rain intervenes on Sunday, the top nine from Saturday will stand but attempts will be made to run the 'Bump Day' element on Monday instead.
---
"It has been a difficult day again, a difficult week in general but difficult day," Alonso said after qualifying on Saturday evening.
"The run in the morning maybe the conditions were not too bad. We thought that it was not a great number [speed], but the teams were moving quickly and we went out around one o'clock.
"I think the conditions were OK, but we had a rear puncture at that time, so we waited until the afternoon to see the conditions, see if they were a bit cooler, and they were.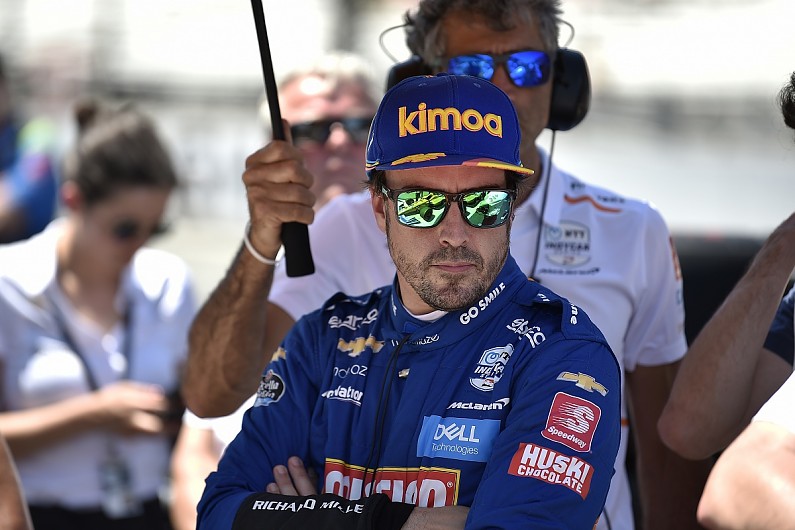 "We took the chance of another two, three runs to improve. We slightly improved the average lap, but it was not enough to be in the top 30 unfortunately, so we need to try again [on Sunday], and now stay calm.
"Obviously it's a difficult moment for everyone in the team and for me, but there's not much we can do now.
"All four laps are flat out, it's not that you are lifting here and there. The speed that we have is quite not enough to be in the top 30.
"So we will try to do something overnight, But there is not much we can find from one day to the next.
"But hopefully it's enough to be in the top three positions of the six."
Saturday qualifying speeds
| Pos | Driver | Team | Car | Speed |
| --- | --- | --- | --- | --- |
| 1 | Spencer Pigot | Ed Carpenter Racing | Dallara/Chevrolet | 230.083 |
| 2 | Will Power | Team Penske | Dallara/Chevrolet | 230.081 |
| 3 | Simon Pagenaud | Team Penske | Dallara/Chevrolet | 229.854 |
| 4 | Josef Newgarden | Team Penske | Dallara/Chevrolet | 229.749 |
| 5 | Colton Herta | Harding Racing | Dallara/Honda | 229.478 |
| 6 | Ed Jones | Ed Carpenter Racing | Dallara/Chevrolet | 229.440 |
| 7 | Ed Carpenter | Ed Carpenter Racing | Dallara/Chevrolet | 229.349 |
| 8 | Alexander Rossi | Andretti Autosport | Dallara/Honda | 229.268 |
| 9 | Sebastien Bourdais | Dale Coyne Racing | Dallara/Honda | 228.800 |
| 10 | Marco Andretti | Andretti Herta | Dallara/Honda | 228.756 |
| 11 | Conor Daly | Andretti Autosport | Dallara/Honda | 228.617 |
| 12 | Helio Castroneves | Team Penske | Dallara/Chevrolet | 228.523 |
| 13 | Marcus Ericsson | Schmidt Peterson Motorsports | Dallara/Honda | 228.511 |
| 14 | Takuma Sato | Rahal Letterman Lanigan | Dallara/Honda | 228.300 |
| 15 | James Davison | Dale Coyne Racing | Dallara/Honda | 228.273 |
| 16 | Tony Kanaan | AJ Foyt Enterprises | Dallara/Chevrolet | 228.120 |
| 17 | Graham Rahal | Rahal Letterman Lanigan | Dallara/Honda | 228.104 |
| 18 | Scott Dixon | Chip Ganassi Racing | Dallara/Honda | 228.100 |
| 19 | Oriol Servia | Schmidt Peterson Motorsports | Dallara/Honda | 227.991 |
| 20 | Charlie Kimball | Carlin | Dallara/Chevrolet | 227.915 |
| 21 | J.R. Hildebrand | Dreyer & Reinbold Racing | Dallara/Chevrolet | 227.908 |
| 22 | Ryan Hunter-Reay | Andretti Autosport | Dallara/Honda | 227.877 |
| 23 | Santino Ferrucci | Dale Coyne Racing | Dallara/Honda | 227.731 |
| 24 | Matheus Leist | AJ Foyt Enterprises | Dallara/Chevrolet | 227.717 |
| 25 | Jack Harvey | Meyer Shank Racing | Dallara/Honda | 227.695 |
| 26 | Jordan King | Rahal Letterman Lanigan | Dallara/Honda | 227.502 |
| 27 | Ben Hanley | DragonSpeed | Dallara/Chevrolet | 227.482 |
| 28 | Zach Veach | Andretti Autosport | Dallara/Honda | 227.341 |
| 29 | Felix Rosenqvist | Chip Ganassi Racing | Dallara/Honda | 227.297 |
| 30 | Pippa Mann | Clauson-Marshall Racing | Dallara/Chevrolet | 227.244 |
| 31 | Fernando Alonso | McLaren Racing | Dallara/Chevrolet | 227.224 |
| 32 | Patricio O'Ward | Carlin | Dallara/Chevrolet | 227.065 |
| 33 | James Hinchcliffe | Schmidt Peterson Motorsports | Dallara/Honda | 226.956 |
| 34 | Sage Karam | Dreyer & Reinbold Racing | Dallara/Chevrolet | 226.951 |
| 35 | Max Chilton | Carlin | Dallara/Chevrolet | 226.934 |
| 36 | Kyle Kaiser | Juncos Racing | Dallara/Chevrolet | 225.918 |
Autosport has produced a standalone special magazine to celebrate our 70th birthday. All current print subscribers will receive a copy for free. To order your copy of the 196-page Autosport 70th Anniversary issue, please go to: autosport.com/autosport70th