Running three-wide battling for the lead at Chicagoland Speedway in 2008 with Penske team-mate Helio Castroneves to his inside and Chip Ganassi Racing's Dan Wheldon on his outside, Ryan Briscoe could be forgiven for having a lot on his mind.
But as well as the tiny corrections at the wheel and the barrage of radio traffic from his spotter, the fence post at Turn 3 kept drawing his attention.
"It was one of those scary races where you have to be so focused, but every lap I would glance at the pole," Briscoe recalls. "It was weird, but it didn't deter the concentration or anything, there was just this awareness of how lucky I'd been."
It was his first time back at the 1.5-mile oval since September 11 2005. That day he'd started from his first pole position in the series since moving across from a third driver role with Toyota's Formula 1 team.
But his race, and his season, were ended in an airborne accident reminiscent of the Texas Motor Speedway shunt that had effectively ended Kenny Brack's career two years before. Briscoe's Chip Ganassi Racing Panoz-Toyota locked wheels with Alex Barron's machine and was launched into the catch-fencing.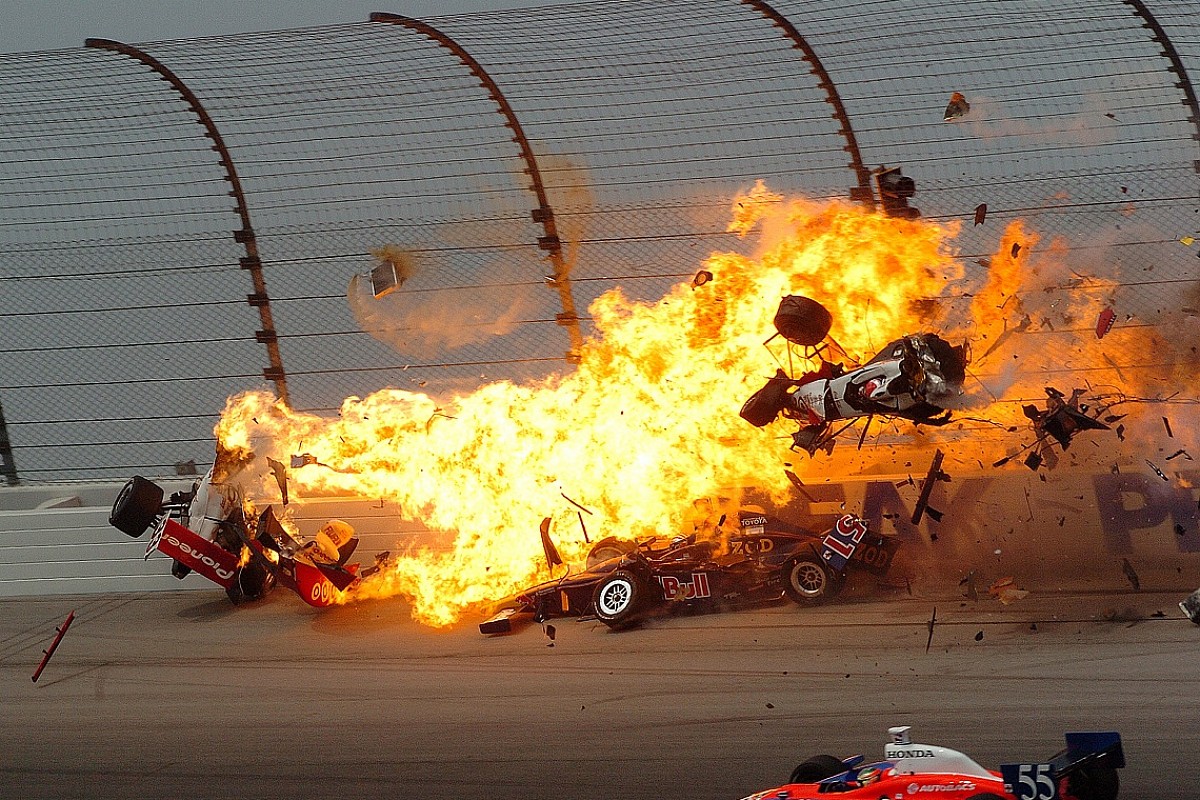 Briscoe sustained two broken collarbones, a bruised lung, a fractured right foot and contusions to his arms, legs and back. But he worked his way back in 2006 with two oval appearances for minnow Dreyer & Reinbold, which opened the door to replacing NASCAR-bound Sam Hornish Jr at Penske for 2008. One year after his unnerving return at Chicago, he won there in a photo finish with Scott Dixon to come full circle.
"It was one of the best feelings I had in Indycar racing," says Briscoe, now a part of Ford's IMSA SportsCar programme.
"It took a bit of talking myself into coming back to it, and it's easy to get inside your own head and think about all the bad things that can happen.
"Having had such a traumatic start to my oval racing career, maybe it just made me work even harder at ovals to be as good as possible."
Briscoe, who last competed in IndyCar in 2015, hits on a salient point - that developing a mastery of ovals is not the work of a moment, since each one-mile short-track, 1.5-mile oval and superspeedway possesses distinct traits.
"People think you go around in a circle and be brave and be ballsy and then it's going to pay out, but you have to be technically switched on and very precise" Nicolas Minassian
The Australian admits that he was "cocky" and "ignorant" when he first arrived in 2005, but was quickly brought back down to earth on his debut at the Homestad oval in Miami. Attempting to carry too much speed onto the pitlane slip road in practice, he got onto the grass and slithered up the banking into the outside wall, forcing him to miss qualifying and start from the back.
It's a story that has been told many times before with slight variations in theme. Drivers arrive with a fair idea of what to expect - a simple battle of wits to see who can keep their foot nailed to the boards for the longest while turning left - but time and again they find that nothing can prepare them for reality.
It goes without saying that oval racing is dangerous and that it isn't for everyone. Briscoe doesn't miss "the gut-wrenching moments before going into a race at Pocono or Texas where we knew something bad was going to happen". But to focus solely on the danger element would be to overlook the nuances that make oval racing a true art form.
Speed on an oval requires fingertip precision, a good set-up, and excellent judgement to drive right up to the limit without stepping over it. Regardless of how much they have won in other disciplines, no driver can come into oval racing and simply expect their experience - or discarding that, sheer bravery - to put them at the top of the pile.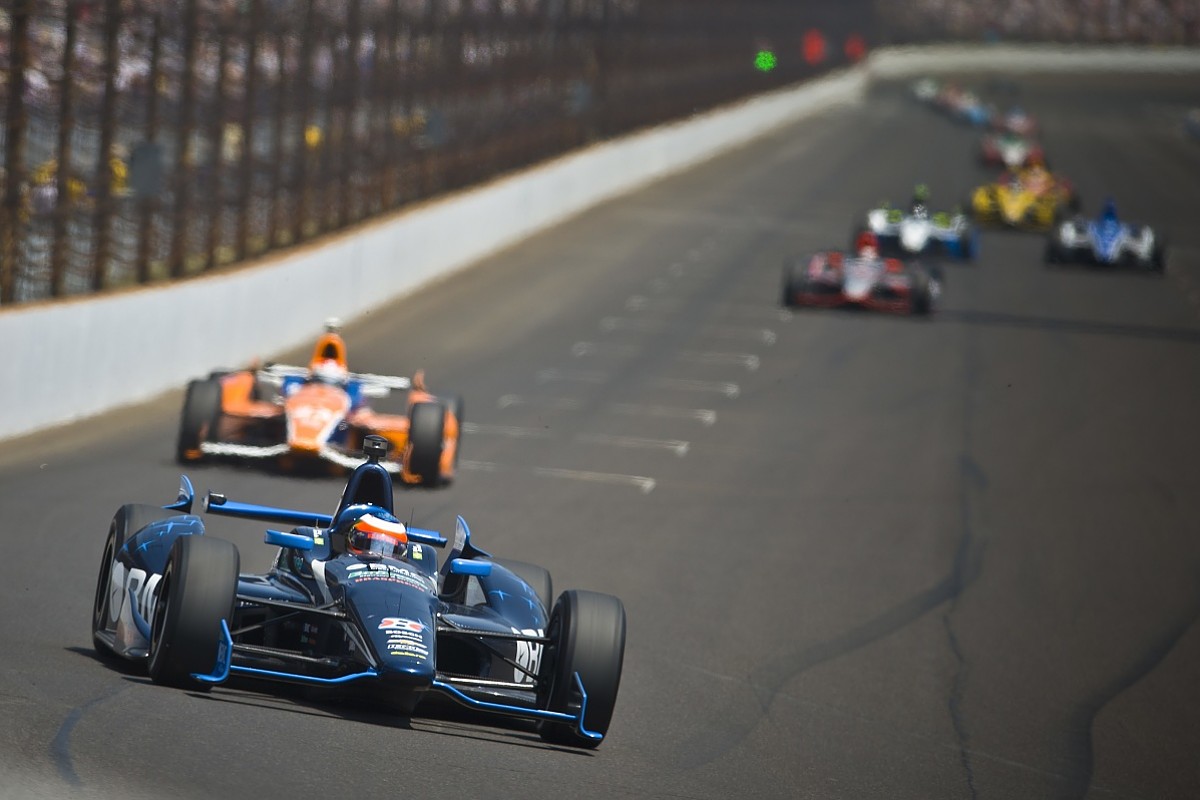 Rubens Barrichello, the most experienced driver in Formula 1 history with a record 322 grand prix starts to his name, was rarely a factor when he arrived in IndyCar in 2012 (above) for the first season with the new DW12 package. He never finished higher than seventh on an oval before departing at season's end.
True, Nigel Mansell - nicknamed Il Leone by the Tifosi during his spell at Ferrari for his fighting spirit - won four times on ovals in his first season of Indycar in 1993 on his way to the title. But he missed his first oval race at Phoenix when he overstepped the boundaries in practice and was rewarded with a 187mph impact with the wall. It was a lesson learned.
"It's much harder than you think," agrees Nicolas Minassian, who drove for Ganassi in CART for six races in 2001 before a spate of accidents led to him being released.
"People think you go around in a circle and be brave and be ballsy and then it's going to pay out. Yes, you have to be brave and a bit fearless because the speeds are higher than anything else, but you have to be technically switched on and you've got to be very precise, more than what is required for a road course."
Minassian, best known for his exploits in sportscars, put the painful memory of 2001 to rights by going on to win the European-based ASCAR stock car series in '02 against Jason Plato (then the reigning British Touring Car champion), Kelvin Burt and Darren Turner.
"You move yourself to another level of accuracy when you become an oval racer, the racecraft from racing in ASCAR always stayed with me," he continues.
"When you drive around the racetrack on your own, it's one thing, you can manage it. But once you're racing and you have to manage the drafting and the racecraft, that's where it becomes so complicated."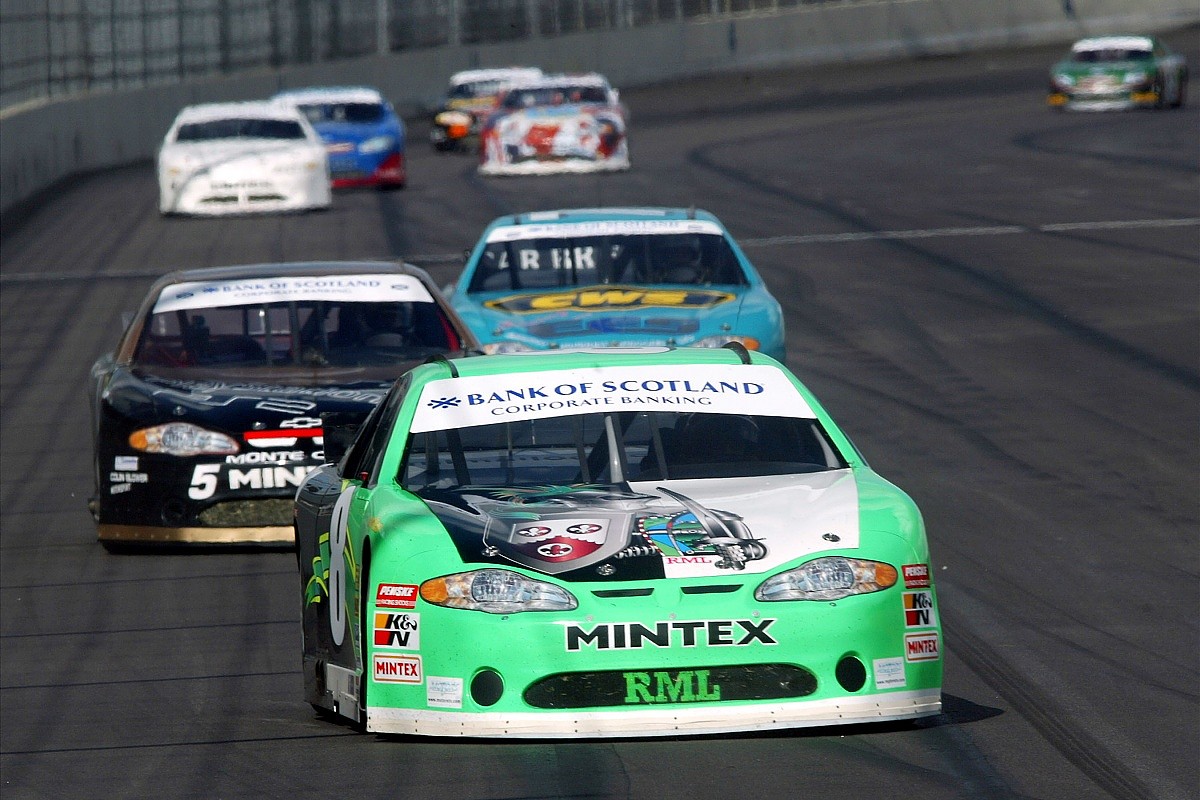 As 2012 British Formula 3 champion and twice Indy Lights runner-up Jack Harvey puts it, oval racing is about "the details of the details". Spring rates, stagger (when the outside rear tyre is larger in diameter than the left rear) toe and tyre pressure are just a few of the criteria for drivers to get their heads around.
As much as they are a driving challenge, ovals are also an engineer's dream, with far greater emphasis on nailing the car set-up for instilling confidence in the driver than road course racing.
"The European perception of oval racing is still, 'If you're already flat out, how do you go faster', but when you come here for the first time, it's an eye-opener how important every detail is," says Harvey, who became the first Racing Steps Foundation programme graduate to try American-style racing in 2014.
"Your confidence on an oval swings like a pendulum. A good day can turn into a bad day and a bad day can turn into a good day so quickly, just from a few small changes" Jack Harvey
"You need to be so precise in the line that you take, the way the car is set up, everything does truly make a big difference."
As well as being a three-time Indy 500 winner, Castroneves has four pole positions to his name at the Brickyard, where drivers have to master a unique four-lap average qualifying format.
"You take [off] a little bit of a degree [of wing] and you gain maybe half a mile an hour to 0.7 miles an hour," says Castroneves.
"That's a big difference between the top 12 and top 20 [in qualifying]. Plus you've got to remember when you get up to your fourth lap, the tyres are not new anymore, so you're changing quite a lot to be able to finish the four laps."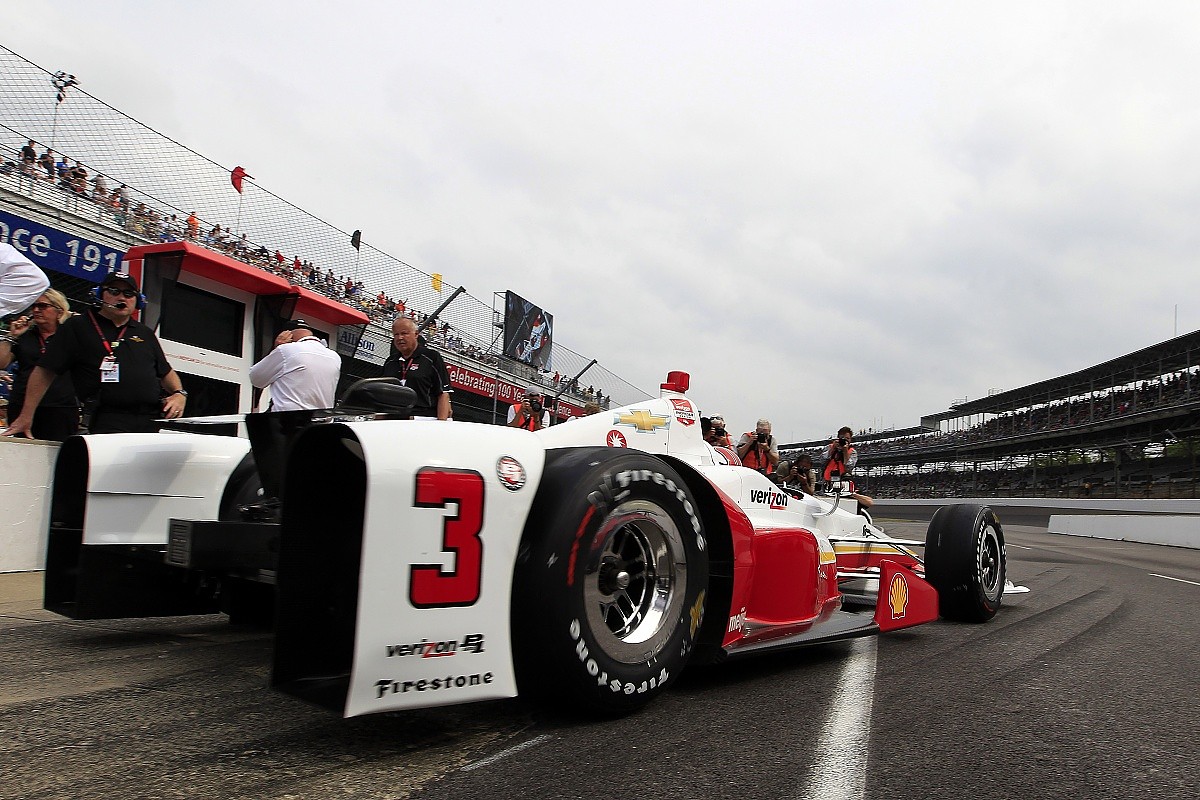 Unlike conventional circuit racing, where there is room to manoeuvre, oval drivers can't outperform the capability of their machinery for long before the inevitable meeting of car and SAFER barrier, so it's crucial that the driver and engineer can find a balance where the driver can commit to the corner with a fair idea of what the car will do next.
As a general rule, the less understeer is dialled in, the faster it will go, but the greater the chance of it suddenly snapping loose. Some drivers will tolerate the car sliding, but only up to a point - if the yaw rate is too high, they will lose confidence and won't be able to keep the speed up.
"The limit when you're driving on an oval is the understeer," explains Minassian.
"The less understeer you have, the quicker you're going to go in the corner but the more the car is going to be on the edge, and then you're moving into an area where you can lose the back end and you can't catch it. To maximise your downforce and the way you set up the car to scrub as little speed as possible in the corner is the tough bit."
As former Penske chief designer Nigel Bennett explains in his autobiography, Inspired to Design, it was chiefly a lack of confidence in their machinery that meant neither Al Unser Jr nor Emerson Fittipaldi - both two-time Indy 500 winners - were able to qualify for the 1995 race.
Having struggled with the balance on the PC24, even switching to the previous year's PC23 chassis or rented 1995 Lola chassis from the Rahal-Hogan team (complete with set-up data) couldn't solve the problem.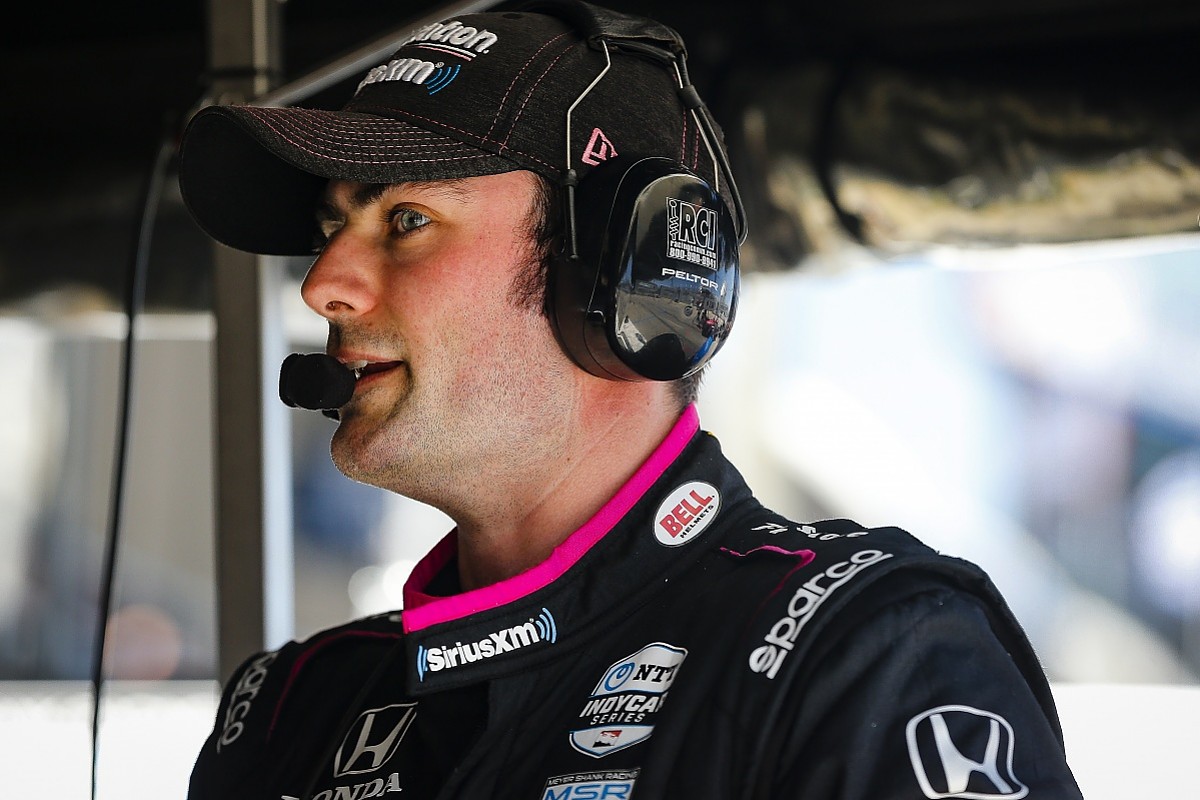 "Your confidence on an oval swings like a pendulum," says Harvey, who is preparing for his third Indy 500 in a Meyer Shank Racing with Schmidt Peterson entry.
"You either feel awesome and totally invincible like you're on top of the world, or you swing the other side where you're just like, 'The car is hard work, I'm nervous to do this, I'm nervous to do that'. A good day can turn into a bad day and a bad day can turn into a good day so quickly, just from a few small changes."
As the newest team on the IndyCar trail, Carlin has been on a steep learning curve to discover this for itself. Although it had spent three years in Indy Lights to get used to working on ovals before its graduation last year, the team still had to start virtually from zero at every track.
"On European road courses, you don't mind changing rear rideheight a chunk, but you're looking at millimetres here and it can make a big difference" Carlin's Matt Greasley
It therefore entered each oval weekend running very conservative wing levels, as Charlie Kimball and Patricio O'Ward's engineer Matt Greasley explains.
"At those speeds it doesn't matter how good your car control is, if you lose it you're in the wall," he says.
"From an engineer's perspective, you don't want that to happen, so you start really conservative and edge your way to it. Some drivers don't mind it going light on the rear and moving, but you have to start with a stable car so the driver gains confidence in the car and then you can start tweaking it."
Another key difference in oval racing is how much is changed in one go.
"They were all really small adjustments, that was a big surprise to me," adds Greasley. "On European road courses, you don't mind changing rear rideheight a chunk, but you're looking at millimetres here and it can make a big difference, so you're very accurate.
"Us starting from scratch, we had to make bigger changes through the course of a weekend, which the established teams don't have to because they know where they should be. You can miss out a few things because a typical oval race weekend is so short.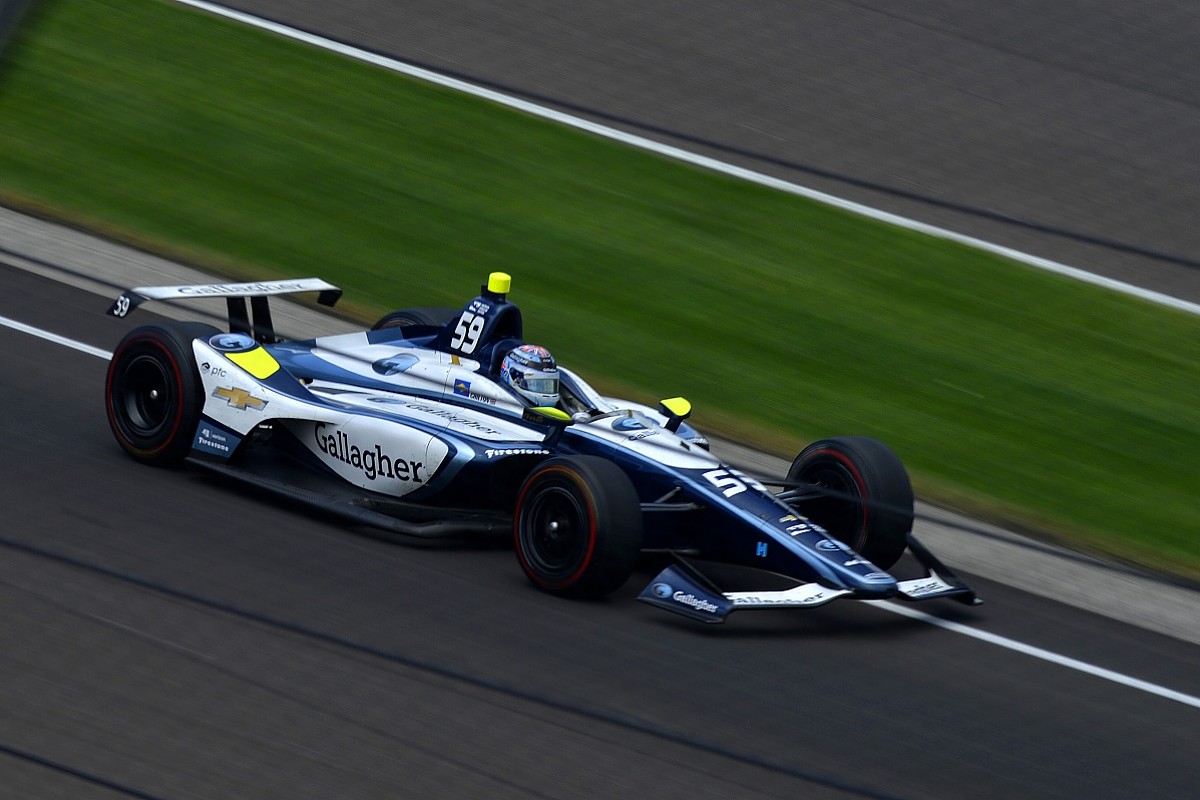 "Before you know it, it's gone and you daren't change anything because you might mess it up. Pocono for example is a weird one because it's just as fast as Indy but you get one practice session, then qualifying, practice and the race."
All the while, track conditions are constantly evolving. Differences in temperature and wind, added to tyre degradation from running in dirty air, require drivers to make constant adjustments to the balance.
"If you do the Indy 500, you have three and a half hours sitting in the car, you've got to change the weight distribution with the weight-jacker, you can change the rear gurney, the front flap, the front bar, all these things come into play and as well you need to race," says Minassian.
"If you can't manage all of this, you're going to be at the back. You're racking your brain a lot."
Juggling constant communication with the spotter and the strategist, fuel-saving and set-up changes with thousands of judgement calls about whether to stay in line or side-draft, be patient or seize the initiative requires intense concentration. This takes its toll over a race distance.
"At the end of the 500 physically you're fine but mentally you're just drained," says Harvey. "People who say that we can't multi-task need to get into one of these things and process the amount that we have to do."
In such a mentally taxing discipline, it should come as no surprise that the drivers who are able to manage these demands while making good decisions usually rise to the top. Usually it's a question of experience - JR Hildebrand has no doubt relived in his mind a million times over the final corner of the 2011 Indy 500, when the rookie's fateful decision to pass a lapped car around the outside sucked him into the wall and handed victory to Wheldon - but not always.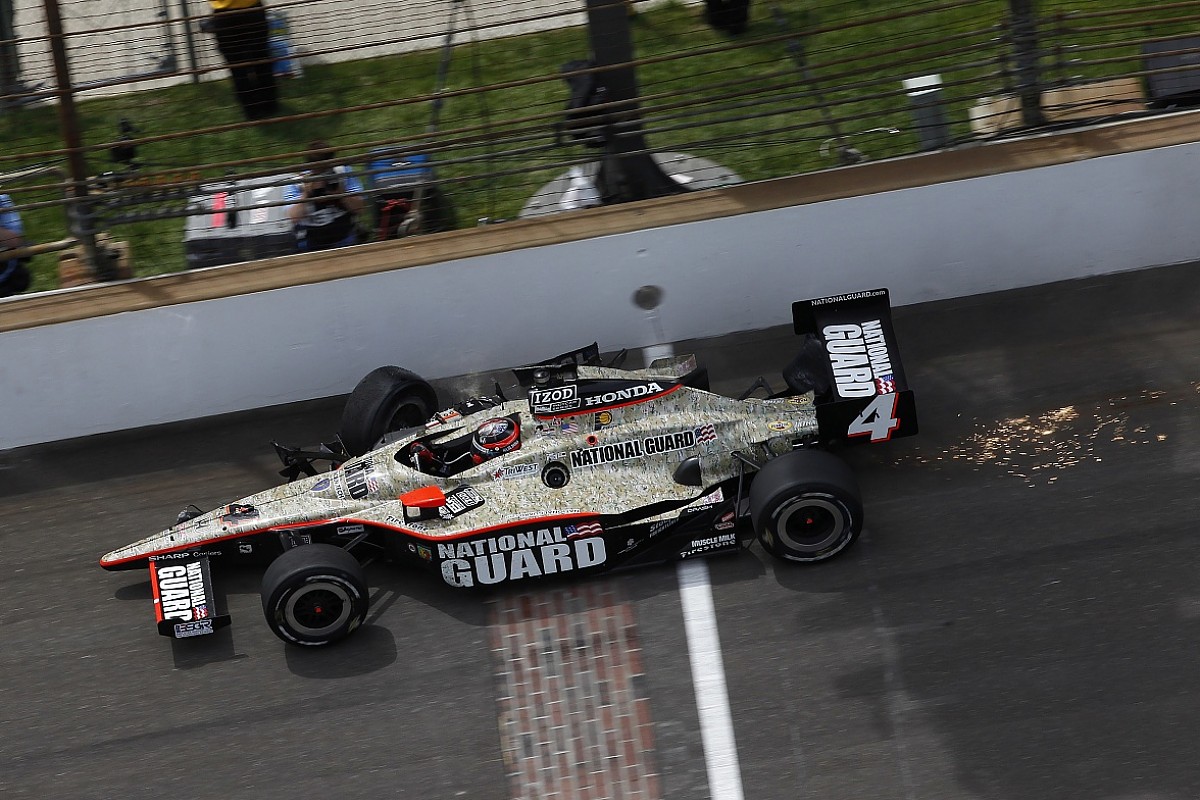 Briscoe allowed the 2009 Indy 500 to slip through his fingers after misjudging a restart when he was controlling the field, a small error that would have costly consequences for his championship tilt.
"I just gassed it a bit too early in turn three, so I got to Turn 4 and didn't quite have the temperature in the tyres, and the car just washed up into the marbles," he says.
"Then I got down to Turn 1 and I could hardly make the corner. I did two laps and I was dropping like a fly. It felt like I had a tyre going down, but it was actually just pick-up on the tyres, I couldn't get them clean. That would have been a good opportunity to win."
Intelligence and awareness is a virtue in any form of motorsport, but it's especially important on ovals where drivers can't 'claim' corners by changing lines at the last second and must be able to recognise when a sketchy situation is unfolding and concede ground to fight another day.
"Hornish was able to keep in control in those desperate moments and he would find that timing perfectly in those situations" Helio Castroneves
Castroneves has made a habit of being a big-picture player. His knack for making the right calls in high stress moments is a key factor in his longevity. It's also a trait the Brazilian identifies as the biggest strength of three-time IndyCar champion Sam Hornish Jr - his team-mate from 2004-07.
Hornish took all of his 19 wins on ovals, including at Texas in 2002 to deny Castroneves the title, and on his Penske debut at Homestead in 2004, again at Castroneves' expense.
Since moving to NASCAR, Hornish has struggled to replicate the same tricks that marked him out as an oval master in the pre-convergence IRL era. But it's not by coincidence that he won in the closest finish in IRL history, by 0.0024s over Unser at Chicago in 2002.
"In a desperate situation he over-exceeded his ability, it put him in another level that he was able to make some incredible moves," says Castroneves. "Like when he won the Indy 500 [in 2006] he got shuffled back in the pits, got a penalty, came back from last and on the last lap he got past Marco [Andretti].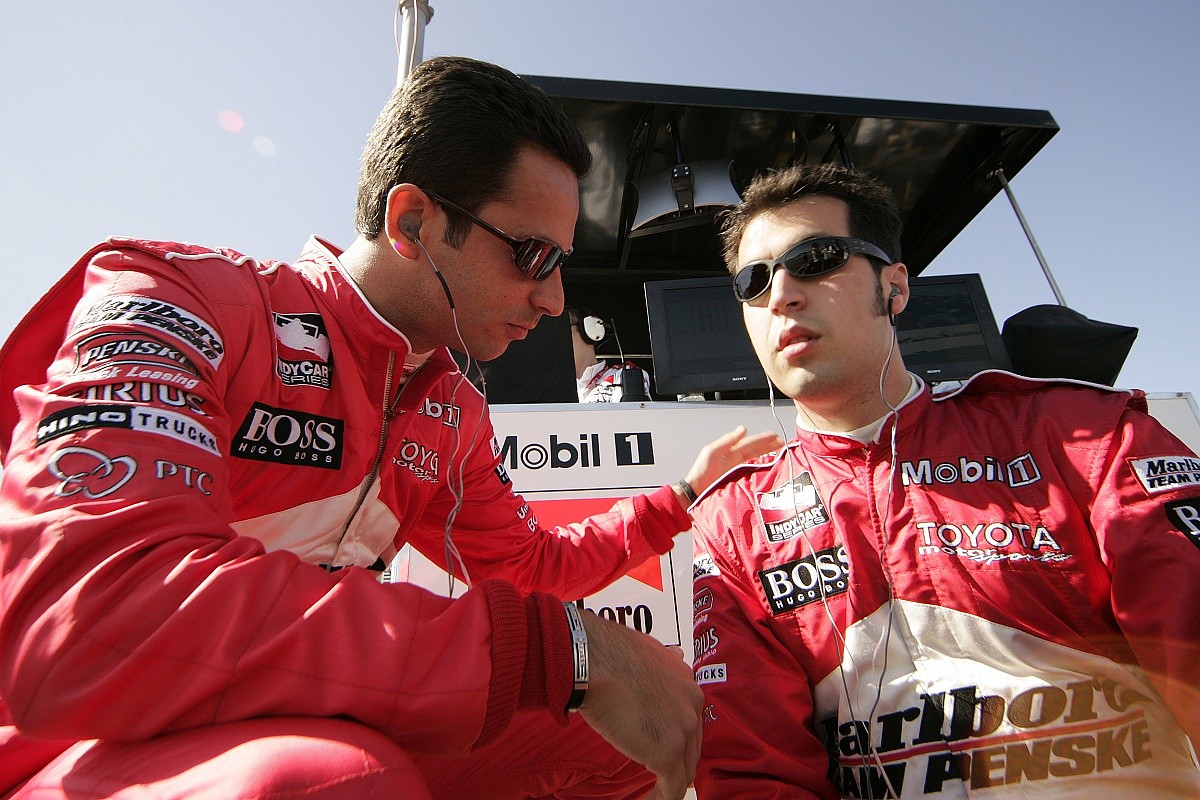 "He was able to keep in control in those desperate moments and he would find that timing perfectly in those situations. When you think, 'I've got to go as fast as I can', and if you pick the guy at the wrong corner, that's it. He was a master in that scenario."
So what is the most important trait for an oval racer to have? Looking back on 2005, when Ganassi was hamstrung by uncompetitive Toyota engines, Briscoe was let down by a lack of perspective.
"The biggest thing for me was at times just overdriving the car," he says, "getting a bit too aggressive trying to keep up with cars with a lot more power and which could run a lot more downforce than us. I wanted to be fastest all the time, even if the car wasn't up to it.
"What I didn't realise until afterwards was that people understood the handicap we were racing with and finishing a race in 10th would have been respected. At the time, I thought that finishing a race 10th, you were basically a loser.
"But in America, especially with the oval racing, team owners respected consistency, reliability and finishing races. There was a lot more importance to that than throwing down a big lap time every now and again."
"It's about understanding it's not about being aggressive," agrees Castroneves. "You can go full throttle and go straight to the wall, but that's not the goal."
Watch a pack race at Texas and you might get the impression that it's all one big lottery, where luck is just as important as talent. But European drivers should dismiss the skills of oval racers at their peril - they might find there's a lot more to it than meets the eye.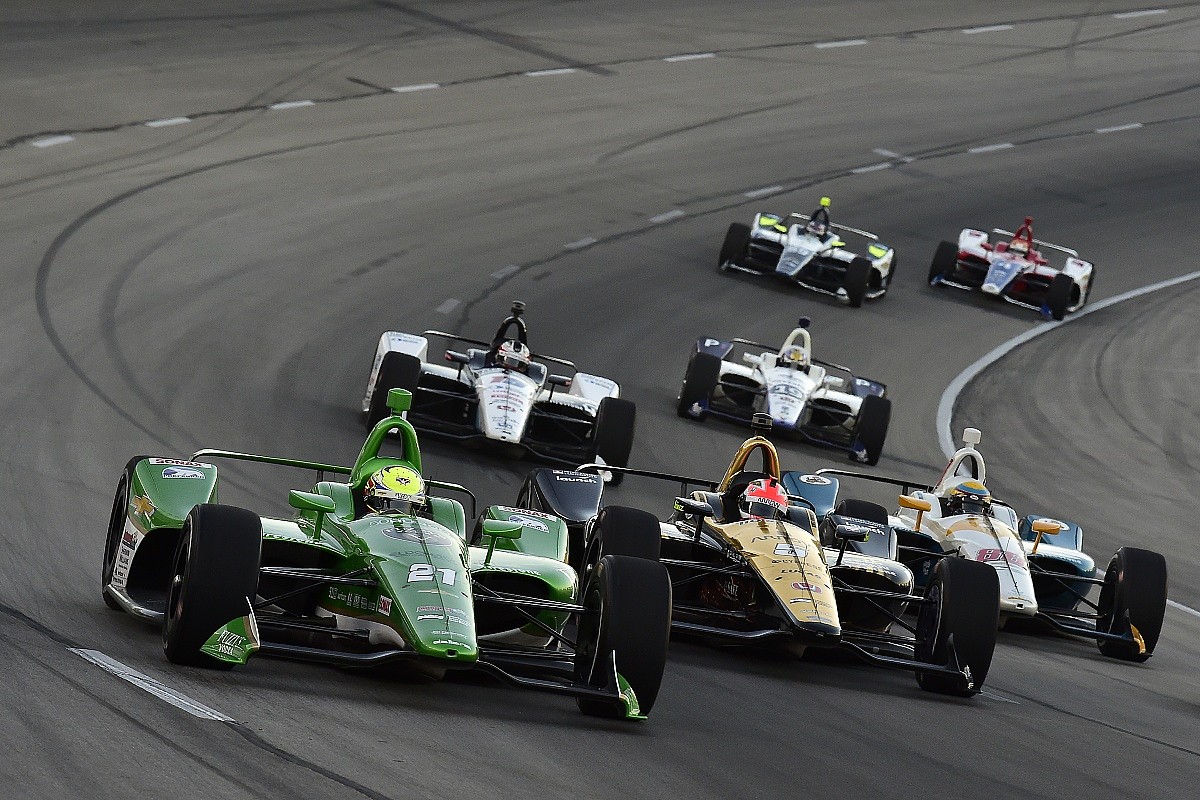 How ovals differ in NASCAR
If oval racing is a niche in single-seater racing, NASCAR is a niche within a niche. Plenty of proven drivers have attempted the switch from open-wheel racing, but aside from 1997 IRL champion Tony Stewart, who won three titles for Joe Gibbs Racing and his own Stewart-Haas Racing concern, the success stories are few and far between.
When he arrived in NASCAR, Hornish had more wins than any driver in IRL history, but he has only managed to win five Nationwide races to date - one of them on a road course - while two-time Indianapolis 500 winner Juan Pablo Montoya never won on an oval in NASCAR, although he did make the Chase title shootout in 2009.
"Put it this way - in Phoenix it was about 28 or 29-second lap times in the NASCAR and in the IndyCar it was about 18 seconds, so every three laps you would lap a NASCAR," recalls Montoya. "It doesn't have a lot in common!"
In addition to the extra weight and a lack of feeling from the tyres - both common complaints from crossover drivers - part of that can be attributed to the degree the driver can influence change in the cockpit.
"I never in my wildest dreams imagined it being that difficult and just how hard those cars were to drive and honestly how good those guys were" AJ Allmendinger
Where the driver can constantly alter an array of settings in an IndyCar, including the weight-jacker and the anti-roll bar, the parameters in a NASCAR are much more restrictive and place a greater demand on managing until the next pitstop with an ill-handling car.
For AJ Allmendinger, who emerged as a regular winner in Champ Car in 2006 before joining the start-up Team Red Bull NASCAR effort in 2007, the shock to the system was akin to "learning to walk again".
"I never in my wildest dreams imagined it being that difficult and just how hard those cars were to drive and honestly how good those guys were," he says. "Jeff Gordon was my hero growing up and I always thought he was badass. But everybody in that series, whether it was Tony Stewart or an old-school guy like Mark Martin, was just so good. I wasn't prepared to experience how difficult it was."
Christian Fittipaldi moved to NASCAR with Petty Enterprises in 2003 after eight years in IndyCar, but found it a constant learning curve. That hadn't been the case when he left Formula 1 for the US in 1995.
"The corner speeds were a lot lower compared with an IndyCar so I found it on the easy side to drive, but because of that it was extremely competitive," he says.
"A lot of people can hop in and do it, so you needed to find your edges in different ways, you needed to be creative. "It's almost one of those things that you have to start your career in quarter midgets, midgets, late models, sprint cars, the same way that I did Formula Ford, Formula 3, F3000 to get to F1. If you start that way, you can make it. If you don't, it's going to be hard."