Fernando Alonso and McLaren have one final day of Indianapolis 500 practice to recover lost ground after the two-time Formula 1 champion's crash and loss of Thursday running.
Alonso has completed just 96 laps over the past three days of practice, compared to the 302 laps that busiest driver Spencer Pigot of Ed Carpenter Racing has covered.
Electrical issues on Tuesday restricted Alonso's running to 50 laps, before he crashed at Turn 3 on Wednesday having run 46 laps.
Following the shunt, McLaren has switched from its UK-built chassis to the Carlin/John Cummiskey-built back-up car, fitting it with a fresh Chevrolet engine because the original had suffered damage, and did not run on Thursday as a result.
Sporting director Gil de Ferran called the engine change "an additional workload" and said the loss of Thursday running was "a serious setback to our Indy 500 programme, but all is not lost."
Asked if there was a sense of panic that the team and Alonso are inadequately prepared for 'Fast Friday' - where the cars' turbos are turned up to 1.4-bar (from 1.3) and the cars are trimmed for qualifying simulations ahead of Pole Day and Bump Day at the weekend - McLaren CEO Zak Brown insisted the atmosphere remained calm.
"No, no, they're relaxed," he told Autosport.
"Fernando is a little sore from his accident - his legs bent the steering wheel - but he's fine.
But you know what Indy is like. If you panic, that's when you make a mistake so you've just got to keep your cool and build the car and get it right and make sure you get the set-up right.
"It takes a long time on the set-up pad to get the configuration, and I don't think you can rush it."
Brown admitted that in this circumstance McLaren running as a separate entity as a one-off IndyCar entrant in 2019 made life harder than when it was part of the multi-car Andretti Autosport effort two years ago.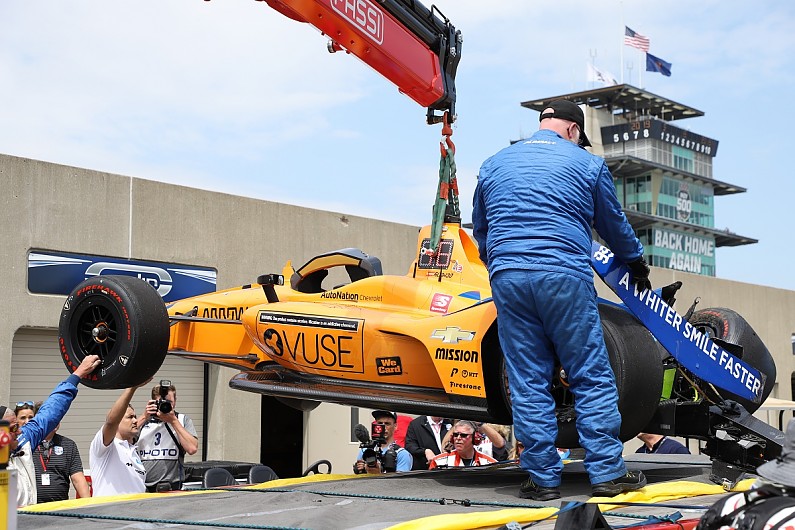 While McLaren did not run on Thursday following Alonso's Wednesday accident, Chip Ganassi Racing's Felix Rosenqvist crashed 4.5 hours after Alonso on Wednesday but his new car was rolled through tech inspection at 10am on Thursday morning and was ready to hit the track when it opened at 11am.
"Being a new team is certainly a disadvantage as it takes time," said Brown.
"The guys are all very experienced but they've not worked together as a team before.
"So this is the first time they've had to rebuild a car overnight and you're always going to do it a second time or third time or fourth time.
"But the only way to get through that is to be a new team once, learn from it. But they're cool, calm and collected."
The team is determined to get a full day of running on Friday.
"Fernando will be back on it from the first lap," Brown promised.
"But we've just got to make sure what the racecar's like. None of them are identical - they should be, but...
"Once we get it on the track he'll want to put his foot down right away but you need to go through the right system checks and show some patience."