One-time IndyCar champion Josef Newgarden put Penske top of Thursday practice for the Indianapolis 500, as both Fernando Alonso and Felix Rosenqvist crashed.
Chevrolet-powered Newgarden lapped the Indianapolis Motor Speedway at 228.856mph to edge out Chip Ganassi Racing-Honda's Scott Dixon by 0.021mph.
Ed Carpenter Racing, which took pole for the 2018 race through team owner Ed Carpenter, was third thanks to Spencer Pigot's best effort.
But the session was also interrupted by a crash for ex-Formula 1 driver Alonso, pictured below, who hit the wall at Turn 3 after 46 laps.
He was cleared from the medical centre and McLaren did not complete any further laps as it opted to repair the car rather than prepare the back-up machine.
Dixon's team-mate Rosenqvist also crashed after closely following fellow rookie Colton Herta through the short chute between Turns 1 and 2.
He pinched down toward the grass and the rear of the car looped around, causing him to go backwards into the outside SAFER barrier.
Rosenqvist was later cleared by the medical centre.
He said: "I'm good. I was behind Colton (Herta) and just trying to run the car in traffic, and I just felt a very sudden change of having a bit of push, and it went very loose very fast.
"I couldn't react to it. Luckily my team has built a really, really good car, a really safe car. I'm completely fine.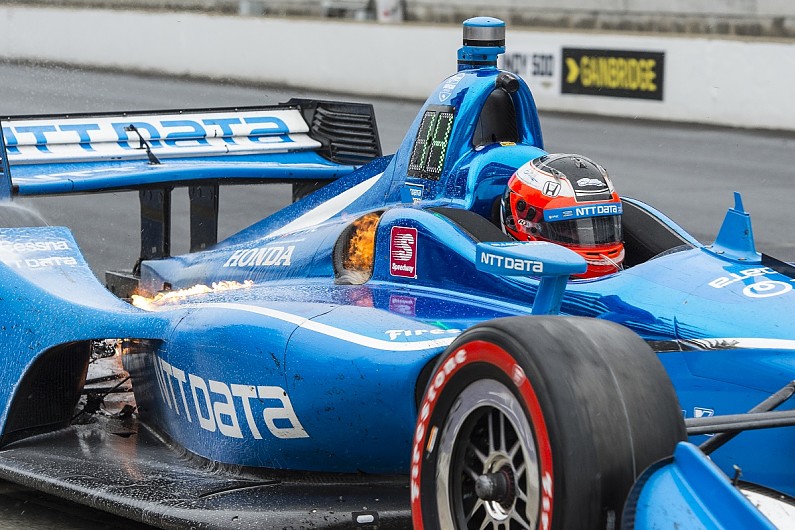 "I just have to really analyse what happened there. I'm not sure if I was down on the kerb.
"It kind of looks like I could have been up a little bit, and that probably explains it. I cannot really remember.
"A shame, but that's how it is."
Santino Ferrucci was the top rookie, clocking fourth for Dale Coyne Racing, ahead of three-time Indy 500 winner Helio Castroneves and Ferrucci's team-mate Sebastien Bourdais.
Zach Veach was the leading Andretti Autosport driver with the seventh fastest time. Veach was the last driver to lap the 228mph bracket, with Charlie Kimball - who took third in 2015 - running eighth for Carlin Racing.
In the no-tow speeds - speeds set without the aid of a draft from a car or cars ahead - Andretti's Alexander Rossi led the rankings on 224.648mph.
AJ Foyt Racing's Tony Kanaan was second-fastest, with Jones and Kimball third and fourth.
Patricio O'Ward, who suffered a mechanical issue in his Carlin car yesterday, breezed through all three phases of his rookie orientation practice this morning before the track opened.
O'Ward went on to finish the day 22nd and 13th in the no-tow speeds.
Result
| Pos | Driver | Team | Car | Speed | Laps |
| --- | --- | --- | --- | --- | --- |
| 1 | Josef Newgarden | Team Penske | Dallara/Chevrolet | 228.856 | 82 |
| 2 | Scott Dixon | Chip Ganassi Racing | Dallara/Honda | 228.835 | 109 |
| 3 | Spencer Pigot | Ed Carpenter Racing | Dallara/Chevrolet | 228.658 | 108 |
| 4 | Santino Ferrucci | Dale Coyne Racing | Dallara/Honda | 228.561 | 90 |
| 5 | Helio Castroneves | Team Penske | Dallara/Chevrolet | 228.441 | 68 |
| 6 | Sebastien Bourdais | Dale Coyne Racing | Dallara/Honda | 228.271 | 104 |
| 7 | Zach Veach | Andretti Autosport | Dallara/Honda | 228.057 | 107 |
| 8 | Charlie Kimball | Carlin | Dallara/Chevrolet | 227.472 | 94 |
| 9 | Ed Jones | Ed Carpenter Racing | Dallara/Chevrolet | 227.304 | 91 |
| 10 | Ed Carpenter | Ed Carpenter Racing | Dallara/Chevrolet | 227.192 | 90 |
| 11 | Kyle Kaiser | Juncos Racing | Dallara/Chevrolet | 227.079 | 79 |
| 12 | Matheus Leist | AJ Foyt Enterprises | Dallara/Chevrolet | 227.038 | 85 |
| 13 | Marco Andretti | Andretti Herta | Dallara/Honda | 227.037 | 80 |
| 14 | Graham Rahal | Rahal Letterman Lanigan | Dallara/Honda | 227.008 | 100 |
| 15 | Simon Pagenaud | Team Penske | Dallara/Chevrolet | 226.831 | 85 |
| 16 | Felix Rosenqvist | Chip Ganassi Racing | Dallara/Honda | 226.787 | 95 |
| 17 | Takuma Sato | Rahal Letterman Lanigan | Dallara/Honda | 226.765 | 120 |
| 18 | Conor Daly | Andretti Autosport | Dallara/Honda | 226.683 | 112 |
| 19 | Oriol Servia | Schmidt Peterson Motorsports | Dallara/Honda | 226.683 | 88 |
| 20 | J.R. Hildebrand | Dreyer & Reinbold Racing | Dallara/Chevrolet | 226.646 | 86 |
| 21 | Will Power | Team Penske | Dallara/Chevrolet | 226.609 | 97 |
| 22 | Patricio O'Ward | Carlin | Dallara/Chevrolet | 226.441 | 70 |
| 23 | Jack Harvey | Meyer Shank Racing | Dallara/Honda | 226.395 | 58 |
| 24 | Tony Kanaan | AJ Foyt Enterprises | Dallara/Chevrolet | 226.364 | 63 |
| 25 | James Davison | Dale Coyne Racing | Dallara/Honda | 226.063 | 106 |
| 26 | Sage Karam | Dreyer & Reinbold Racing | Dallara/Chevrolet | 225.851 | 37 |
| 27 | Ryan Hunter-Reay | Andretti Autosport | Dallara/Honda | 225.696 | 99 |
| 28 | Marcus Ericsson | Schmidt Peterson Motorsports | Dallara/Honda | 225.685 | 111 |
| 29 | Fernando Alonso | McLaren Racing | Dallara/Chevrolet | 225.433 | 46 |
| 30 | Max Chilton | Carlin | Dallara/Chevrolet | 225.430 | 114 |
| 31 | Jordan King | Rahal Letterman Lanigan | Dallara/Honda | 225.291 | 132 |
| 32 | James Hinchcliffe | Schmidt Peterson Motorsports | Dallara/Honda | 225.259 | 112 |
| 33 | Colton Herta | Harding Racing | Dallara/Honda | 224.704 | 111 |
| 34 | Alexander Rossi | Andretti Autosport | Dallara/Honda | 224.648 | 46 |
| 35 | Pippa Mann | Clauson-Marshall Racing | Dallara/Chevrolet | 224.448 | 54 |
| 36 | Ben Hanley | DragonSpeed | Dallara/Chevrolet | 224.361 | 90 |