Mari Hulman George, who served as chairman of the Indianapolis Motor Speedway and Holman & Company from 1988 to 2016, has died aged 83.
Hulman George, whose father Anton "Tony" Hulman Jr. saved the facility from almost certain demolition after World War II in November 1945, was a pioneer as co-owner of a team that raced at the highest levels of Midwestern auto racing in the 1950s and 1960s and was also known as a philanthropist with a passion for arts, healthcare and animal care.
Born Mary Antonia Hulman on December 26 1934 in Evansville, Indiana, "Mari" attended primary and secondary school at St. Benedict in Terre Haute and the Ladywood School in Indianapolis, and attended Purdue University.
When her father bought IMS in November 1945, Hulman George was immersed into the world of auto racing, and before her 21st birthday had joined with longtime family friend Roger Wolcott to form the HOW racing team, which gave winning opportunities in AAA and USAC competition to the likes of Jerry Hoyt, Eddie Sachs, Tony Bettenhausen and Roger McCluskey.
Another young driver for HOW, Elmer George, became her husband in April 1957 and raced twice at the Indianapolis 500 in 1962 and '63 in an entry fielded by his wife.
For decades, Hulman George hosted the "Racers Party" on the opening weekend of the Month of May leading into the '500, and was known to fans worldwide for delivering the famous command to start engines at that event, as well as NASCAR's Brickyard 400 for over 15 years from the late 1990s until 2015.
IMS also served as a platform for some of her philanthropic efforts, such as the "Save Arnold" Barbecue which raised more than $1m for Indiana Special Olympics.
She also created a program through which thousands of Indiana school children visited the Speedway each May on complimentary field trips to learn about the connections between education and motorsports, which continue to this day.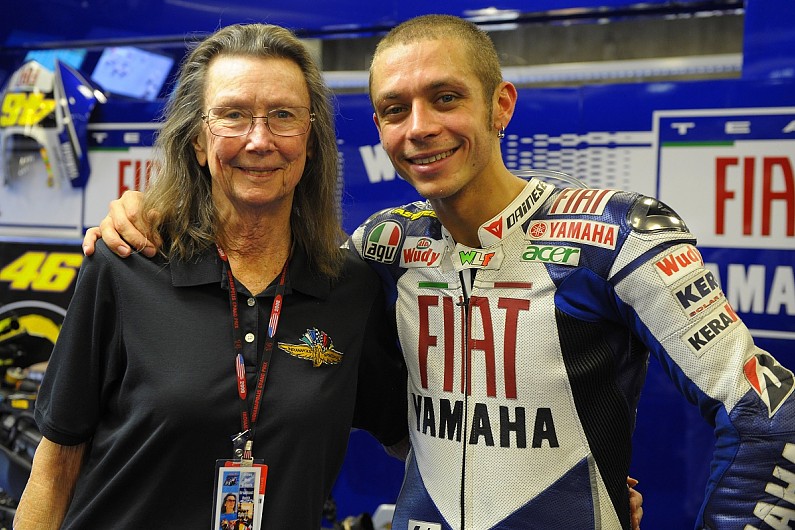 IMS prospered and evolved into a new era during Hulman George's tenure as chairman of the board, expanding its annual schedule to include the Brickyard 400 and for a while, Formula 1 and MotoGP.
That evolution required significant evolution to the Speedway, such as the construction of the new Pagoda control tower, an infield road course, new pit-side garages and various safety improvements.
IMS and IndyCar also led the development of one of the greatest safety innovations in motorsports history, the energy-absorbing SAFER Barrier, during her tenure as chairman. That barrier system was first installed in 2002 at IMS and soon adopted at nearly every major oval track in North America and many road courses worldwide.
Hulman George was inducted into the IMS Auto Racing Hall of Fame in 2015, but her net spread much wider. She was a trustee at the Rose-Hulman Institute for Technology in Terre Haute, and the Hulman-George family also made large contributions to the Indianapolis Museum of Art, Indiana State University, Purdue University, Indiana University and Saint Mary-of-the-Woods College, among other art and educational institutions.
Hulman George also was a leading charitable force to benefit animal care, especially for horses and greyhounds, two of her greatest passions. In 2001, the Indiana Department of Homeland Security renamed its search-and-rescue training area at Camp Atterbury the Mari Hulman George Search and Rescue Training Center, recognizing her contribution to the care of animals displaced and affected by disasters.
She is survived by three daughters, a stepdaughter and a son, Tony, the current chairman of Holman & Moody and IMS who founded the IRL in the mid-'90s, as well as seven grandchildren, nine great-grandchildren and her longtime companion, Guy Trollinger.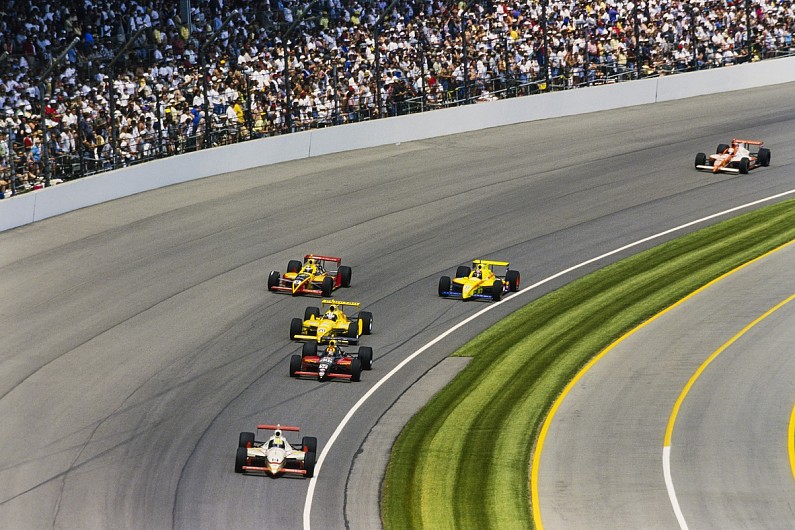 A statement issued by Tony George read: "Our mother was such a unique, wonderful person. She loved her family, friends, auto racing and animals with equal passion.
"She was a quiet pioneer in so many ways, from owning a race team in the 1950s and 1960s to overseeing a period of tremendous growth and evolution while chairman of the board at IMS.
"She was known by millions as the woman who gave the command to start engines for the Indianapolis 500 and other events at the Speedway, but her true legacy will be the generous and kind philanthropy she learned from her parents.
"That compassion and desire to help people and animals every day are the true hallmarks of her incredible life. We love her deeply and will miss her every day, while ensuring that her spirit and generosity live forever at IMS."
Mark Miles, CEO of Hulman & Company, added: "Mari Hulman George was one of the nicest, most gentle people you would ever meet, but she also was an incredibly influential leader in American motorsports and the state of Indiana for the last 60 years.
"She combined a true passion for auto racing with a common, human touch toward all, especially drivers and fans. Generations of Hoosiers have benefited from her tireless charitable work, and her commitment to animal care is exemplary and a mirror of her kindness.
"We extend our sincere condolences to the entire Hulman-George family and will miss her greatly."