IndyCar champion Josef Newgarden has backed the series' decision to reject the adoption of a Formula 1-style halo and pursue its own cockpit protection system instead.
The single-seater series plans to test its own "windshield" cockpit protection device in the coming months after rejecting the halo as a viable solution.
Newgarden told reporters at the US Grand Prix he thought head protection advancements were necessary, but believes the halo is not the best option for IndyCar.
"With motorsports we have always strived within the spirit of open-wheel racing to find and implement safety improvements," he said.
"That's always been the case. We're so much safer than we were 100 years ago and it's gotten incrementally better every year.
"So I think finding a solution for the head-surround is absolutely something we should be doing. We're doing the right things in trying to find the right solution.
"I'm not sure if the halo is the right thing or not.
"Obviously the FIA have deemed that to be the best piece possible to implement, and you have to respect them - they're the FIA and have the best resources in the world to determine that.
"But with us in IndyCar, we're taking a different approach.
"We're not going to run a halo, we're going to run more of a screen system, more like you've seen on the Red Bull."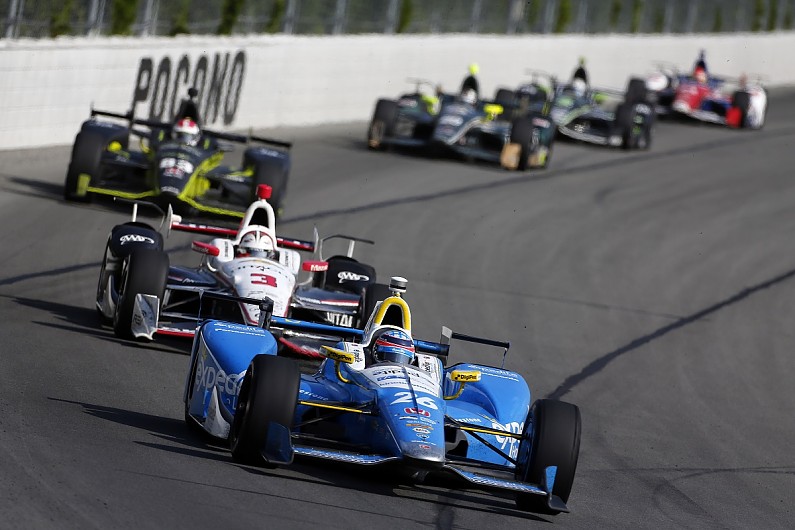 The halo device is considered unsuitable for the diverse range of circuits on the IndyCar schedule, as the hoop would interfere with a driver's line of sight on banked ovals.
"We've done our own extensive testing in-house at IndyCar," said Newgarden.
"We've done a lot of research and development and spent a lot of money trying to develop something we feel is going to be the best solution for us.
"We're a little bit different in IndyCar because we have ovals involved and I think the Halo's not right in IndyCar."
Newgarden also suggested that most single-seater drivers were not in favour of the halo device.
"I think if you asked the drivers, the majority will tell you they don't want it [the halo]," he remarked, "and the drivers are telling you that because they love open-wheel racing and they associate that with open-cockpit.
"It's not necessarily what open-wheel means, but that's what you associate it with.
"I think most drivers - they understand the risks and they wouldn't want it.
"That's just from the drivers' point of view, and taking all the other variables out of it."