IndyCar wants to test its version of a cockpit protection system within the next two months to decide if it will be implemented for the 2018 season.
The championship had ruled out using a system similar to Formula 1's halo due to the lack of visibility for drivers on ovals and has since worked on a "windshield" style device.
IndyCar's president of competition and operations Jay Frye has not ruled out it appearing in the 2018 season, but that depends on late-2017 testing after extensive behind the scenes work.
"Plans are still moving forward, and we've been doing a lot of things behind the scenes," he told Autosport.
"You can do a lot of initial testing without actually having the device on the car on track, but we're hoping to have something on track this fall."
When asked if he expected to be able to deliver on the 2018 race target, he said: "It's debatable right now.
"We've got to get this thing right, and we're not going to do anything until it's right.
"We're working hard but the timeline is dictated by our progress rather than the other way around.
"The goal is to get it on the car this fall and that will decide what and when our next step is."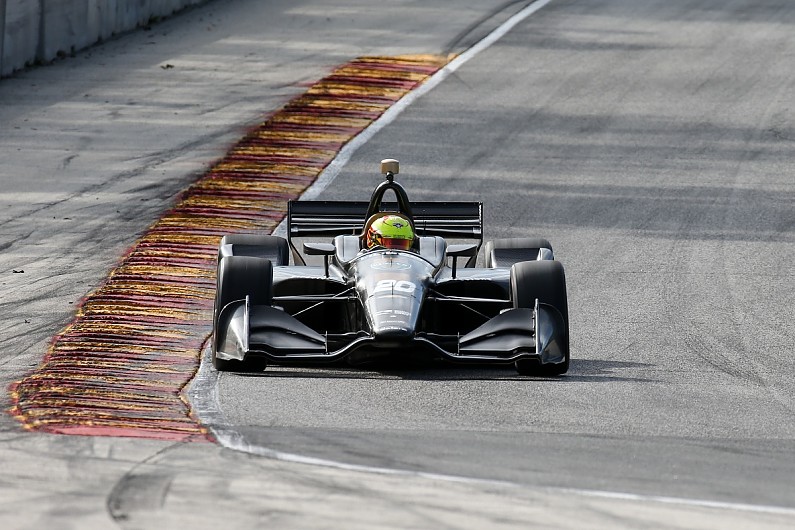 IndyCar is targeting a protection system that works in a single configuration for all tracks, including ovals and street circuits.
"You either have to have a piece that works on all our different tracks, or you have to have multiple applications," Frye said.
"Obviously the optimal thing would be to have a device that worked everywhere so that's what we've been trying to go for.
"Ultimately, the big thing will be to get driver input.
"Then we'll look at how it is when stuff gets on the shield - how it affects vision, how well does it come off."
The new universal aerokit will not impact the cockpit protection plans, with the new aerodynamic properties removing some of IndyCar's previous concerns.
"Having the airbox deleted from the 2018 car removed some potential aerodynamic questions from the equation, because it meant we didn't have to worry about how the shield might interrupt flow through to the engine," said Frye.
"But still, we'll run a car and do a direct comparison - with and without the shield - to see how it might affect the car's behaviour."
Autosport has produced a standalone special magazine to celebrate our 70th birthday. All current print subscribers will receive a copy for free. To order your copy of the 196-page Autosport 70th Anniversary issue, please go to: autosport.com/autosport70th