"This is an American series. As much as we love Frenchmen, Australians and Kiwis, whatever, you want to see Americans at the front and I'm glad that it's a young generation - guys that are in their mid-twenties. So, if everything goes according to plan, this could be a rivalry that develops for the next decade or so."
Those words aren't just noise from a patriotic American, but a salient point made by one of IndyCar's new leading lights, Alexander Rossi, and it should be music to the ears of those running the series.
"That's definitely a great thing for the series, as well as its own resurgence that it's having with this new car, TV deal and the great races that we've had so far," Rossi continues.
"It's something that I take some pride in and I feel fortunate that I'm in a position to be one of the guys going for it, and rest assured that I'm working very hard to be the top American and not let Josef [Newgarden] have that again."
Nail on the head. It's been well established that IndyCar is back on the right path, having developed a cost-effective, eminently more raceable car that's led to the return of bumping at the Indianapolis 500.
Helped by the arrival of four new teams in some shape or form and 10 one-off entries for IndyCar's flagship race, the 35-car entry for this month's event is sufficient proof that the leadership of IndyCar's president of competition and operations Jay Frye is paying off as the championship works through a five-year plan to raise it to the highest level.
But there's one key area to address, and it's not the return of international races or emulating the attention of a Fernando Alonso appearance at the Indy 500 that evoked memories of previous Formula 1 cameos. Instead, it's an inability to create long-running rivalries that have proved so memorable in other championships.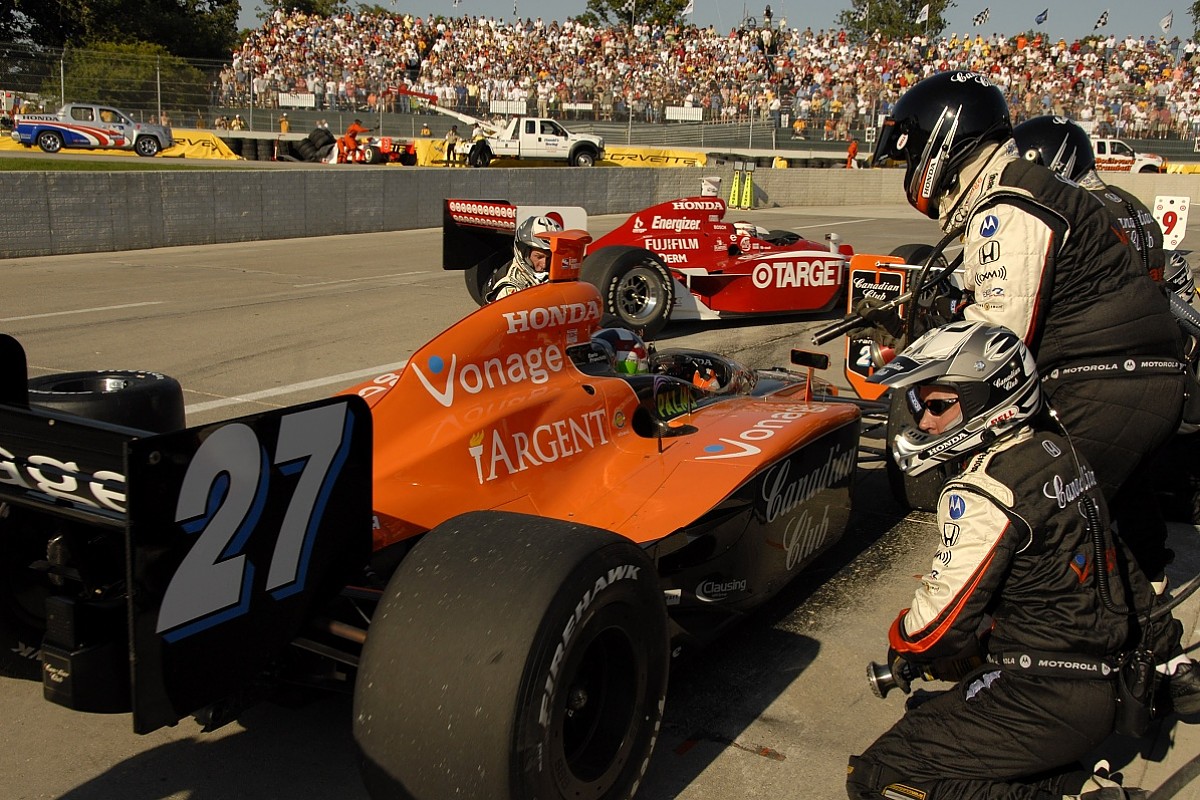 Most recently, there was the threat of a Ganassi and Andretti rivalry in 2007, but it quickly became a damp squib in a jovial press conference a week after Scott Dixon was accused of rolling back in front of future team-mate Dario Franchitti in Detroit, a move Andretti claimed was intentional. Dixon was quick to call out the media for a "hyped" rivalry.
It certainly paled in significance compared to IndyCar's greatest rivalry, between Mario Andretti and AJ Foyt, known as the 'Rivalry for the Ages', dividing fan allegiances at the Indy 500 for an incredible era that had five wins at the Brickyard split between them and scores of IndyCar victories.
No wonder IndyCar tried to revive a proper heavyweight battle, even employing the #IndyRivals hashtag for the 2015 Indy 500. There's only so much a hashtag and a slick social media campaign can achieve. Perhaps it's now time for IndyCar to accept that it simply isn't conducive to rivalries, as much as it has previously admitted that a bitter duel would be good for the series.
But there are signs it can have something better as soon as this weekend: two young Americans going head-to-head in top-level machinery for at least the next decade.
The potential value of this won't be lost on IndyCar, which immediately jumped on Newgarden's title win at Sonoma and promoted him in the media more than any other champion in recent memory, aided by Newgarden's charisma and willingness to promote himself and IndyCar.
That push was helped by Newgarden becoming IndyCar's first American champion since Ryan Hunter-Reay in 2012. There has long been a healthy contingent of foreign stars, such as Dan Wheldon, Dixon and Helio Castroneves, who reduced the chances of a 'home' driver emerging on top.
But now IndyCar has the chance to build its narrative around the two US drivers who are split by just two points at the top of the standings heading into the double-points Indy 500: Newgarden and Rossi.
We've had the perfect warm-up in the first half of the season. At Phoenix, Newgarden pulled a stunning round-the-outside pass on race leader Robert Wickens, while Rossi recovered to the podium after a hugely impressive drive from the back of the field that included more than 20 overtakes.
Equally, there have been costly mistakes to consider. Newgarden and Penske were nowhere at St Petersburg, while Rossi lost out on a win there with a fumbled pass on Wickens that left him third.
Rossi struggled in the wet conditions at Barber as Newgarden starred, but the Penske driver lost momentum with an uncharacteristic error under braking as he tried to pass Sebastien Bourdais on the Indy road course.
"I'm more used to these tracks so I know how to find the time around these places a little bit more naturally," says Rossi, in his third season after a forced F1 exit. "And on top of that, on tracks where we previously had a deficit, that no longer exists so that all adds up to us being at the front and able to challenge for race wins pretty much every weekend."
Newgarden's under no illusions as to how he will retain or lose his crown.
"These races get so mixed up, you have days that go against you and for you," he says. "It's [about] managing those highs and lows when those races don't come your way. That's the critical piece of putting the whole championship together.
"Then you have some high points in the year that you really want to be solid at, Sonoma [double-points finale] and Indianapolis. The points game and the significance of the events. Those will be the make-or-break moments in there too."
Certainly, Rossi understands the "make-or-break" aspect after his historic 2016 Indy 500 victory, when he became the first rookie to win the race since Castroneves in '01. That naturally overshadowed Newgarden's impressive run to third that helped seal his Penske switch at the end of the year.
Built on the foundations of a fuel gamble, forgoing a final splash-and-dash stop with 10 laps to go, Rossi would become irked by a tiresome train of thought in some corners of IndyCar fandom - that fuel-gamble wins are lucky.
He was able to win over sceptics with a win at Watkins Glen the following year, but it took a return to Indy to feel he had shut up those critics.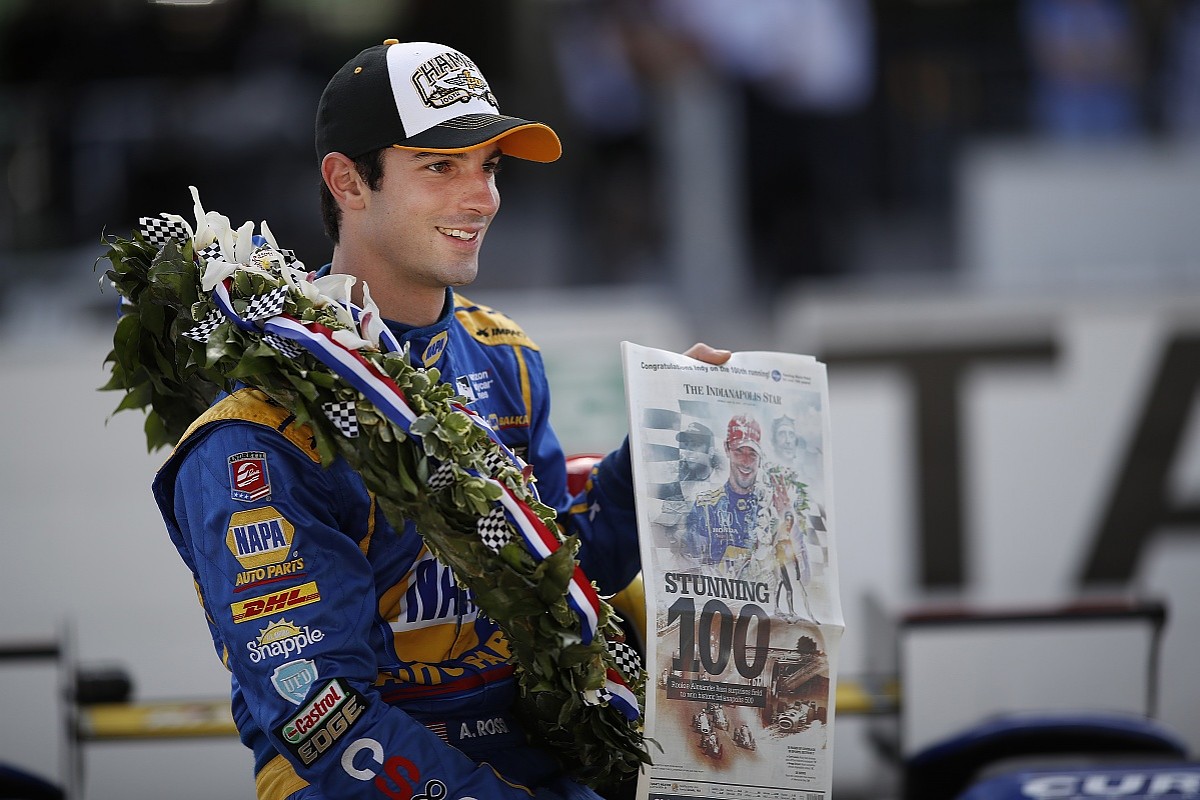 "The win [at Watkins Glen] was important. Just to get a win, not so much to prove naysayers wrong," he says. "I'll tell you what was important for that and that was qualifying for the Indy 500 last year. Admittedly, it weighed pretty heavily on me personally that there were so much comments on how in 2016 'we were such a slow car and didn't deserve to win' when in reality we qualified 11th, had the fastest lap of the race and were running in the top seven the whole time.
"So, I had a massive desire and motivation and pushed really hard through the Month of May to make sure that I had a car that I could qualify up the front with. And, the fact that I was on the front row was my subtle way of proving that point wrong - that I can't be fast at Indy and that I didn't have the capability last year to win the race - so that was more important for me than Watkins in that regard."
While Rossi was proving his critics wrong, Newgarden had come into the 500 off the back of a dire road-course race that included two pitlane speeding penalties - the second earned by speeding while serving his first penalty - that left him 11th.
He qualified a lowly 17th for the Indy 500 as four of the five Penske-run cars failed to make the Fast Nine, and Newgarden's woes continued through the month, never once looking a candidate to threaten for victory.
It took seven podiums, including three wins, to recover and take the title ahead of then-defending champion and team-mate Simon Pagenaud.
Asked by Autosport if last year still plays on his mind, Newgarden responds: "I mean it does and it doesn't. The fact we were still able to win the championship even with a terrible Month of May gives you hope you can get it done regardless of what happened.
"But you just want to have a good May, you don't even think about the championship at that point. I just want to have a good Indianapolis 500, but it does play into the championship talk too. If you have a good 500 it goes such a long way to winning the championship."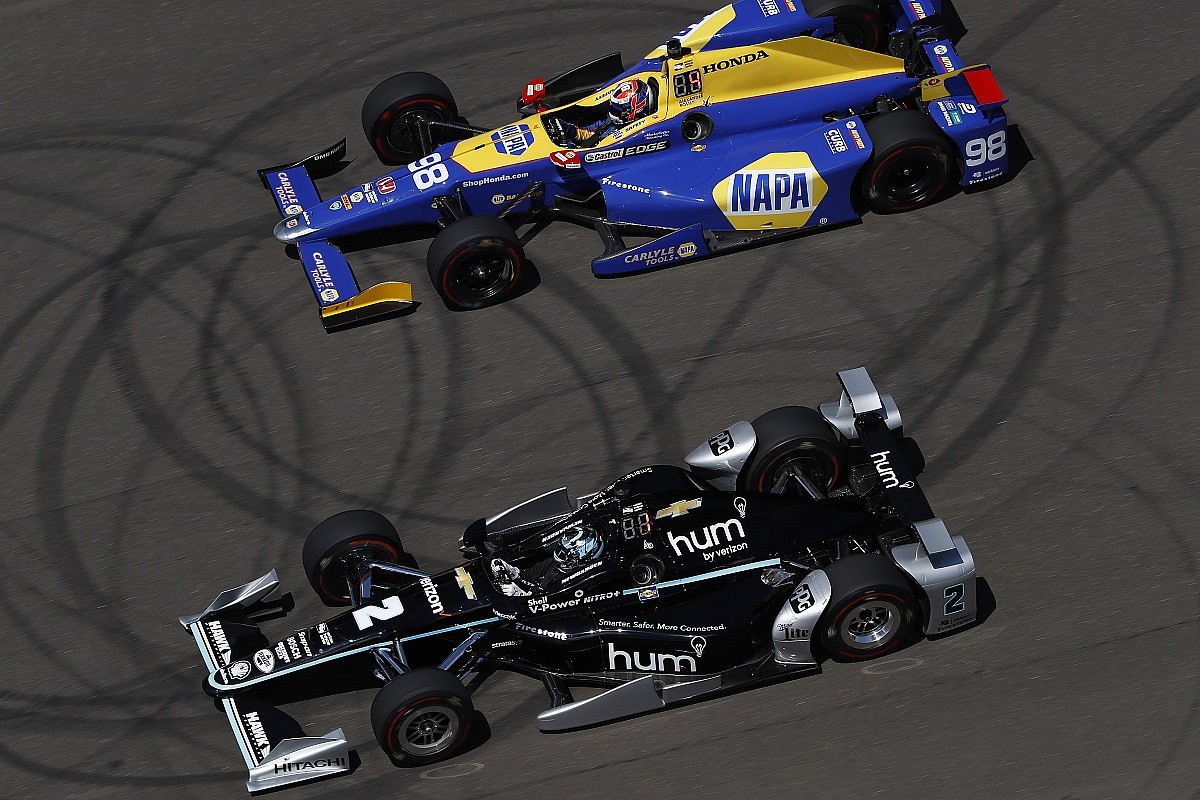 But Rossi says the championship only comes into consideration when you're in a car that's incapable of winning at Indy.
"The 500 is pretty unique and we want to win the championship and that is our ultimate goal," he says. "But if I'm in with a shot in second place on the last lap, I'm not thinking about the championship - you're going for the 500 win.
"I think that there is a different philosophy compared with when you have a car that just can't really compete for a win and you're running around in seventh or eighth, you're not going to try anything spectacular to finish fifth - you'll just take the double points and move on.
"But if you're fighting for a race win for the full 500 miles then you can definitely expect me to be going for it."
So while the championship takes a backseat in the drivers' minds, the Indy 500 takes on greater prominence this year. It will likely form a window into IndyCar's future - not only will fans see Newgarden and Rossi go head-to-head on the world stage, but the series' next car will be discussed with Dallara. But for the immediate future, there's a chance the Indy 500's racing style will change due to the new car.
Described as a "high-speed chess game" in its previous form by Pagenaud, with a premium put on defending and positioning, the reduced downforce of the current car package will revise that.
Veteran Tony Kanaan was surprised by the rate of acceleration out of the corners, negating the time lost with drivers now having to lift in the turns. Both Newgarden and Rossi expect a lot of learning in the build-up to the race.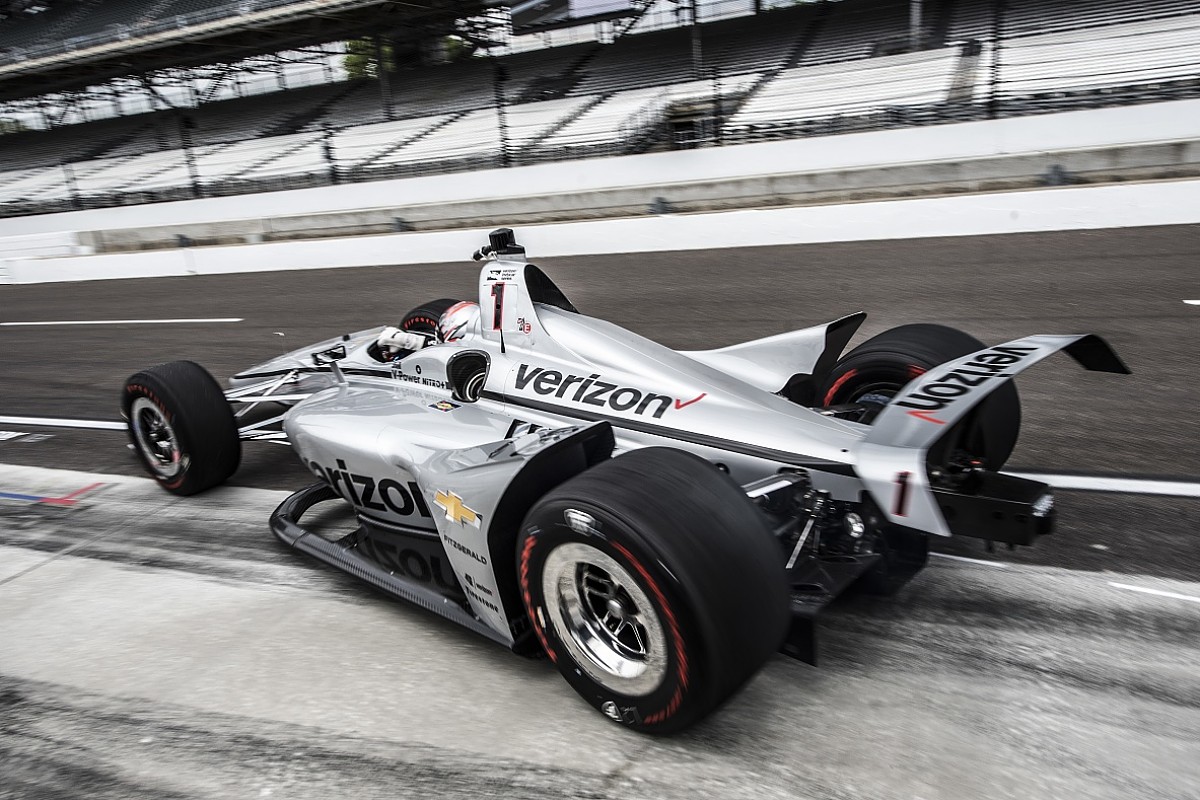 "With this car, you just don't know 100% how it's going to race yet," Newgarden says. "It could race like last year, but maybe it'll be slightly different. Maybe the drafting style will change and that would have a knock-on effect in the set-up and you'll have to make changes to accommodate it."
"You can definitely feel that there is less grip, but that doesn't really take confidence away from what you're doing," says Rossi. "It's weird, downforce has come off but you don't really notice it. The rear kind of slides a bit and you don't know if that's OK or not and I don't know if that's just our set-up or not.
"What I was pleasantly surprised with is the speeds despite this aerokit having a bit more drag; the speeds are still very quick so that's going to be good for the fans."
What's more certain is that Rossi and Newgarden are still going to face the challenges of IndyCar's leading lights: Dixon, Power, Pagenaud and Hunter-Reay. But with Rossi and Newgarden just 26 and 27 respectively, Andretti's second youngest driver and Penske's most youthful, the possibility of a new 'Rivalry for the Ages' will soon the in the hands of America's brightest lights.