To anyone who has followed the last couple of IndyCar seasons, half of the story is familiar: it's the final race, and Will Power is in a position to win his first championship.
The twist is that in the past, it has been the red Target colours and saltire-emblazoned helmet of Dario Franchitti that has loomed large in the Australian's thoughts during the long nights leading up to the finale. The Scot is out of the equation this time, and instead it's the bright yellow car of Andretti's Ryan Hunter-Reay that will be working to deny Power his glory once again.
One way or another, a first-time champion will be crowned at Fontana on Saturday evening.
THE CONTENDERS
WILL POWER
Age: 31
Team: Penske
Season wins: 3
Career wins: 16
Last five races: 15th/3rd/2nd/2nd/6th
Points position: 1st
2012 season keyword: Consistency. Power started the season with three wins in a row and hasn't won since, but he has built his season around minimising the damage when things don't go to plan.
RYAN HUNTER-REAY
Age: 31
Team: Andretti Autosport
Season wins: 4
Career wins: 7
Last five races: 1st/7th/24th/18th/1st
Points position: 2nd
2012 season keyword: Hail Mary. In American football, that means a long throw made in the desperate hope that something will come out of it. Hunter-Reay and Andretti threw a Hail Mary at Baltimore, with a super-aggressive strategy and some fairly aggressive driving to match, and on that occasion it worked perfectly. That's not to undersell his hat-trick of wins midway through the season, but had the Baltimore gamble not paid off, the permutations would have been very different for this weekend.
THE 2012 INDYCAR CHAMPIONSHIP WILL BE DECIDED BY:
1. THE HAND OF FATE
Will Power is remarkably fatalistic for a top-tier athlete.
"Someone's got to win, and someone's got to finish second," he said on Thursday. "We've got a 17 point lead. Obviously things can change quickly in the race, we understand that, but we're just focusing on the things we can control and trying to put ourselves in a good position in the race. Things are going to go how they go, and there's nothing I can do about it."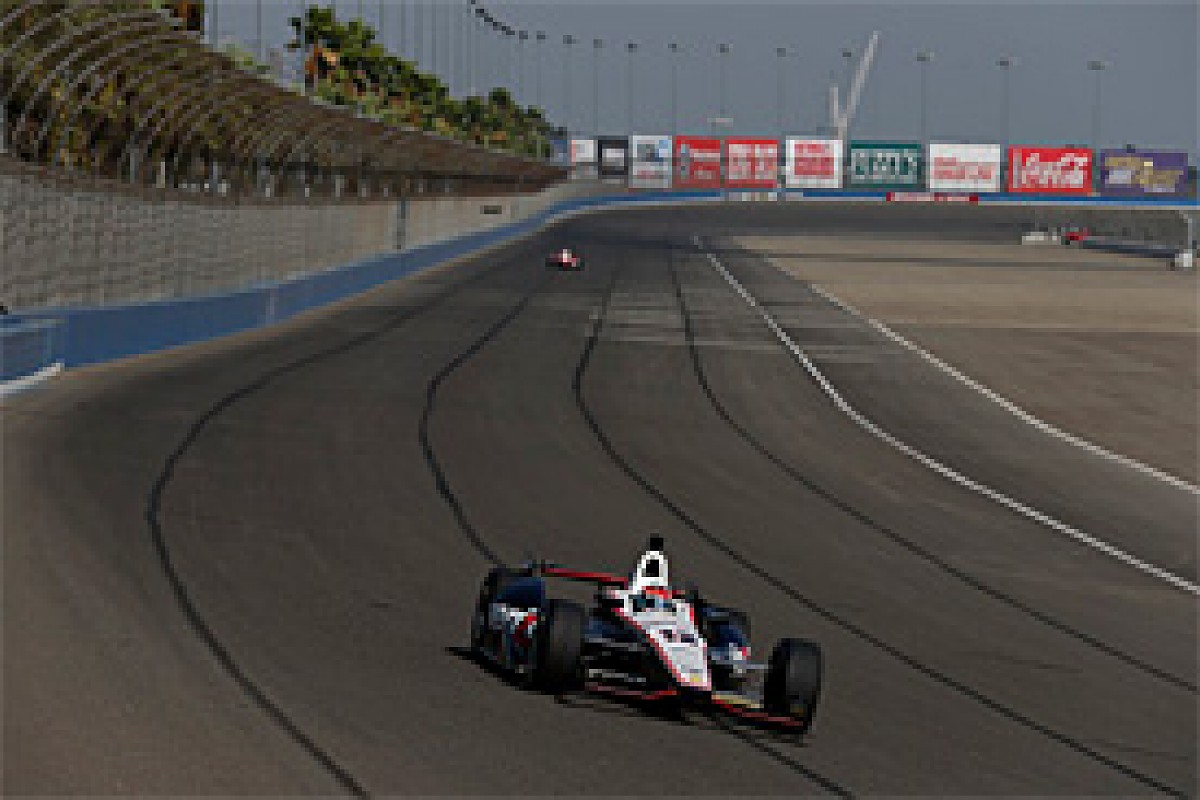 Power during testing at Fontana © LAT
Quotes like that probably have sports psychologists across the world tearing up their notes, but the fact that this race is at Fontana means that Power just might have a point. The series has not raced at the two-mile superspeedway for several years, however this week's test suggested that there are several potential racing lines, and a lot of scope for surprises.
As was the case at Texas in June, the cars will have their aero profile tweaked to reduce the amount of available downforce. (At Fontana, this is being done by removing the strakes from the underwing of the car). The Texas experiment resulted in cars working the tyres much harder, and the handling characteristics going through some fairly extreme changes as the race evolved. Expect the same thing at Fontana - but with the race distance roughly 30 per cent longer, it will be even more extreme. In short, things could get very random.
"It's going to be tough going up against all three Penske cars, and Scott [Dixon] and Dario," said Hunter-Reay. "And we're going to have some more players coming out during the race that you don't even see during practice. This is going to be a wild-card race."
2. EXPERIENCE
Power and Hunter-Reay are both seasoned competitors, and both have refined themselves as drivers over the past couple of seasons. Hunter-Reay's early development was stuttered by instability - in the past six years, he has changed teams eight times. Power, on the other hand, has built himself a happy home at Penske, but after spending most of his life feeling like he was driving to save his career every time he got into the car, it took team president Tim Cindric some time to convince his charge that he wasn't going to get sacked if he had one bad race.
Franchitti noted recently that he believes Power has become more measured in his approach this year, although Power believes it is just a matter of natural evolution.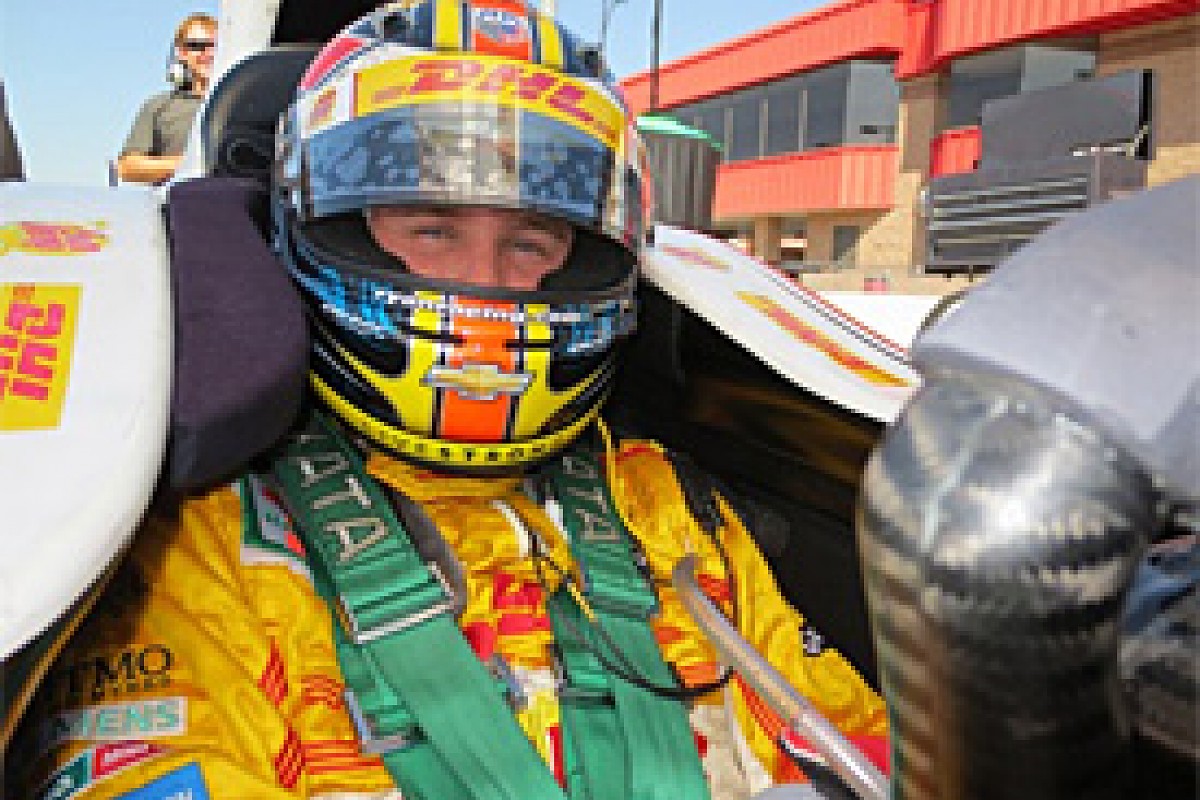 Hunter-Reay is confident despite his disadvantage © LAT
"I think just naturally the more experience you get, the more knowledge you have about situations, how to react in certain situations, and probably become a better, more experienced driver," he said.
"The approach is the same every weekend. You go into the race to win it. Yes, I would say I've improved for sure over the last two years, but I don't think my approach is very different."
But Hunter-Reay believes that maturity tends to express itself more fully across a season rather than in a single weekend, where random events can have a greater impact.
"I think definitely what Will has been strong at is learning how to race an entire season championship-wise; when to go for it and when not to," said Hunter-Reay.
"When it comes to one race, I don't think there's any advantage to it at all. This is one race. I've certainly learned a lot this year that I'll be able to apply next year in how to really go after a championship, [but] it's something that you apply over a season. It's more of an endurance stretch rather than looking at it as one 500-mile race."
3. THE NATURE OF THE TRACK
A couple of years ago, no IndyCar season-finale preview would have been complete without some reference to Power being weak on ovals. He's put paid to that with a win at Texas last year, and although he hasn't tasted success on an oval since, there have been plenty of occasions where he has demonstrated race-winning speed.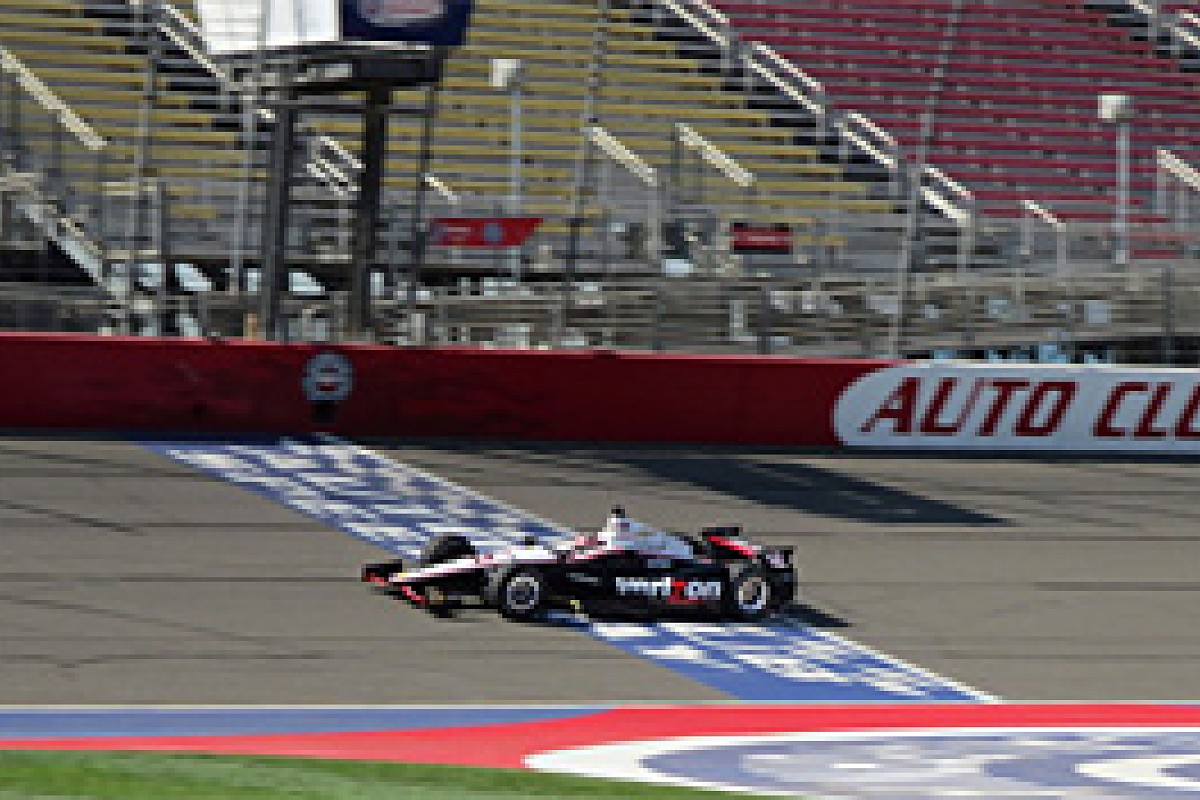 IndyCar has not raced at Fontana for several years © LAT
He'll be particularly encouraged by the fact that it's a superspeedway, which he has taken to with particular aplomb. He had the speed to win at Texas again this year, and was probably in contention for a good result at Indianapolis as well.
Perversely, those races represented two of the rare occasions in 2012 where points were squandered - Texas was ruined by a penalty for blocking; Indy by a crash with Mike Conway, who got out of shape as he was leaving the pits.
Hunter-Reay's reputation for being a short-track genius probably has a lot to do with his back-to-back wins at Milwaukee and Iowa this year, but he's no slouch on bigger ovals himself even if, like Power, he hasn't turned that speed into results in 2012.
4. THE NUMBERS
Power has a 17-point buffer going into this weekend's showdown. As Hunter-Reay's team boss Michael Andretti said last week, there's more to this than the numbers alone.
"All Will has to do is finish right behind us and he wins, so he's going to be racing behind us in that way," he said. "We are still going to need to have a really good race and we are going to need him to have just an average race."
To some extent then, Power has more control over his destiny than Hunter-Reay does. IndyCar awards 50 points for a win, a point for pole, and two points for leading the most laps. The series' number crunchers have determined that that throws up more than 30 potential scenarios, but the basics are as follows:
· If Hunter-Reay wins and takes the three bonus points, Power has to finish second;
· If Hunter-Reay wins with two bonus points, Power needs to finish third with a bonus point;
· If Power is classified 25th or 26th, Hunter-Reay needs to finish sixth or better;
· If Hunter-Reay wins but scores no bonus points, Power needs to be at least fourth with two bonus points, or third with no bonus points;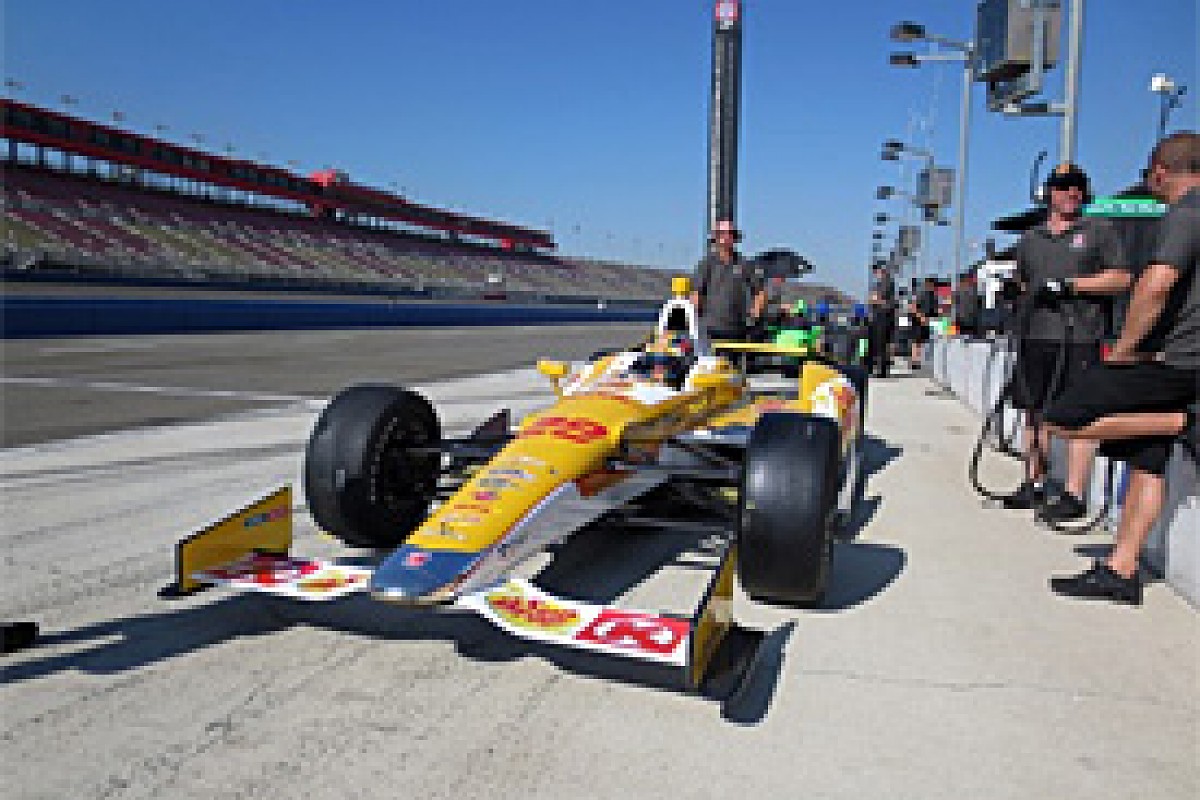 Hunter-Reay likes being the 'hunter' © LAT
· If Power finishes between 18th and 24th, Hunter-Reay must finish better than fifth;
· If they are tied on points, Hunter-Reay will win on a countback with four wins to Power's three.
There will be a test on all of that. The bottom line is that Power can afford to plan his race according to what Hunter-Reay is doing.
"The best mental approach going in is making the most of every situation," Power said. "And it has been the case in the last three, four races that we've been aware of the guy that we're challenging in the championship. You kind of base your aggression upon that.
"Obviously, if I'm ahead of Ryan in the last quarter of the race, at that point you become very aggressive and you have to go for it in the smartest way possible."
Hunter-Reay, on the other hand, has to be proactive from the beginning.
"I'd certainly like a bit closer of a gap, but I do like being the guy who is the hunter - which I guess is appropriate," he said. "But that's how it was going into Baltimore. We had that mentality of, we have to go out there and make risky strategy calls, and I've got to be very aggressive myself, and we pulled that one off. So we're going in with the same mentality."
5. THE TEAMS
Historically, Team Penske has a lot more recent experience at being in this situation, although the cynically-minded might point out that that hasn't helped the them much in the past. But Andretti is no stranger to title fights either, and both outfits have proven themselves capable of pulling master-stokes from the pitwall.
There are two areas where, from a team perspective, Power might have an edge. For starters, Team Penske has rolled out a strong car at pretty much every race this year, whereas there have been the occasional weekends where Andretti has struggled to get a handle on things.
More importantly, Power can perhaps expect more reliable support. Helio Castroneves and Ryan Briscoe are both strong on ovals, and while both have their own ambitions this weekend, the team has confirmed that their interests will take a back step to Power's if need be.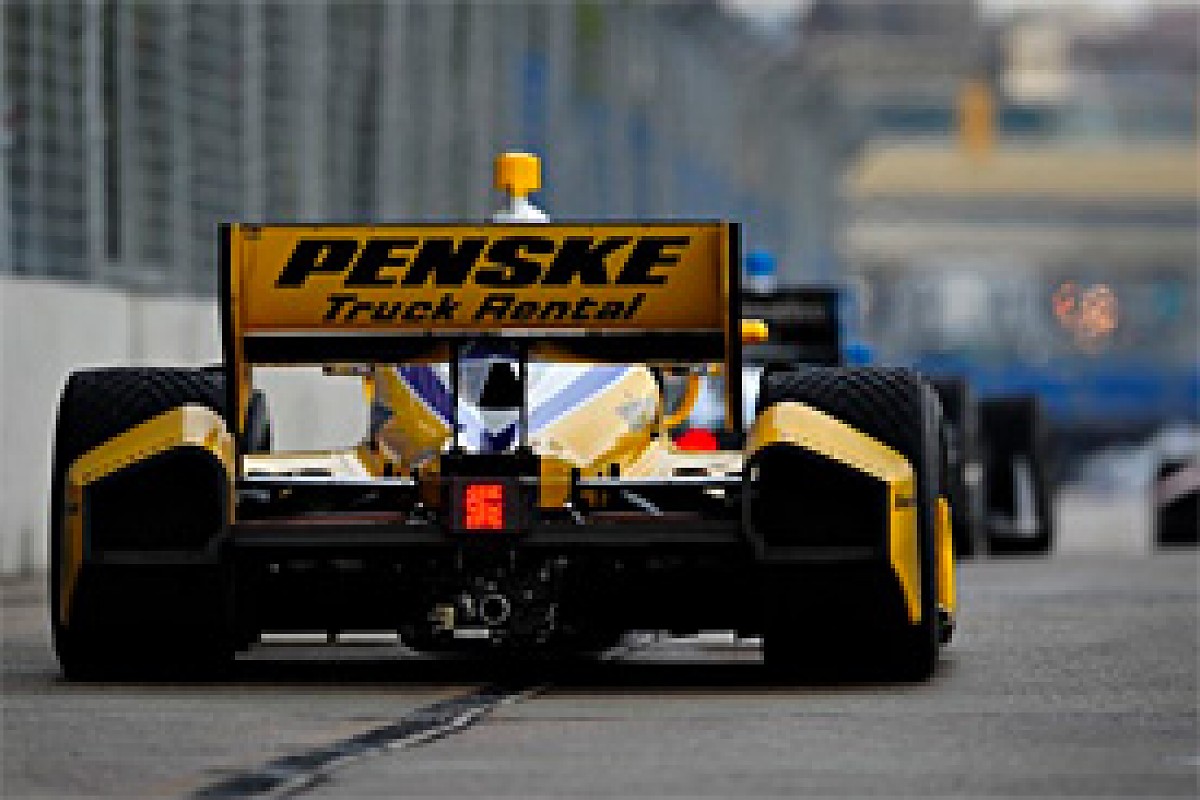 Power can count on strong team-mates at Penske © LAT
Hunter-Reay has strong team-mates as well, particularly James Hinchcliffe, who has had a standout second season, although Marco Andretti has had a more difficult time of getting on terms with the new DW12. That's not to say that he's not capable of running at the front: if everything comes together, he's capable of winning the race. And it would be preposterous to suggest that if Hunter-Reay doesn't win, it must have been Marco's fault.
But it is true that his performances have been the most enigmatic of the Penske/Andretti pantheon during 2012, and it has been routinely difficult to predict how effective he might be before he actually takes to the track. The entire Andretti team will take some encouragement from the fact that he has looked stronger over the past couple of races.
Power, on the other hand, has the comfort of knowing that the Penske guys rarely have off days, and if everything goes to plan, both if his colleagues will be starting somewhere in the top 10. It's a tiny thing - but in title-deciding races, even the tiny things can hold immense value.