"He's the oldest rookie we've ever seen!" Tony Kanaan is in playful mood in the post-Indianapolis 500 press conference, despite the fact that he's just missed out on winning it... again. The target of his ribbing, Rookie of the Year Rubens Barrichello, is grinning right next to him. "I'm sitting here because I'm a rookie," he shoots back. Pointing to his namecard on the desk in front of him, he adds: "I have 'Rubens Barrichello, Rookie'."
Twelve months ago on Memorial Day weekend, the Formula 1 veteran-spec Barrichello was racing to ninth place for Williams around the streets of Monaco, a world far removed from running 220mph around Indy. Now 40 years of age, racing to an 11th place finish at the Brickyard - a venue where his 322 grand prix starts, 11 wins and 68 podiums counted for zilch - left a big impression on Rubens.
"I have raced a lot, but nothing like this," he says. "Last year I was watching the race on TV and, I must be honest, I thought, 'Yeah, I can do that, it's only got four corners!' But it was a lot more [impressive] than I ever thought it would be, I have a lot of respect for this place.
"I learned so much this month, like when I first took off from the pitlane and started to pull to the left, I came back in and said, 'There's something wrong.' But these cars are built to turn left!
"When you're at peace with yourself in the car, running at those incredible speeds, it's a great feeling - unbelievable. If you play golf, you know you can't hold the club too hard, you've got to have a soft grip. That's the way you have to drive here - you have to be a little bit loose and be smooth with it."
Barrichello dices with eventual victory contender Takuma Sato © LAT
During the race, Barrichello held his own in the middle of the pack in his KV Racing Technology Dallara-Chevrolet. Despite complaining of engine issues over the radio, and also erring on the side of caution in terms of downforce levels, he was running with the leading group into the frantic closing stages, when he got shuffled back down the order.
"It's a pity that we didn't finish in the top 10, just outside. But I can be proud of that for my first time out. We had some problems with fuel pressure, so sometimes I was having some lift from the engine - it would die on me. I think we were carrying a little bit too much downforce to be racey right at the end.
"But having said that, I had a wonderful afternoon. You learn who races a little bit harder, who races a little bit more friendly. But the last 20 laps, people are just really, really going for it. It's impressive. The first 180 laps, it's all OK, but the last 20 laps, man, that's when the race starts. People were racing hard. At 220-225, it's just madness out there sometimes."
All part of the learning experience at Indy, and he had plenty of willing teachers 'schooling' him in the latter stages. All those F1 miles for Jordan, Stewart, Ferrari, Honda and Brawn counted for little when it came to taming the banking in race mode.
"Right at the end, even though I was all the way flat-out, trying to stay on the draft, they were too much for me," he says. "TK, [Oriol] Servia, these guys know how to race on the outside. But I'll be back. By next May I will try outside, outside, outside!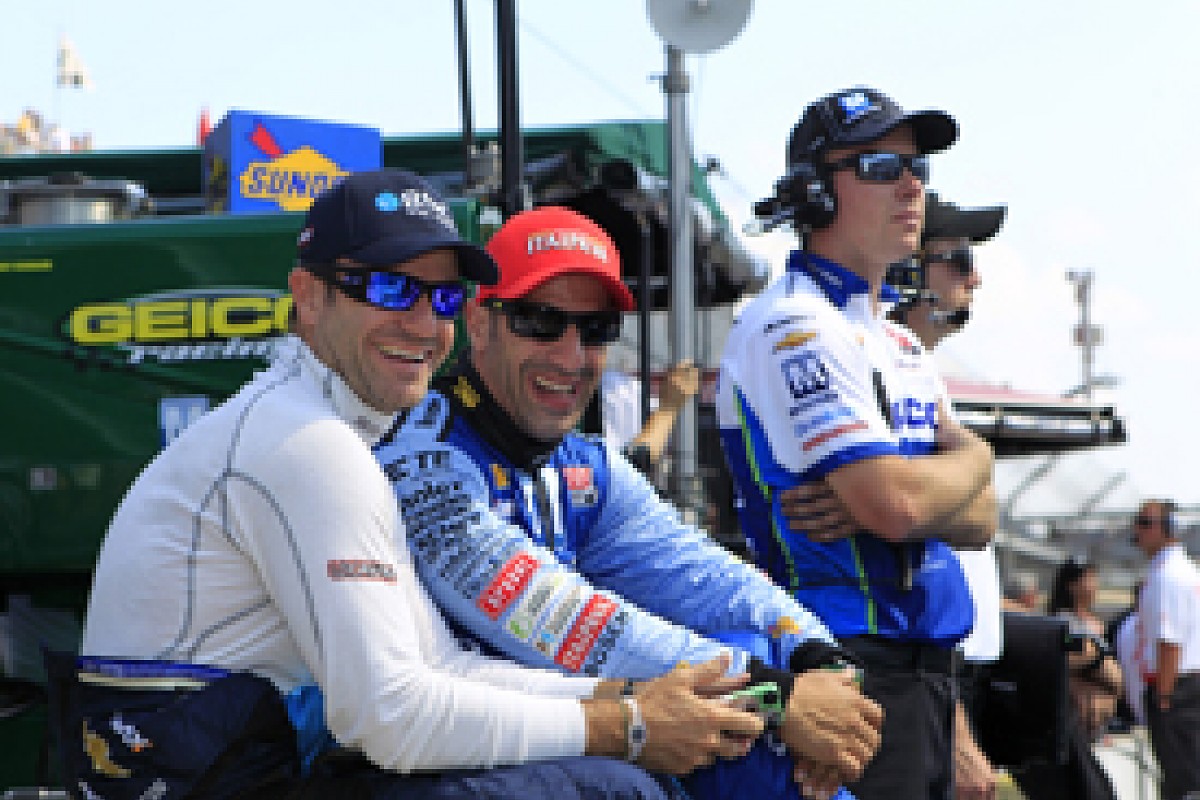 Team-mate and friend Kanaan has helped Barrichello acclimatise © LAT
"I had the whole week in the car, trying to get different lines, and some friends, Scott [Dixon], TK, Dario [Franchitti] said, 'Man, get out of that white line [on the inside of the corners]. Get out of the white lines - that's NASCAR, that's not for you.'
"That's something that I appreciated so much. Everyone that played with me this month, they played me safe. At the end of the day, those 20 laps, there are no friends there - I can see that. But at least people have a lot of respect before."
Barrichello has embraced his new environment as much as it had welcomed him. His IndyCar arrival has been perfect timing with the advent of the Dallara DW12 and an engine war, which has offered plenty of development scope. He's bringing a lot to the KV party in terms of feedback and technical expertise, despite his lack of oval experience.
"When I was young in go-karts, they used to test me all the time," he says. "Sometimes they would adjust the kart, sometimes they would leave it the same. They would always ask, 'How was it?' so I really had to develop my feeling for beneficial adjustments to the car. Here, you have to understand the numbers to work with the engineers to go faster.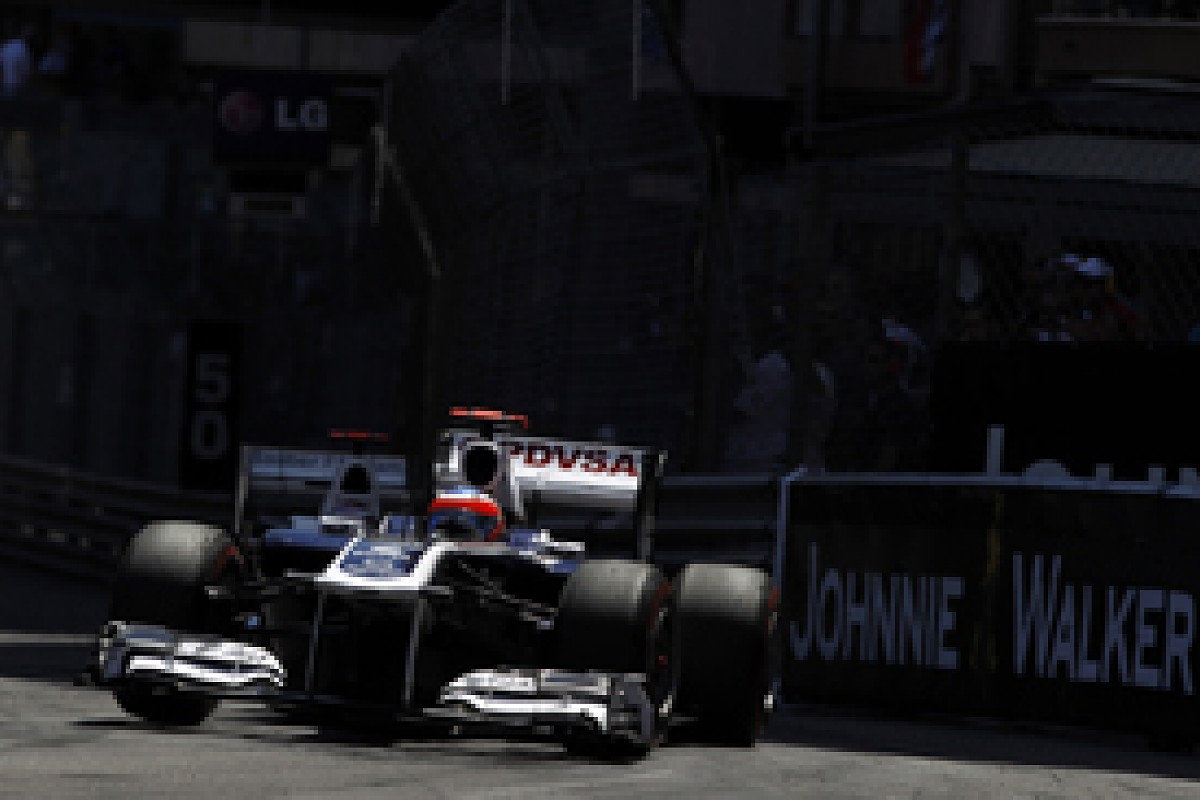 Twelve months ago, Barrichello was racing a Williams F1 car around Monaco © LAT
"The cars, they're so different [to F1]. That's why I think I'm still not there competitive-wise. I think I'm doing OK, but I'm not 100 per cent just yet because the car has more boost. Being almost 200 kilos heavier, the car is more difficult to brake for me. I'm kind of a smooth driver with the way I drive. With this car, you just have to be tougher because the steering wheel is heavy.
"I tell you, I think that my experience here on the oval will help me have at least more feedback from the cars. You run on such a light downforce that I think it will help me a lot."
His next stop is a midweek test at Milwaukee, before this weekend's Detroit race weekend: "Everything's happening so fast. But I'm a pretty fast learner, and I'm enjoying my time."
Since F1 jettisoned him at the end of last year, it would have been easy for Barrichello to take a year out, or simply retire from racing. But the passion is still burning bright, and he's relishing the new experiences of his second coming in a different form of top-line single-seater competition.
"In my life, whatever I do, whatever is right or wrong, I have fun. If I am sitting in this car, it's because I'm having fun. I've already proved to many people that I could have quit - I have a wonderful wife and kids. I could stay home in Brazil.
"But I still love this too much. I honestly do this because I was made to do this."