Audi has unveiled a new contender for the forthcoming GT2 class pioneered by sportscar promoter Stephane Ratel.
The Audi R8 LMS GT2 will race in a category aimed at amateur drivers and will be pitched against GT3 machinery in the Stephane Ratel Organisation's sprint series around the world, including the Blancpain GT World Challenge Europe and the British GT Championship.
The new Audi is the most powerful customer racing car yet built by the German manufacturer, with 640bhp from what is described as a "near-production" version of the R8 5.2-litre normally-aspirated V10.
An ram-effect air scoop for the induction system mounted on the roof of the car helps achieve the increase on the 610bhp of the engine in standard form.
The air-restrictors on the R8 LMS GT3 reduce power to approximately 500bhp.
The GT2 tips the scales at 1350kg, 115kg more than the base weight of the GT3 version of the R8.
It will sell for £303,000 less taxes, more than £50,000 cheaper than the GT3 car.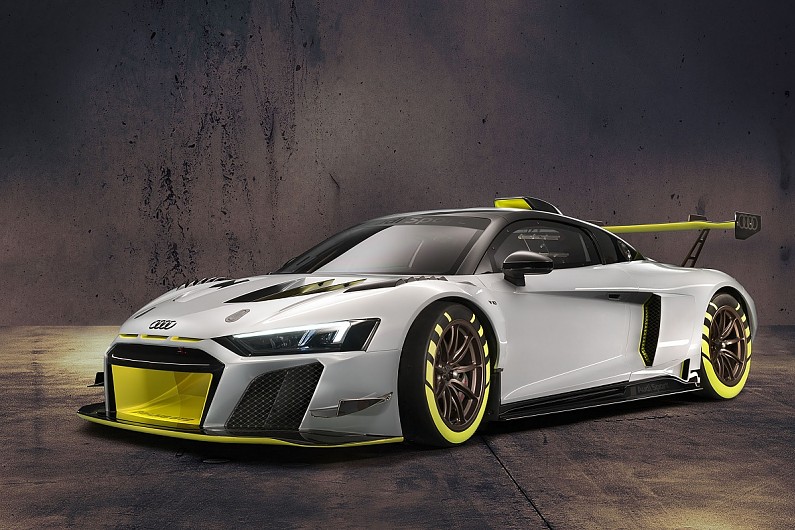 The car was unveiled on Friday at the Goodwood Festival of Speed and will be driven up the hillclimb course on Saturday by nine-time Le Mans 24 Hours winner Tom Kristensen.
Audi has become the second manufacturer to commit to the GT2 class after Porsche.
Porsche is developing a car based on its 911 GT2 RS Clubsport, a field of which will take part in a one-make race on the bill at this month's Spa 24 Hours.
A pilot GT2 event is planned on the undercard of the Blancpain GT Series Endurance Cup finale at Barcelona this September before the class is rolled out in SRO's sprint championships in 2020.
Ratel has stated that he is hoping to have a minimum of three manufacturers represented on the grid in Spain.
His concept for GT2 is to produce a class of more powerful car less dependent on aerodynamics to achieve lap times.
Ratel believes that amateur drivers have been frightened away from GT3 by the increasing sophistication of the machinery and high levels of downforce.