Jenson Button says the "terrible" crash that ended his SUPER GT race in Thailand was a racing incident, with the 2009 Formula 1 champion now 24-points adrift in the championship.
Kunimitsu Honda driver Button collided side-on with Daisuke Nakajima heading into Turn 7, pitching his former team-mate's NSX-GT into a spin and immediately out of the race.
Tomoki Nojiri, who was running behind the two, also got caught in the melee and retired on the spot, while damage to Button's own Honda proved terminal and he headed back to the pits to retire the car - although he did return on track later to "do some testing".
Speaking after race about the incident that wiped out three of the five Hondas in the field, Button told Autosport: "Once I got the tyres up to temperature, we caught the GT-R [GT]300 [car at] Turn 5, Turn 6.
"And Nakajima-san tried to go around the outside and when we got to Turn 7... the problem was Turn 7 is obviously fast, right? And we were in very different parts on the circuit.
"So he was on this side [the inside], I was this way [on the outside]. And when you come to the corner and you do this [turn in] - I felt I left enough room, there was room for a car.
"But the problem was the angle of the cars when you go the corner. We collided and crashed. Disappointing.
"This race we were in 11th, 12th place so it was a very tough day.
"I didn't realise the rear wing was broken.
"So I started pushing before Turn 4 and lost the rear because the rear wing was broken, it was moving.
"Obviously you never want to crash with your team-mate and you never want to crash with another Honda.
"It's tough but also racing you know.
"We [are] going to crash, it's going to happen.
"We try and limit accidents and we don't want to crash with people.
"It's not on purpose. So we try our best not to make it happen again. But I'm sure it will happen again one day."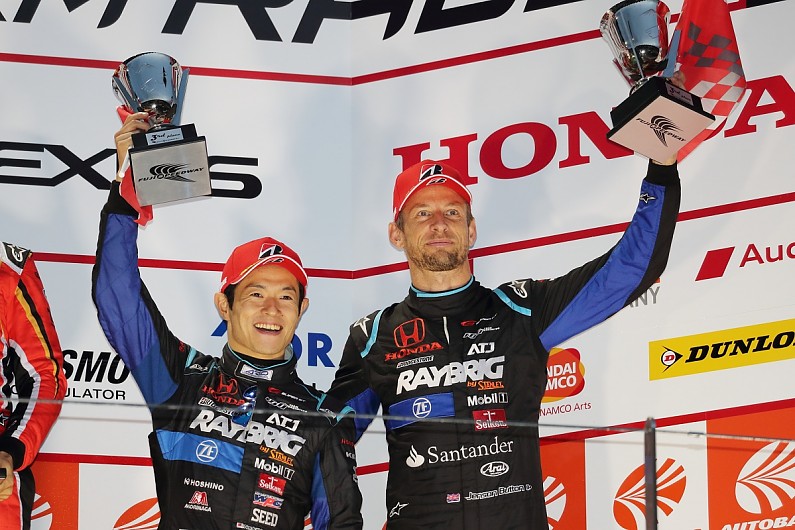 Buriram marked the second time the Kunimitsu Honda was involved in a collision in 2019 after Button's team-mate Naoki Yamamoto was shunted off by Koudai Tsukakoshi's Real Racing NSX-GT while in the lead of the Suzuka race.
Button and Yamamoto have scored points only once in four races so far, courtesy of a third place finish in the Fuji 500-km event.
This has dropped the pair to 11th in the championship, 24 points off leaders Kazuya Oshima and Kenta Yamashita (Team LeMans Lexus), who won in Thailand.
Button says he and Yamamoto are in desperate need of strong result at the next round in Fuji for them to have any chance of defending their crown.
"Very low, 22kg [of success ballast], hopefully that will help us," said the 2009 Formula 1 champion when pointed out he'd have one of the lightest cars on the grid in the bonus-points Fuji 500-mile race.
"The problem is there are quite a few cars that will be quick. The 12 [Impul Nissan] car - very low success ballast. The 17 [Real Racing Honda] car - very low success ballast.
"We have to be in the top three, otherwise championship very difficult.
"[Oshima and Yamashita] are 24 points in front. So big points. Hopefully the next race will be a fantastic race. It has to be a fantastic race. We'll try our best."