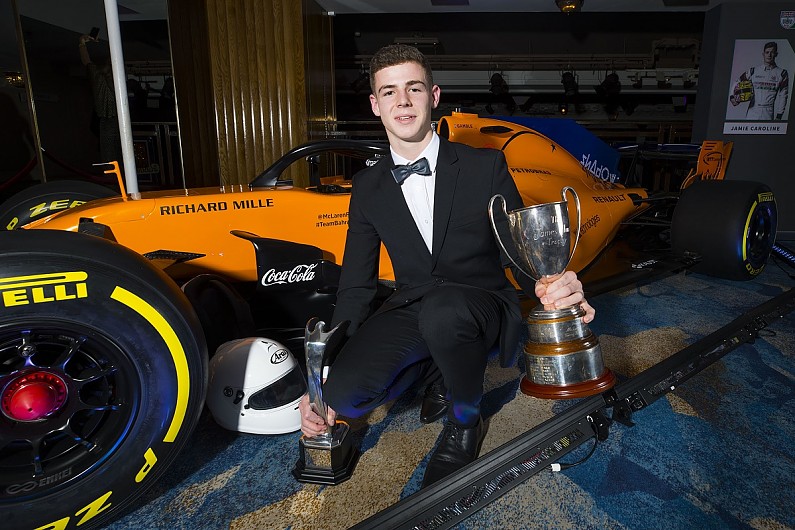 McLaren Autosport BRDC Award winner Tom Gamble will switch codes from single-seaters to GT racing with the WRT Audi squad this season.
The 17-year-old is moving to Blancpain GT World Challenge Europe to race a WRT Audi R8 LMS after his maiden single-seater campaign last year in the BRDC British Formula 3 Championship.
He will share the entry in the silver cup class of the five-round championship, formerly known as the Blancpain GT Series Sprint Cup, with Shae Davies, a sometime Australian Supercars driver who last year raced in the BGTS Asia.
Gamble told Autosport: "After winning the award I was hoping to stay in single-seaters, but there isn't the money for me to move up the ladder.
"My ultimate aim is to become a paid racing driver, so switching to GTs at my age could be a good move.
"I want to become a factory driver, whether that's in the DTM, Formula E or GT racing."
"There were a few options, but the chance to go with a successful team like WRT was the best one."
WRT tam boss Vincent Vosse described the combination of Gamble and Davies as "a very strong line-up".
"We haven't tested Tom yet, but I know that the level of MABA winners is always very high," he said.
Gamble is the third winner of what has now been renamed the Aston Martin Autosport BRDC Young Driver of the Year Award to drive for WRT after Oliver Jarvis and Jake Dennis.
Gamble explained that he was hoping to add further drives to his 2019 programme.
"Hopefully a few other opportunities will pop up in the season, so I can get some more seat time," he said.
"I think I could bring something to a team, especially as I'm a silver driver."
Gamble and Davies will race one of four WRT Audis in the World Challenge Europe sprints.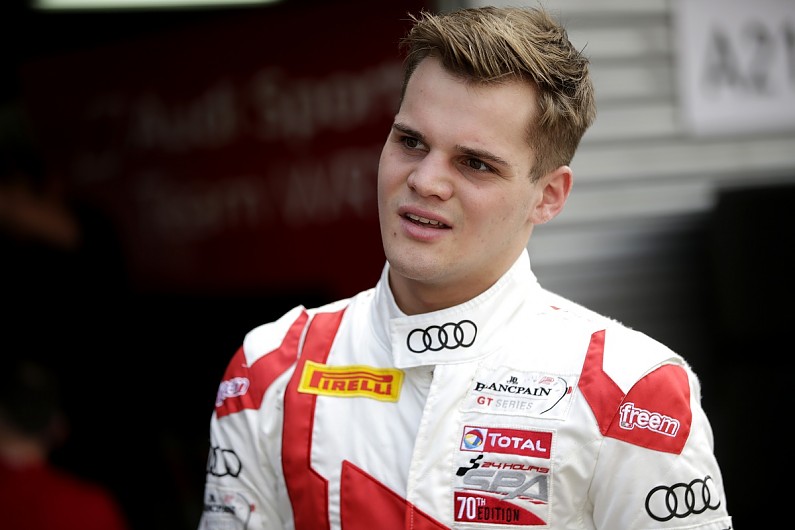 Team regular and Audi factory driver Dries Vanthoor (above) will race alongside Ezequiel Perez Companc, who is moving to WRT after two seasons with the Grasser Lamborghini squad.
Christopher Mies, another member of Audi's GT roster, shares a car with Formula 4 graduate Charles Weerts, the son of WRT co-founder Yves.
Former GP3 racer Oscar Tunjo will drive with Rik Breukers, who has won the GT Daytona class at the opening two rounds of this year's IMSA SportsCar Championship with Grasser.
WRT will field three Audis in the Blancpain GT Series Endurance Cup.
Its solo pro class entry will be driven by Vanthoor, Companc and Alex Riberas.
Weerts and Breukers team up with former Nissan driver Ricardo Sanchez in one of two entries in the silver cup class.
Davies, former Aston Martin driver Alex MacDowall and Paul Petit, a race winner in the European Le Mans Series with Racing Engineering, drive the other.
WRT is expected to again field additional factory-backed cars in the Spa 24 Hours blue riband round of the Endurance Cup.