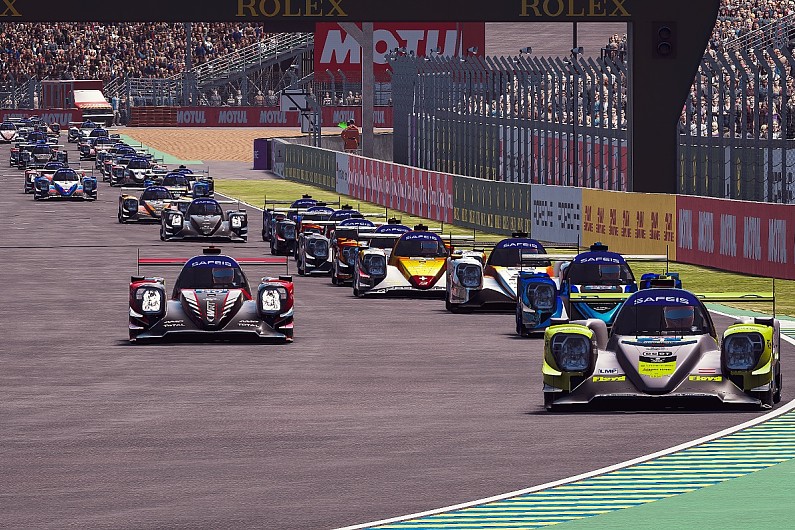 The inaugural 24 Hours of Le Mans Virtual created plenty of interesting storylines, but which of the professional drivers made the best impression? JOSH SUTTILL crunched the numbers
With Formula 1 champions and past Le Mans winners among the 200 drivers competing in the 24 Hours of Le Mans Virtual, there were bragging rights at stake for the real-world drivers looking to translate their pace to the virtual world.
The regulations for the event, which was organised by the WEC, Automobile Club de l'Ouest and Motorsport Games mandated that each of the 50 teams had to run a minimum of two FIA Intentional licences holders and a maximum of two sim racers.
Virtual Le Mans reaction from Autosport
Consequently, over half of the field was comprised of real-world professional racing drivers, while Team Penske and United Autosports bucked the trend by opting to field a four-driver team entirely comprised of its real-world racing drivers.
Differentiating between sim and real-world racers can often be difficult, with many of the real-world drivers having a lengthy background in the virtual world - whether from their experience in a simulator role for a manufacturer or from competitive sim racing appearances.
For the purposes of this article, we will be following the categories (sim racer or real-world racer) assigned by the Le Mans upon the assembling of the star-studded entry list.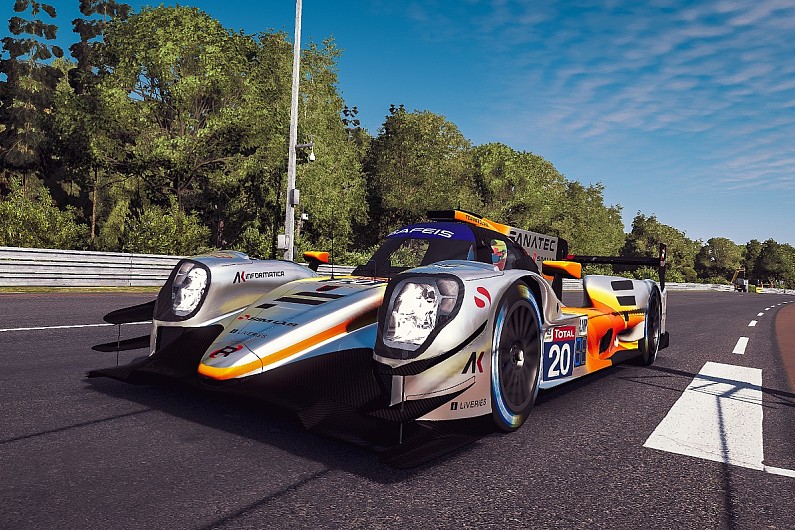 Alonso fastest over one-lap
Judging purely on the basis of the fastest individual lap times set by the drivers classed as real-world racing drivers, two-time F1 champion Fernando Alonso stands at the top of the timesheet ahead of Argentine touring car driver and keen sim racer Augustin Canapino.
Top 10 outright fastest lap times
1. Fernando Alonso #14 FA/RB AllInSports 3m25.555s
2. Augustin Canapino #13 Rebellion Williams Esports 3m25.602s
3. Franco Colapinto #17 IDEC Sport 3m25.722s
4. Kelvin van der Linde #30 E-Team WRT 3m26.004s
5. Jose Maria Lopez #7 Toyota Gazoo Racing 3m26.039s
6. Esteban Guerrieri #4 ByKolles - Burst Esport 3m26.072s
7. Larry Ten Voorde #46 TDS E Racing Motul 3m26.109s
8. Dries Vanthoor #30 E-Team WRT 3m26.156s
9. Raffaele Marciello #1 Rebellion Williams Esports 3m26.238s
10. Simon Pagenaud #6 Team Penske 3:26m250s
For reference, the fastest lap of the race was set in the final minutes of the race by sim racing veteran Aleksi Uusi-Jaakkola, who clocked a 3m23.672s in the #37 Jota-Team Redline car. That lap time was almost four-tenths quicker than anybody else.
Alonso's best effort placed him ninth out of all 120 LMP drivers. It's also worth noting that ex-British Touring Car Championship racer Mike Epps, who raced in the BTCC-supporting Ginetta GT4 Supercup series last year, was classified as a sim racer but did set a lap that was over two tenths quicker than Alonso.
The two-time defending real life event winner's chances of success quickly diminished within the opening hour as he ran out of fuel and stopped on the track. He'd picked up a one-second stop-go penalty for colliding with the Porsche 911 of Simona de Silvestro at Tetre Rouge and was forced to serve it when he entered the pits, instead of receiving the fuel he needed.
The entry Alonso shared with 11-time grand prix winner Rubens Barrichello was re-instated into the race during the first red flag period and, with little to loose, Alonso was able to push for quick lap time at the end of the race while the frontrunners were fuel-saving to get to the finish. Despite this, it was still an impressive fastest lap from a driver who had only recently taken up competitive sim racing.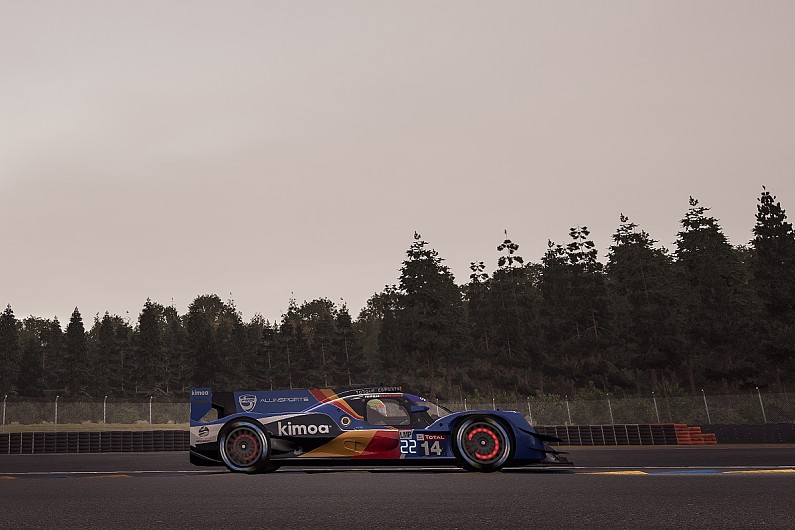 Rowland tops stint averages
Most teams opted to run 10-lap stints in the race, which included a small amount of fuel-saving that was typically done at the end of the Mulsanne Straight. Studying the average lap times over a stint can offer a more representative - if not 100% accurate - picture of how the pros performed compared to individual fastest lap times, albeit with many of the same caveats which are also found at the real-world Le Mans.
LMP drivers have to regularly navigate through the slower GTE machinery, while the requirement to obey blue flags when being lapped themselves can also detract from ultimate pace.
There were also two red flag periods, so for the purpose of a fair comparison, we've discounted any stints that started directly after the safety car released the field and, when calculating the 10-lap averages, the in-lap, out-lap and next slowest lap (the lap most affected by traffic) have been omitted.
Fastest 10-lap stint average lap time
1. Oliver Rowland 2 Seas Motorsport 3m26.953s
2. Kelvin van der Linde #30 E-Team WRT 3m26.958s
3. Raffaele Marciello #1 Rebellion Williams Esports 3m27.002s
4. Agustin Canapino #13 Rebellion Williams Esports 3m27.073s
5. Stoffel Vandoorne #16 Veloce Esports 2 3m27.141s
6. Franco Colapinto #17 IDEC Sport 3m27.148s
7. Dries Vanthoor #30 E-Team WRT 3m.27.251s
8. Norman Nato #16 Veloce Esports 3m27.403s
9. Tom Dillmann #4 ByKolles-Burst Esport 3m27.405s
10. Lando Norris #20 Team Redline 3m27.446s
Rowland continued his strong sim racing presence in the virtual Le Mans, having previously taken third place in Formula E's Race at Home Challenge series, which is also run on simulator-platform rFactor 2. His 2 Seas Motorsport entry finished fourth after a late move on the Jean-Eric Vergne/Pierre Gasly #24 Veloce car and had led the race for 33 laps.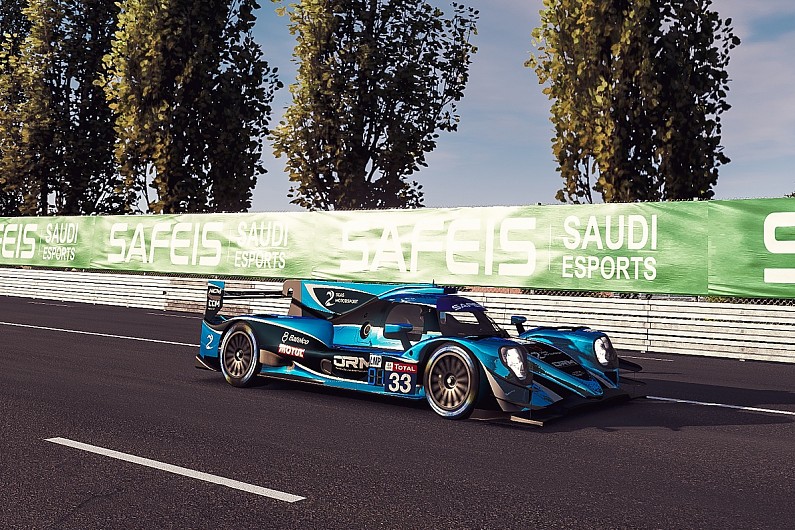 E-Team WRT's strong potential is shown with both of its real-world racers van der Linde and Vanthoor inside the top 10 of both lists. Van der Linde led the race when the pole-sitting ByKolles - in the hands of Dillmann - served its drive-through penalty for a jump start, however the Belgian-based squad also hit trouble shortly after the hour mark when a simulator disconnect for van der Linde dropped him to the back of the LMP field. Showing race-winning potential pace throughout the race, it eventually made it back to seventh at the finish.
Marciello, who completed 60 laps per day in the build-up to the event with his Rebellion-Williams team-mates, played a crucial role in quickly catching the ailing race leader Max Verstappen during the 10th hour. As the Verstappen/Lando Norris car dropped out of the race - until it re-joined some 10 hours later when the second red flag occurred - Mercedes GT ace Marciello built a sizeable race lead for his team-mates.
PLUS: Analysis: How an unlikely tie-up won sim racing's biggest race
The #16 Veloce Esports car also had two cars inside the top eight-fastest individual stints, highlighting its potential race-winning pace. Formula E racer Stoffel Vandoorne put the car firmly in the lead battle, and it had led for 32 laps before Irish sim racer Eamonn Murphy tripped over a GTE car and ended up in the barriers just past the eight-hour mark.
Alonso may have set the fastest outright lap time, but his fastest average stint was 3m27.586s. The Alonso/Barrichello car could only recover to finish in 17th place, eight laps down.
Verstappen wasn't far off Norris on a 3m27.586s and both may have gone much faster without their technical issues.
One-time F1 world champion Jenson Button, whose Team Rocket entry finished in ninth place, clocked a fastest average stint speed of 3m.27.673s. His former team-mate Barrichello was only a further tenth adrift. Not bad for a driver of 48.