Alexander Sims will be part of the BMW-affiliated Andretti Formula E team's development programme for its 2017/18 powertrain.
BMW factory driver Sims completed five days of testing last summer as Andretti worked on its ATEC-02 powertrain for the current 2016/17 season.
Sims is Andretti's reserve driver in Formula E, and was in Monaco on standby because Robin Frijns has a knee injury.
Andretti co-team principal Roger Griffiths told Autosport Sims would drive the 2017/18 car, but "we've got to fit it around his other BMW programmes" in America and Europe.
"Alexander probably did half of our development testing last year," said Griffiths.
"We already knew him and his connection with BMW was almost an enhancement."
BMW's technical partnership with Andretti officially began for this season, as a way of it learning the series before entering as a fully-fledged powertrain constructor in 2018/19.
Andretti signed BMW factory driver Antonio Felix da Costa to partner Frijns, who drove for the team last season.
Frijns is employed by Audi to drive for the works-blessed WRT team in the Blancpain GT Series, but Griffiths said since BMW joined as a partner "there's never been an issue of conflict of interest" over Frijns' Audi arrangement and "it's understood his primary focus is Formula E".
He intimated the team was keen to continue to work with Frijns, but admitted Sims would likely be on BMW's driver shortlist when it enters in full.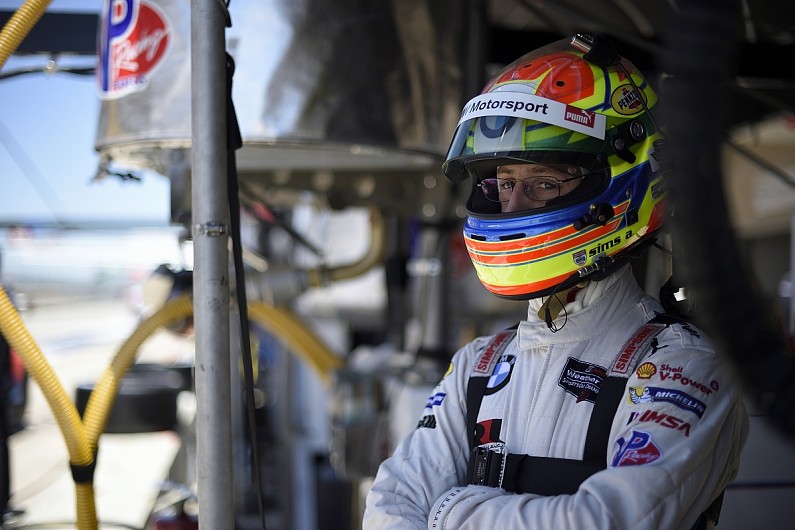 The Briton is a vocal proponent of electric vehicles and is in his fourth season racing for BMW, with an IMSA SportsCar GTD campaign his main programme alongside a Nurburgring 24 Hours seat and a development role in BMW's 2018 World Endurance Championship challenger.
"The plan for season five, I don't know," said Griffiths, who would not comment on whether Andretti will be BMW's operational team in 2018/19.
"I'm sure Sims will be in a pool of drivers to be considered for a race seat.
"It's far too early to say for us next season, but continuity is good."
The 2018/19 season is when Formula E will adopt a new McLaren Applied Technologies battery that will eliminate the need for the car swaps that discouraged BMW from entering the series initially.
Asked about his chances of working with Andretti in the future, Frijns said "I hope it is for the long-term".
Sims said he "did not want to speak out of turn" over BMW's increasing involvement and whether that boosted his chances of a race seat.
"It's on my personal radar but it's outside my control," Sims told Autosport.
"I just do my job on-track and see where BMW and Andretti see the driver line-up in the future.
"If I can be a part of that I'd love to but there are no plans as such at the moment to do anything more than just some testing."