Jean-Eric Vergne believes he would have won a three-way fight for the win in Formula E's Marrakech ePrix without his drivethrough penalty.
Vergne was catching race leader Felix Rosenqvist at the beginning of the second stint, with eventual winner Sebastien Buemi closing on both on an alternative strategy.
Rosenqvist and Vergne ran a lap shorter than the chasing Buemi in the opening stint, with 4.5 seconds separating the lead duo after the car swaps and Buemi more than six further adrift but with more energy to use.
In the five laps before Vergne came in to serve his penalty for speeding in the pitlane, Buemi had cut the gap to Vergne to four seconds and Vergne had reduced Rosenqvist's advantage to just two.
"We would have won," Vergne told Autosport. "I was quicker than Rosenqvist and Buemi was quite far behind.
"Then the energy he would have spent to catch me, he would have had no extra energy to pass."
Mahindra rookie Rosenqvist was struggling in the second stint after keeping Vergne at arm's length in the first.
Rosenqvist's team boss Dilbagh Gill agreed with Vergne that Buemi arriving on the scene would have delayed the Renault e.dams driver or used up his additional energy.
But he believed Rosenqvist could have held Vergne off, as they both needed to save energy, and that Buemi's subsequent arrival would have given Rosenqvist a reprieve.
Then, instead of the three drivers converging and a more thrilling scenario playing out, Vergne's penalty released Buemi to catch and pass Rosenqvist with ease.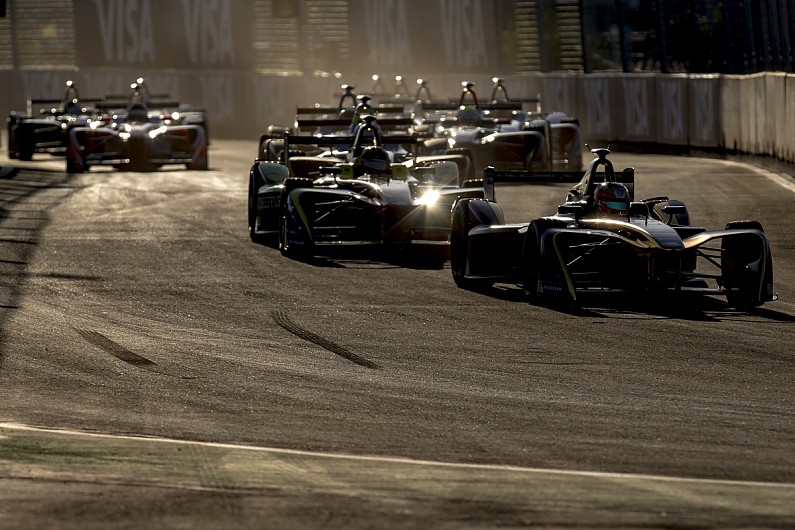 VERGNE SLAMS 'STUPID' ERROR
Marrakech was the second messy event in a row for the new Techeetah team, which could draft in new personnel before the next round in Buenos Aires to improve its race operations.
Vergne topped the group phase of qualifying in his customer Renault Z.E.16, but he was not able to take part in the superpole after his team inexplicably sent him out too late and he was stopped by a red light at the end of the pitlane.
Vergne labelled that "a stupid mistake" and blamed a faulty pitlane speed limiter button for the speeding offence that wrecked his victory bid.
He rejoined fifth after serving the penalty but said a steering wheel display malfunction sent his energy readings "absolutely mad and I found myself with way too much energy to save".
"It's extremely frustrating," added Vergne. "I had the car to be on pole and win but I leave with four points and Buemi with 50 [after two races]."