This was an enormous middle finger to the traditionalists. A computer game being treated like real life, with a grand total of $1million up for grabs just for playing on what was little more than an Xbox on steroids. Twenty professional racing drivers and 10 wannabes all dressed up with nowhere to go except the bucket seat of a glorified toy.
Well, not exactly.
Formula E's Las Vegas eRace, embedded at the heart of the city's massive Consumer Electronics Show earlier this month, was a watershed moment for racing and eSports: a flat-out attempt to showcase what sim racing is about. It flew in the face of convention.
"It's crazy how big this is," says Andretti's Antonio Felix da Costa of the sim-racing world. "People get paid, there are sponsors, there are live races - there is a whole big world behind it."
Even with Visa's handsome prize pot - fighting over a million bucks was an appealing sell given the race was in Vegas - you may have missed this event. But the movers and shakers of the technological world that descended on Nevada did not.
"I think it was really powerful," reckons Formula E CEO Alejandro Agag.
"I wanted to have a major presence in CES. It's a super-influential meeting point for everyone involved in technology. Second, it was an experiment to see where to go from here."
The next step in the blossoming relationship between Formula E and sim racing was not exactly a complete success. The quality of product it delivered was not the pinnacle of sim racing - but it was something that could maybe, just maybe, offer the blueprint for a truly 21st-century kind of racing
First, some context. Sim racing, at its peak, is not a video game. It's very serious. Look at what iRacing, the biggest online racing community in the world, has developed into: a fully fledged world championship based on grand prix racing and licensed Blancpain and NASCAR series with a prize fund of more than $25,000 up for grabs in each category.
It's a still-developing world, but it is unfair to dismiss the genre as a whole as just a game, just as it's unfair to call Formula E a retirement home for F1 rejects. Of the top 10 on the grid for Saturday's Vegas race, there was only one professional racing driver: Felix Rosenqvist. Most 'real' racing drivers couldn't hold a candle to the majority of the 'gamers'.
"I'm not really into it - I do a little bit of iRacing, maybe once a week," says da Costa, who won the qualification race to secure his place in the main event. "These guys have teams and engineers, they share set-ups, they have spotters... I was surprised how close we could be to them. Online I have no chance. Qualifying was where the sim racers killed us - a one-off lap was a struggle."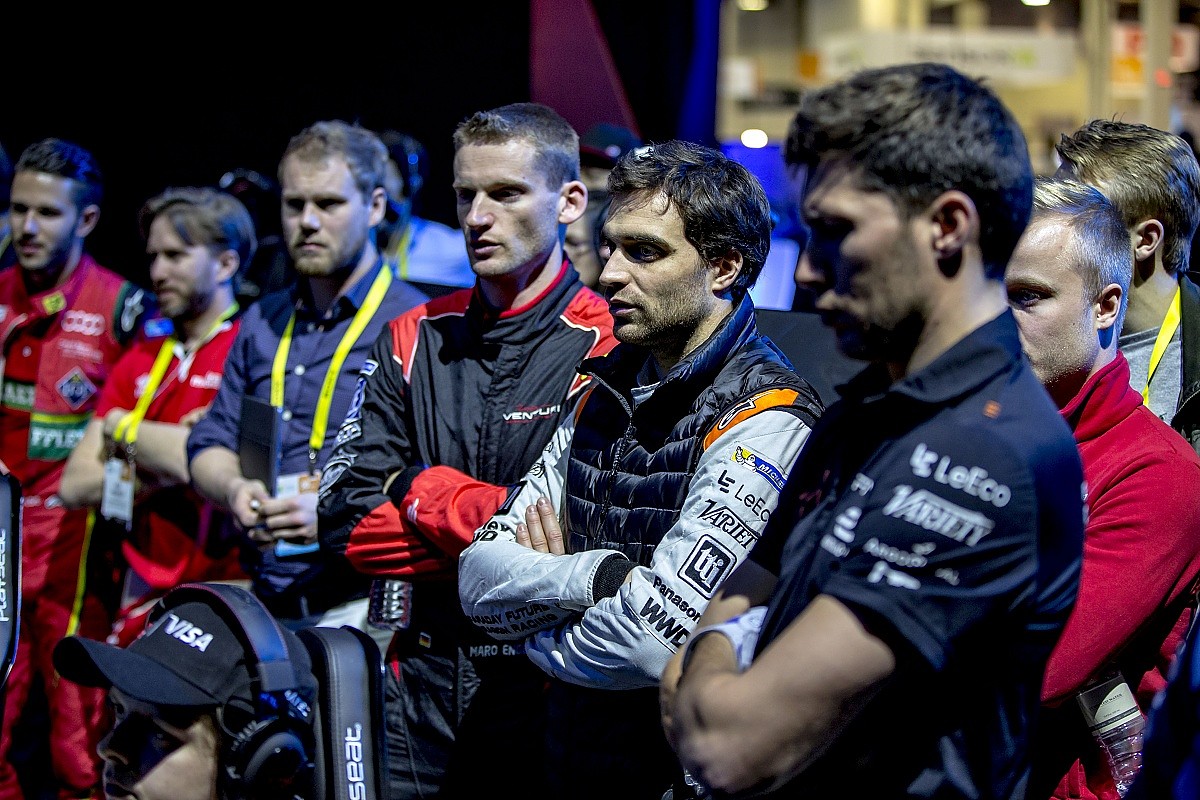 iRacing is the model of what sim racing can be. What was on display in Vegas was far from the finished article. Cloud Sport, a Spanish start-up organisation that has had great success with initiatives such as the SEAT Leon Eurocup sim-racing series, brought everything together.
It runs the gaming zone that accompanies the fan area at every Formula E event and was the promoter for the Vegas eRace (and ran the qualifying 'championship' from which 10 gamers joined the 20 professional Formula E drivers in the final).
In addition to Cloud Sport, Formula E tied up with gaming behemoth Playseat (for the simulator rigs) and used rFactor 2 software.
So, how did it fare?
Any race in which the polesitter establishes an early lead, heads the field throughout and (eventually) wins isn't exactly a nailbiter. There were elements that made it an entertaining watch, but few of them were at the very front.
Save for the fact that there was intrigue (as Olli Pahkala took the flag first but, in an homage to real-life Formula E races, lost it post-race due to a penalty), the lead battle lacked a real climax.
Watching Bono Huis keep Rosenqvist at bay in the closing stages was mildly interesting, but the gap only just about dipped under two seconds and Huis always looked as though he had it in hand.
The really interesting element was the first half of the race, in which a multi-car fight for third broke out. Once Rosenqvist had established second place, Aleksi Uusi-Jaakkola headed a train comprising Graham Carroll, David Greco, Pahkala and Enzo Bonito.
There wasn't any overtaking of note, but it was a nose-to-tail fight, one that culminated in a spectacular shunt involving Carroll, Uusi-Jaakkola and Greco. It wasn't quite Nick Heidfeld and Nicolas Prost for the win at the final corner of Formula E's first ever race, but it was something.
Shunting aside, the quality on show was quite high. The drivers took it seriously, as you'd expect with such a significant prize on the line, and there were few mistakes: give it a chance and you could respect the level of driving on display. And an important part of that was the FE drivers taking it seriously - it gave the gamers a chance to show what they were about.
"That was really cool to see," says da Costa. "Every FE weekend we do an eRace and it's completely stupid, we all crash into each other.
"There wasn't anyone making stupid moves, and we had damage on the cars, which we don't normally. It was nice to see everyone stepping up the mindsets."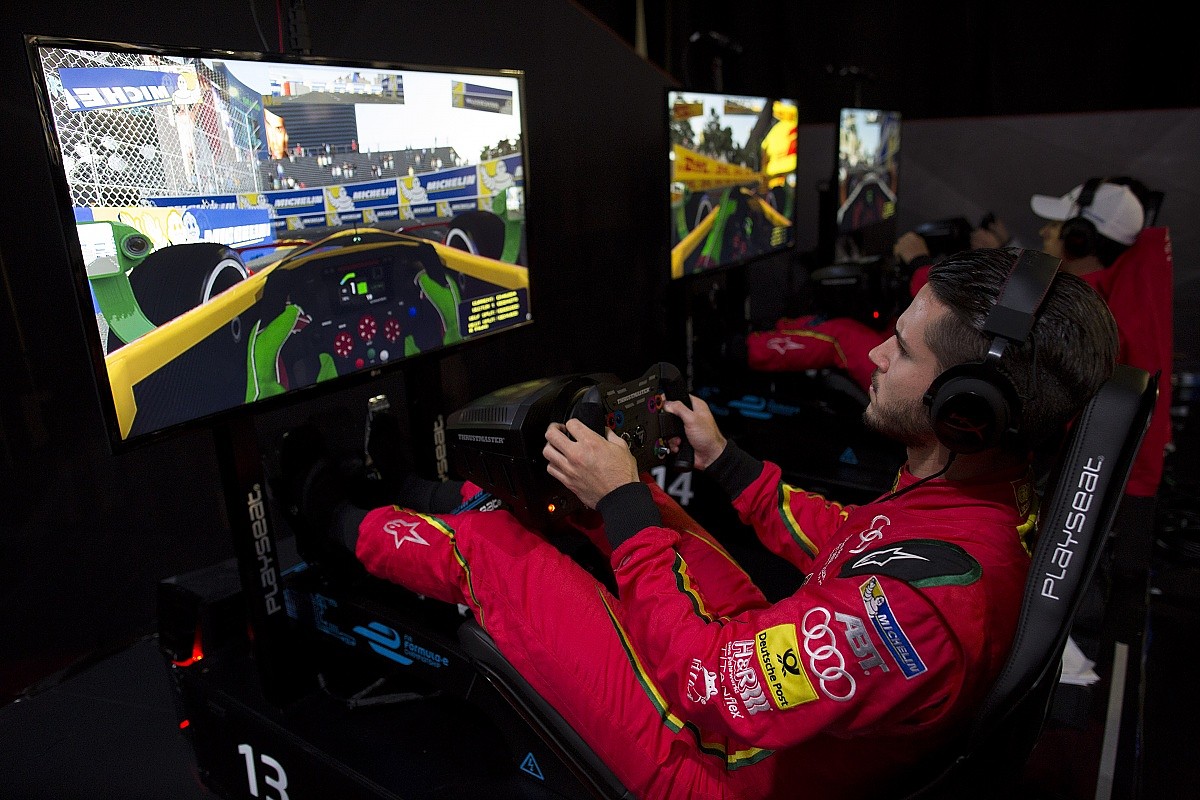 This is where some in the sim-racing community have targeted their criticism. Feedback on the rFactor 2 software is that it prioritises handling over appearance, and doesn't lend itself particularly well to customised cars and graphics. However good the broadcast - led by real-life Formula E commentators Dario Franchitti and Jack Nicholls - was in substance, the relatively poor graphics meant you could never escape the fact that you were watching a virtual race.
While each car was mocked up in one of the 10 real-life teams' livery, it was a crude final product.
When the drivers came in for the mandatory pitstop, the cars were just at a standstill in the pitlane. Of course, rFactor's software doesn't contain 'car swaps' like real-life Formula E and it would be harsh to mark Cloud Sport down for not including that in the mod. But it was part of the broadcast and it made for quite odd viewing to just have stationary cars on screen.
There wasn't much in the way of feedback from the drivers on the handling, but it appeared that the cars were slightly odd to drive. You want the peak of sim racing to be something approaching the quality of the (rFactor-supplied) customer simulators available at professional facilities. The suggestion is the initial Cloud Sport mod was not to this level. But tyre temperature, tyre wear, and damage to the suspension when hitting the walls were all real elements factored into the rFactor software.
Pahkala reckons the event "has really pushed the sport to the next level", which may seem like lip service to some sim-racing diehards. The reality is this wasn't as slick a production as iRacing's world series.
Given Formula E's involvement, the investment from Visa and the fact it was taking place at the Consumer Electronics Show in Vegas, it's understandable that the event's detractors felt it was a missed opportunity.
To say it was sim racing's last shot at being a serious part of the eSports community is a massive stretch, though. It's difficult to determine exactly what Formula E's objective was, but the outcome was it gave sim racing a chance to be taken in by a new audience. The number of viewers is not being disclosed, but more than 10,000 tuned in to the live broadcast on Twitch, and Formula E has expressed satisfaction given it was a first attempt.
Maybe that's not worth $1million of prize-money investment, and all the rest that went with it, but a lot more people will have heard about it. And because of the parties involved, a lot of people who normally turn a blind eye to sim racing paid attention.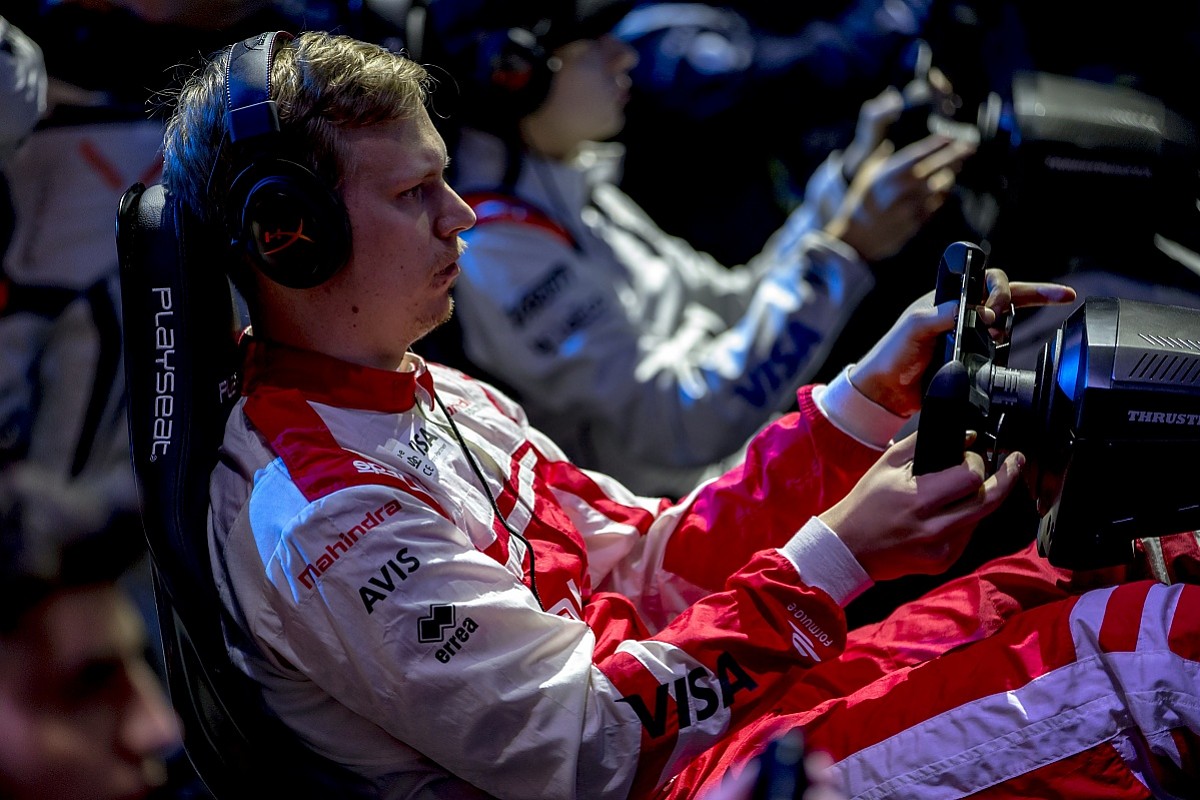 "It's huge for Formula E, but it's really massive for all of the sim racers around the world," says Pahkala. "The two worlds belong together and it's good to see the sports develop."
There were bugs, the most significant being the embarrassing situation where the first Vegas eRace was 'won' off-track, when Pahkala was dropped to third after the mod went haywire and allowed him multiple laps with Fanboost instead of one. The pace advantage that gave him was the reason he was able to leap from being out of the picture to a comfortable victory with the undercut (see below).
Technical glitches off-track also delayed the start of the event by a good 20 minutes or so, and Lucas di Grassi was actually unable to start the final race because of a problem with his rig. The Brazilian praised it as a whole but admits "we have to keep working in order to continue perfecting the processes and obviously the software. This is important because everybody - irrespective of whether they are a professional race driver or fan - was full of ambition here in Las Vegas."
Agag reckons it averaged out as a "90%" success overall - he marked making an impact at CES at "100%", while the event itself was "probably 80% successful - and the glitches account for that 20%".
"Overall it was a huge success," he adds. "Of course there were a few software glitches, but that doesn't matter.
"It's all a learning curve. The Fanboost problem was the main glitch, but this overall was a great success. There are always mistakes - you learn from experience.
"We have to try new things. We have lots of new ideas that come from this to continue in this direction. This was a really good first step - that's a major thing."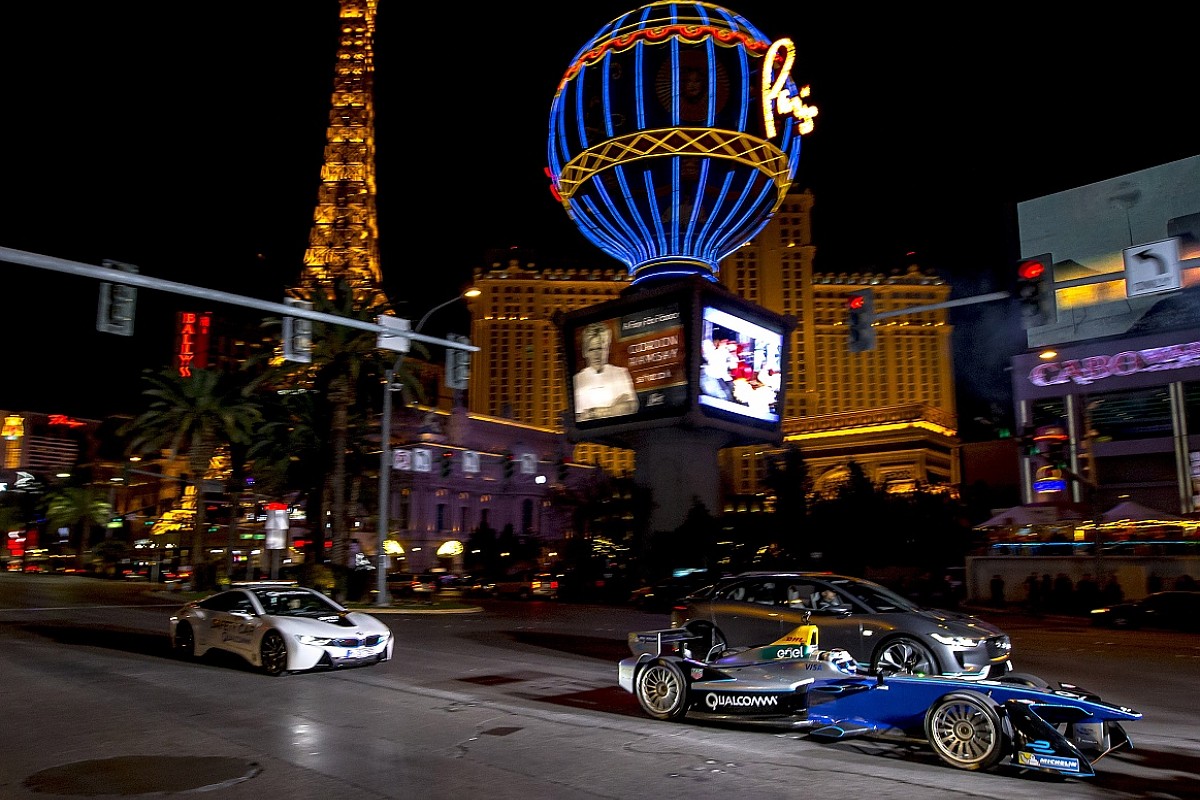 One question that has been asked is why Formula E teamed up with Cloud Sport, instead of - for example - tying in with iRacing. It's thought iRacing was an early contender for some kind of Formula E tie-up, but was a little put off by a couple of issues - mainly the costs involved in how they go about laser-scanning tracks, which was prohibitive to it being a profitable option, and also the lack of a wider benefit to putting that effort into building the tracks.
It's unlikely a sim provider would get any extra out of making the sort of circuits Formula E needs, because they are tight and - compared to the likes of Spa, the Nordschleife or Laguna Seca - aren't fun for the general sim-racing population.
That's a digression. Formula E also wanted freedom to decorate the circuits in its own image, and that extends to the Las Vegas event - the need to "develop our own circuits and branding for our own sponsors" is Agag's explanation for picking Cloud Sport over an alternative, though he admits: "We need to now see which is the direction we want to take, and take some time to evaluate which is the best way."
The problems have not gone unnoticed and that is important because the final product fell short in terms of representing the pinnacle of sim racing, but that's probably to be expected (even with the partners this had and the money involved).
Ultimately iRacing exists to serve sim racers and operates with a business model centred around customers - there hasn't been a watershed moment that's thrust the genre in front of a bigger audience.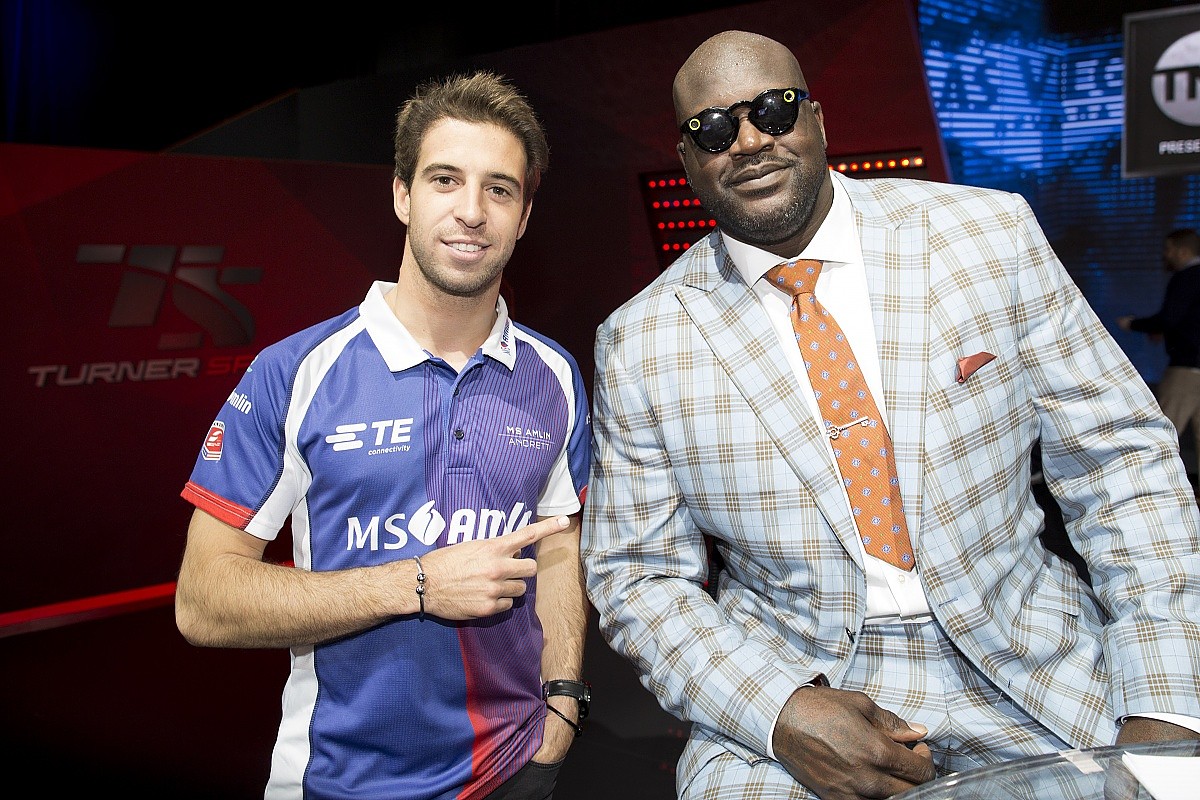 "We really exposed Formula E to people who had no idea what racing is, we were creating a whole new awareness," says da Costa. "I was live on primetime TV with Shaquille O'Neal and Charles Barkley... it was great.
"We have to be open-minded and expect a few mistakes. You can't get too upset about it. I got a drive-through and did nothing wrong - it cost me like $30,000. I went to ask and nobody could remember why I got it. They apologised, but what can you do?"
The Vegas eRace had its flaws, and it might not have drawn hundreds of thousands of fans online (a midnight UK showing will obviously have impacted there) but it has undoubtedly given sim racing a chance in the spotlight. There are plenty who will ridicule Formula E for doing that or sledge sim-racing as an irrelevance real motorsport should be ignoring.
It shouldn't and it can't. Motorsport needs every helping hand it can get when it comes to awareness and participation - the cost of entry is too high and allowing people to take part is a very important element of a sport's viability. If that has to come in virtual form then so be it.
Plus, it's a serious endeavour. Sim racing takes skill, just ask the vast majority of quality real-life drivers who had their trousers pulled down round their ankles in Vegas a couple of weeks ago. What that community has grown into should be celebrated and embraced, not shunned.
A sim-racing event might not happen on that scale again, even though Agag likes the idea of doing it in a big way. But this is likely to keep rearing its head, because it is part of what Formula E believes is a long-term plan to appeal to a different kind of audience.
It's far too early to label it a success or a failure on that front, but it's huge for a hidden part of motorsport that Formula E has taken that chance.