Red Bull and Honda Formula 1 junior Yuki Tsunoda has emerged as a favourite to secure a top seat in Formula 2 next year, Autosport has learned.
The Jenzer Motorsport FIA Formula 3 driver - who moved to the team's home country of Switzerland from his native Japan for 2019 - is eighth in the standings, having scored two podiums and a victory over the previous two rounds at Spa and Monza.
The 19-year-old has impressed Red Bull and particularly Honda with his performances. He has scored all 67 of Jenzer's points this term and has regularly fought for top 10s despite the fact that Jenzer isn't considered a top team, and does not have the budget of many of its rivals.
The next emerging F3 star
Speaking in Budapest, Honda Formula 1 managing director Masashi Yamamoto told Autosport that F2 "can be under consideration".
When asked if Tsunoda was showing the makings of becoming an F1 prospect by Autosport, Yamamoto said: "We now see his potential from some races.
"But we need to see how he can improve in further races.
"Also if he has an opportunity in future, we want to see how he can fight in higher categories against tougher competitors.
"We'll give him all the possible support as Honda together with Red Bull."
Honda supports a number of drivers across the F1 support series. Nobuharu Matsushita drives for Carlin in F2, but is in line for a fourth successive season outside of the top five in the standings in that series.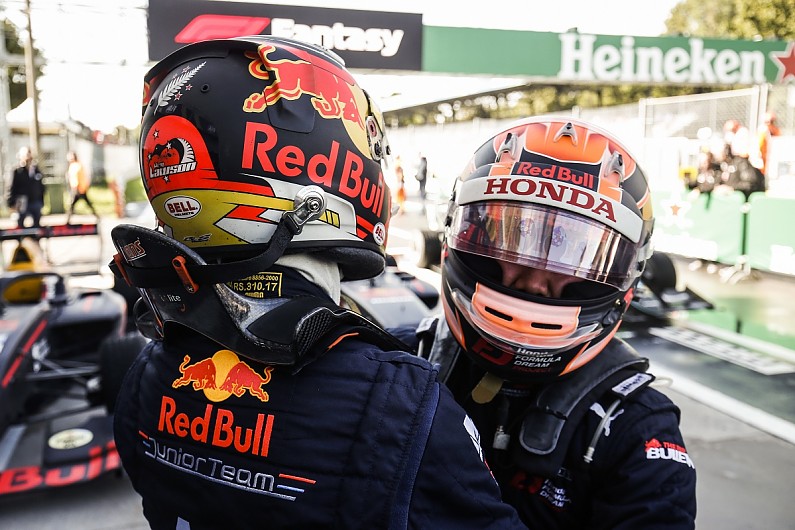 In F3, Honda's Teppei Natori is the lowest of the Carlin team's drivers in the standings, with a single point scored.
Tsunoda - the reigning Japanese F4 champion - told Autosport that he would be happy with a return to F3 or an F2 drive next season.
"For me, I think anyway it's OK, F2 or F3," he told Autosport.
"F3, I'm in P10 [speaking at Spa] so it's important to get the super license points.
"This year has been a learning year. It was my first time in Europe and first time at the tracks and race weekends.
"I think I can do better races next year because I know every circuit now."
Team boss of his eponymous squad, Andreas Jenzer has also been impressed by Tsunoda's performances.
Tsunoda's win was the squad's first at this level since Italian driver Alessio Lorandi's victory in GP3 at Jerez in 2017.
"He's fantastic to work with," said Jenzer.
"He has big expectations, but it's better that a driver is pushing and pushing, for us that's fantastic."