HWA's junior single-seater debut in the new FIA F3 Championship is like having a "midfield F1 team in F3", according to its driver Jake Hughes.
Formula E outfit HWA has been a long term affiliate of Mercedes, running its cars in the DTM until it pulled out of the series, and it now runs R-Motorsport's Aston Martin DTM effort.
Despite signing a technical partnership with Arden in the Formula 2 Championship this year, the F3 squad is the company's first full foray into the junior single-seater ladder.
Hughes is confident the team can be competitive from the off in the F3 championship, which kicks off a new era in Barcelona this weekend with a new car after the GP3 Series and European Formula 3 Championship were merged for 2019.
"If anyone has ever been to their workshop in Stuttgart it's very impressive," said Hughes, who joins from ART Grand Prix in GP3 last year.
"It feels like a mid-sized Formula 1 team competing at F3 level.
"There's always resource to be able to improve in a team like this, which is very important.
"It's [going to be] a tight championship, any help is useful."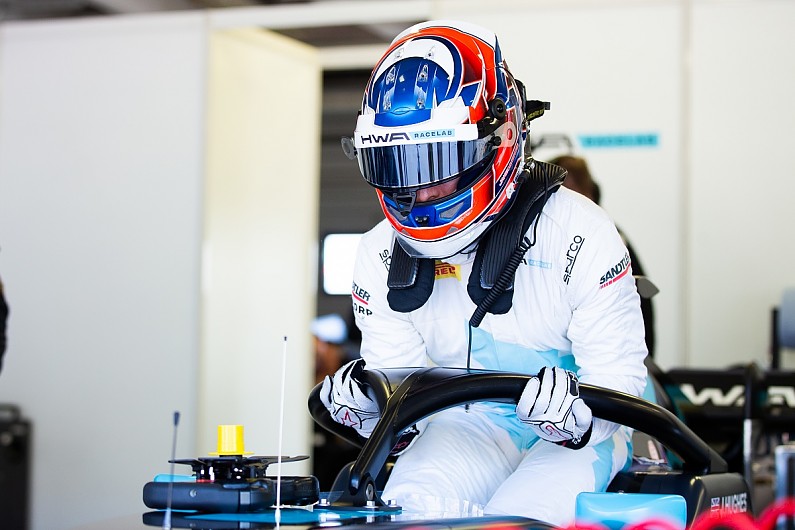 Hughes comes highly rated, despite failing to challenge for the GP3 title on his return to the series in 2018 due to struggling for race pace and with the Pirelli tyre on his way to eighth in the standings.
He is confident that HWA's growing portfolio could open doors for his career in the future, having visited the pre-season DTM test and also driven a current Formula E car in a test for NIO.
"For sure there's a lot on the back of my head that HWA is a massive manufacturer," Hughes added.
"It's very professional, very organised, there's a lot of potential there for someone like myself.
"I'd be lying if I said that wasn't part of the decision [to do FIA F3].
"I wouldn't be doing this if I didn't think it would be beneficial for my career.
"Last year wasn't what I expected. I think this is another crack at it but with the potential to go somewhere with them in the future."
Hughes showed strong race pace in pre-season testing - which he called his "achilles heel" in 2018 - and is confident that will help to turn his fortunes around and compete for the title.
"It's my aim and I think it's the team's aim as well," he added.

"The problem is this year there's 30 cars on the grid.
"Half of the grid looks like they'll be able to win a race in terms of potential.
"I have a lot of faith that we'll be pushing for it [the title]."