GP3 Series veteran Jake Hughes says the FIA Formula 3 championship's new car is similar to the GP3 car it replaces, calling it "really recognisable".
The 10 2019 F3 teams each ran all three of their cars in testing for the first time during the two days of action at Paul Ricard last week in what was the series' first official pre-season test.
Prema Racing's Marcus Armstrong and ART Grand Prix driver Christian Lundgaard set the fastest lap on each day respectively.
The new F3 car shares the engine, gearbox and brakes with the GP3 car it replaces, but organisers have increased aerodynamic elements and added more adjustable front suspension parts to bring the car more in line with the European F3 car it also replaces.
"It feels like a GP3 car still, it's really recognisable with the engine and the way the brakes feel and control," says Hughes, a veteran of 36 starts in GP3 who will race with the HWA team this year.
"It has stepped up a bit, [and] Paul Ricard has resurfaced quite a bit of the track so I think that's why the lap times are verging on two seconds quicker than last year [in GP3].
"That being said, the car feels like it has more aero in high speed corners and similar at lower speed. Mid to high speed it feels more capable."
Hughes added that set-ups will be similar in some areas but very different in others for F3 in 2019 because of differences to the old GP3 car.
"The floor is very different so ride-height and aero mapping will affect how the car reacts," said Hughes, who missed the first day of the test through engine trouble, which was rectified for day two where he was ninth quickest.
"So if you were a team in the series last year it won't be advantageous to bolt last year's set-up on. It will be in the same sort of style.
"The front suspension, ride-height and floor will make quite a big difference to set-up."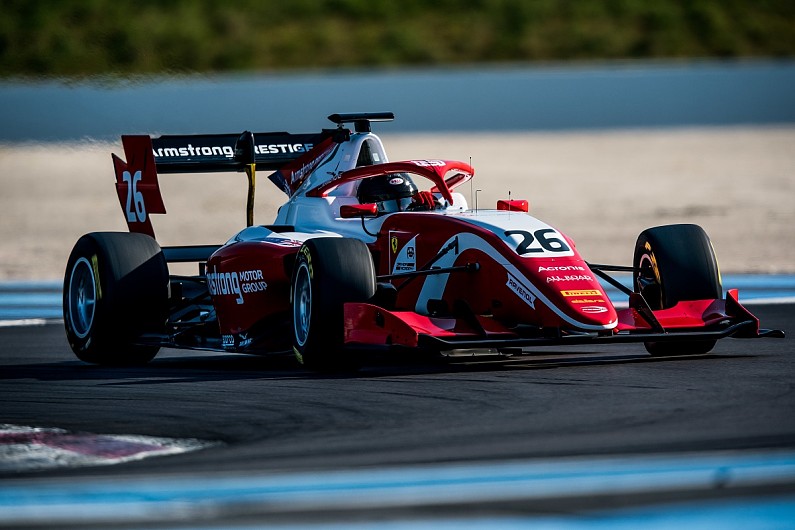 Ferrari Academy driver Armstrong was one of the stand-out drivers in the test, topping the first day and finishing second on the second.
His Prema Racing team does not have recent experience of GP3, but Armstrong is confident in the capabilities of the squad with which he competed with in Euro F3 last year.
"I was always expecting to be there or thereabouts early on," he said.
"I felt a lot more comfortable in the car than I was expecting, especially considering I don't have a lot of experience in GP3 or [with] heavy, powerful cars.
"Prema have done good preparation over the winter and helped me get up to speed quite quickly. The car is new but I feel confident.
"It's very early days and I have no idea what the other teams are doing. But regarding my situation and comparing to my team-mates, I feel confident."