New Red Bull Junior Juri Vips believes he can still win the Macau Grand Prix from seventh on the grid.
Motopark starlet Vips qualified 14th, but charged through to seventh in the qualification race - one place higher than from where Dan Ticktum started en route to victory 12 months ago.

Macau debutant Vips's performance came despite a first-lap brush with fellow Estonian Ralf Aron - the third successive race weekend at which they have collided, and the fourth in 2018.
"Ralf understeered into me at Lisboa, but I don't think there was any damage," Vips told Autosport.
"Then I made a mistake at the second to last corner [Fishermen's Bend] on the first lap.
"Maybe without that I could have had the edge to fight for fifth, but it was a good race.
"I'm not complaining - it's still possible to win."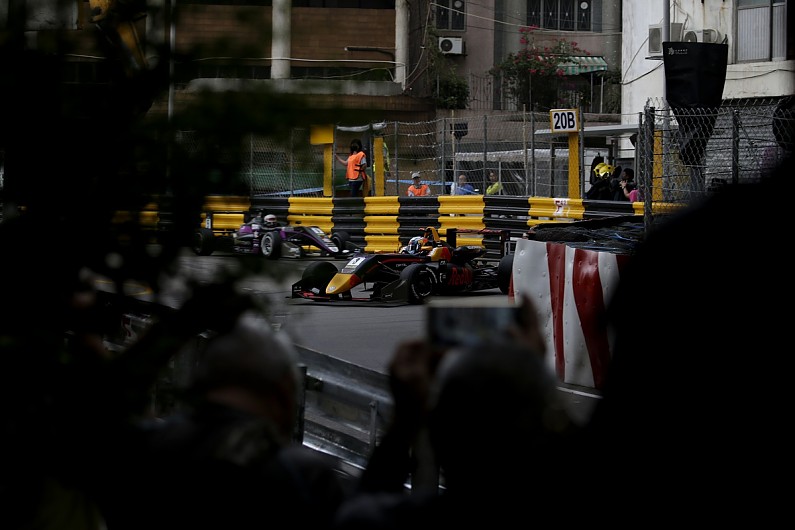 Vips was running with a very old tyre on the right-rear, a legacy of his contact with the wall in Thursday's opening free practice session.
It caused a puncture and put him on the back foot with his tyre allocation.
"The pace was not that bad," he said, "although I had a massive lock-up on the front-right, and the rear-right is 150km older.
"So I think the pace is good - we've been in the top three [on speed] all weekend."
Vips added that examination of his data following qualifying showed that he was 0.05 seconds up on Ticktum's pole position time as he exited the Melco hairpin towards the end of the final lap of the session, only to be thwarted by yellow flags caused by the crash of Joel Eriksson and Ukyo Sasahara at the last turn.
"Dan won last year from eighth, but it's going to be tough," he said. "I have the pace to be up there - I've had enough bad luck this weekend I would say."