Red Bull Junior Dan Ticktum took the first victory of his Formula 3 European Championship career at the Hungaroring, pending a post-race investigation into a first-lap incident.
McLaren Autosport BRDC Award winner Ticktum led away from the line on a track dampened by earlier rain, but a sensational start from Marcus Armstrong, who had qualified fifth, carried the New Zealander into the lead at Turn 1.
As Prema Powerteam driver Armstrong turned in on the inside line, his left-rear wheel made contact with the right-front wing of Macau Grand Prix winner Ticktum's Motopark machine.
Armstrong immediately started losing places with a puncture, and pitted at the end of lap one - he made a speculative switch to wet-weather tyres, before calling it a day two laps later.
Due to the earlier rain, those in the even-numbered grid positions off the racing line suffered a wetter track at the start.
For the second race running, Alex Palou appeared to stall on a slippery circuit from a front-row start, and the Hitech GP driver plummeted down the field.
By contrast, Prema's Ralf Aron made a rocket start from his drier seventh grid position, emerged from a three-abreast moment with team-mates Mick Schumacher and Guan Yu Zhou down to Turn 1 to move into third, and then moved past the stricken Armstrong into second.
Aron had no answer to the pace of Ticktum, and was one of three drivers - the others being Sebastian Fernandez and Artem Petrov - to be awarded a five-second penalty for a jumped start.
Try as he might, the Estonian couldn't pull away sufficiently from fellow Prema drivers Zhou, Robert Shwartzman and Schumacher.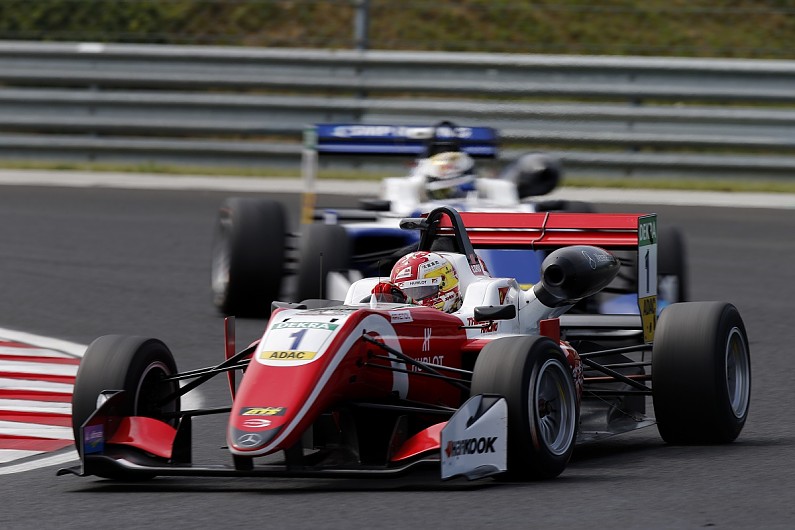 While Zhou was promoted to second from Shwartzman and Schumacher, Aron was demoted to fifth, and that means Ticktum claims the championship lead, by half a point from Aron.
"Luckily I managed to convert pole into a win, which I didn't in Pau [in the opening round]," said Ticktum.
"Going to the grid it was a little bit nerve-wracking, particularly for the man on pole, but you just have to look ahead and feel the car as much as possible [in the slippery conditions].
"It was difficult for the first five laps, but after 10 laps the track was pretty much back to normal and I just managed the pace as much as I could."
Ferdinand Habsburg made a great start from 11th on the grid to get up to fifth on lap one, then pulled off a great move on Shwartzman to briefly take fourth - around the outside into the Turns 6/7 chicane.
But minor contact between the pair punctured Carlin driver Habsburg's right-rear tyre, and he was forced to the pits.
Motopark rookie Juri Vips was elevated to sixth, with a comfortable buffer to the Hitech machine of Enaam Ahmed.
Gradually Ahmed reeled in Vips so that he was on his tail with three laps remaining, but he was unable to find a way past - and in turn pre-race championship leader Sacha Fenestraz closed in with his Carlin car in the closing stages.
Hitech's Ben Hingeley survived an early battle with Jonathan Aberdein, who spun at Turn 1, to take ninth, with Fabio Scherer (Motopark) claiming the final point.
Race 1 result
| Pos | Driver | Team | Car | Laps | Gap |
| --- | --- | --- | --- | --- | --- |
| 1 | Dan Ticktum | Motopark | Dallara/Volkswagen | 22 | 36m07.068s |
| 2 | Guanyu Zhou | PREMA Theodore Racing | Dallara/Mercedes | 22 | 7.514s |
| 3 | Robert Shwartzman | PREMA Theodore Racing | Dallara/Mercedes | 22 | 8.792s |
| 4 | Mick Schumacher | PREMA Theodore Racing | Dallara/Mercedes | 22 | 9.454s |
| 5 | Ralf Aron | PREMA Theodore Racing | Dallara/Mercedes | 22 | 10.289s |
| 6 | Juri Vips | Motopark | Dallara/Volkswagen | 22 | 17.256s |
| 7 | Enaam Ahmed | Hitech Bullfrog GP | Dallara/Mercedes | 22 | 17.986s |
| 8 | Sacha Fenestraz | Carlin | Dallara/Volkswagen | 22 | 18.553s |
| 9 | Ben Hingeley | Hitech Bullfrog GP | Dallara/Mercedes | 22 | 25.007s |
| 10 | Fabio Scherer | Motopark | Dallara/Volkswagen | 22 | 29.931s |
| 11 | Nikita Troitskiy | Carlin | Dallara/Volkswagen | 22 | 30.809s |
| 12 | Alex Palou | Hitech Bullfrog GP | Dallara/Mercedes | 22 | 32.201s |
| 13 | Jehan Daruvala | Carlin | Dallara/Volkswagen | 22 | 35.708s |
| 14 | Sebastian Fernandez | Motopark | Dallara/Volkswagen | 22 | 42.523s |
| 15 | Marino Sato | Motopark | Dallara/Volkswagen | 22 | 44.830s |
| 16 | Keyvan Andres | Van Amersfoort Racing | Dallara/Mercedes | 22 | 47.113s |
| 17 | Jonathan Aberdein | Motopark | Dallara/Volkswagen | 22 | 48.317s |
| 18 | Devlin Defrancesco | Carlin | Dallara/Volkswagen | 22 | 50.203s |
| 19 | Ameya Vaidyanathan | Carlin | Dallara/Volkswagen | 22 | 51.796s |
| 20 | Artem Petrov | Van Amersfoort Racing | Dallara/Mercedes | 22 | 54.189s |
| 21 | Petru Florescu | Fortec Motorsports | Dallara/Mercedes | 22 | 1m05.047s |
| - | Julian Hanses | ma-con | Dallara/Volkswagen | 13 | Retirement |
| - | Ferdinand Habsburg | Carlin | Dallara/Volkswagen | 11 | Retirement |
| - | Marcus Armstrong | PREMA Theodore Racing | Dallara/Mercedes | 3 | Retirement |