Spa 24 Hours winner Alexander Sims is to make his latest return to the Formula 3 European Championship in this weekend's final round at Hockenheim.
The 27-year-old will fill the fourth entry of Hitech Grand Prix, which was registered for the series at the beginning of this season but has not yet been used.
BMW factory driver Sims is racing in the event to qualify himself for next month's Macau Grand Prix, which he will contest with Double R Racing.
It is a return to Hitech for Sims, who was the team's testing workhorse in 2015 and drove for the Silverstone-based team on its two race appearances before its maiden full season in '16.
Hitech director Oliver Oakes told Autosport: "We had been looking to field our fourth car from mid-season onwards, but the driver deals didn't quite come off around existing racing commitments, so we decided to focus on the three cars we had.
"Although he is driving for Double R in Macau, we're happy to have Alex back with us for Hockenheim - it's almost a reunion as such!"
Sims will join George Russell, Ben Barnicoat and Nikita Mazepin in the Mercedes-powered team at Hockenheim, while Hitech will run Russell, Mazepin and Mercedes DTM racer Daniel Juncadella in Macau.
HITECH DENIES GP3 SWITCH TALK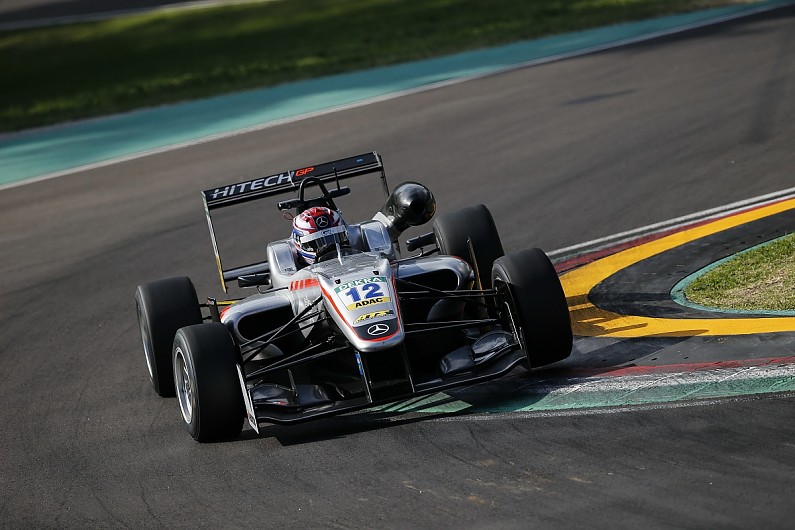 Oakes also scotched speculation that Hitech, which is on course to wrap up second position in the F3 teams' championship behind Prema Powerteam in its first season, is to switch to GP3.
"It's flattering for us to be associated with these rumours in some ways as we are a new team to F3 over the last 12 months," said Oakes.
"However, our future firmly lies in F3.
"This is nothing bad about GP3 - GP3 has a place in the market for some individuals, but that said there is no doubt in my mind that Formula 3 is the best training ground for young drivers, and you only have to look at what former F3 drivers have gone onto.
"The amount of race weekends, on great circuits, with double the driving mileage in comparison to some other series means that F3 drivers are far more developed, prepared and ready for anything.
"It is saddening sometimes to read some of the rumours out there and negative comments made by individuals who are not part of the championship - the things in the pipeline for next season offered by the FIA and its partners are some of the best prizes and support in the marketplace for young drivers."