Organisers of Germany's national Formula 3 championship have been forced to pull the plug on the series for 2015.
With grids ranging between nine and 13 cars in 2014, leading teams Motopark, Van Amersfoort Racing and Performance Racing were all known by AUTOSPORT to be keen on the merger proposed by British F3 teams group FOTA.
But German series organiser Formel-3-Vereinigung acted in the interests of its smaller teams by rejecting the plan and continuing to push ahead with its own series.
However, a statement issued on Friday by F-3-V stated that it had been unsuccessful.
"The entire board of the F-3-V regret to have to take this step and will make an effort to support young F3 drivers in Germany and to revive German F3 in the near future," it said.
The proposed revised series was going to have to be renamed German Formula Open in 2015, as it would have transgressed FIA rules on national F3 by having more than one round outside its home country - three were planned, in support of ADAC GT Masters.
The F-3-V statement added that the final hammerblow came in the form of "specifications which cannot be fulfilled and new regulations, including extended test restrictions for teams contesting the FIA Formula 3 European Championship which would also have a direct impact on the German Formula Open.
"The F-3-V is no longer able to ensure a sufficient number of contestants for the ADAC GT Masters events."
F-3-V chairman Andreas Meyer said: "For this reason and with a heavy heart we have decided not to take an incalculable risk, and not to hold the 2015 German Formula Open.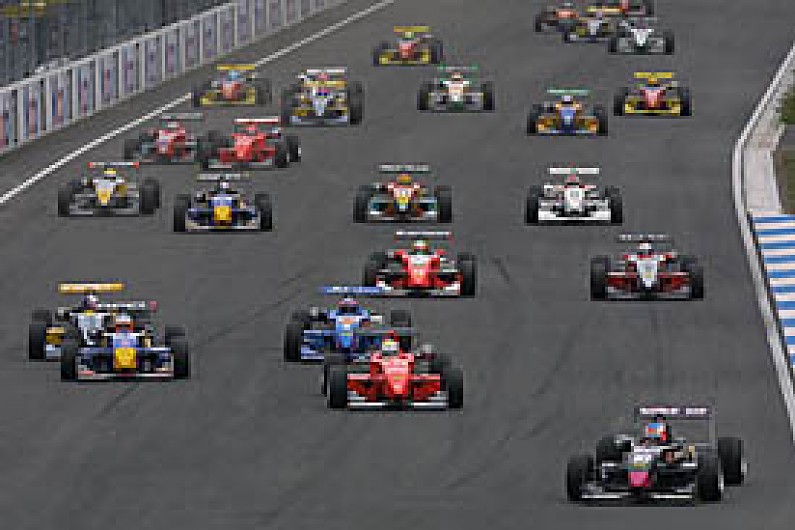 "Nonetheless, we will continue working in order to fulfil the principles of the statutes of the association [F-3-V] and to support Formula 3 racing in Germany."
German F3 reached its peak from the late 1980s to 2002 [pictured], launching drivers such as Michael Schumacher, who claimed the 1990 title.
It merged with the French championship from 2003 to form the Euro Series, with Bertram Schafer setting up the lower-level German F3 Cup, which ran from 2003-14.
Schafer stood down from the board at the end of last year.
Autosport has produced a standalone special magazine to celebrate our 70th birthday. All current print subscribers will receive a copy for free. To order your copy of the 196-page Autosport 70th Anniversary issue, please go to: autosport.com/autosport70th