Formula 2 frontrunner Luca Ghiotto says he was "afraid" of the "amazing" comeback pace he showed in Saturday's feature race at Barcelona.
Virtuosi Racing driver Ghiotto started the race on pole, but got a poor getaway and was mired in the pack.
He was then hit by Dorian Boccolacci at the hairpin, forcing him to pit for a new front wing and adjustments.
Although Ghiotto had not joined the back of a safety-car train before the race was restarted on lap six of 37, he was able to catch the pack and finished fourth, five seconds behind eventual winner Nicholas Latifi, having run the same strategy after the safety car.
That meant he salvaged a haul of points, as Latifi and Jack Aitken - the two drivers ahead of Ghiotto in the championship - finished first and second.
"A comeback always feel good," Ghiotto told Autosport. "But now it doesn't feel good because [of] the pace we had.
"It never happened to me in my career to say we were clearly quicker than the others, but today everybody could see it, with two pitstops, a broken wing and the safety car [that] didn't wait for us.
"I couldn't believe I was behind my team-mate [Guan Yu Zhou] and he was P3 and I almost got to the podium. It's amazing really.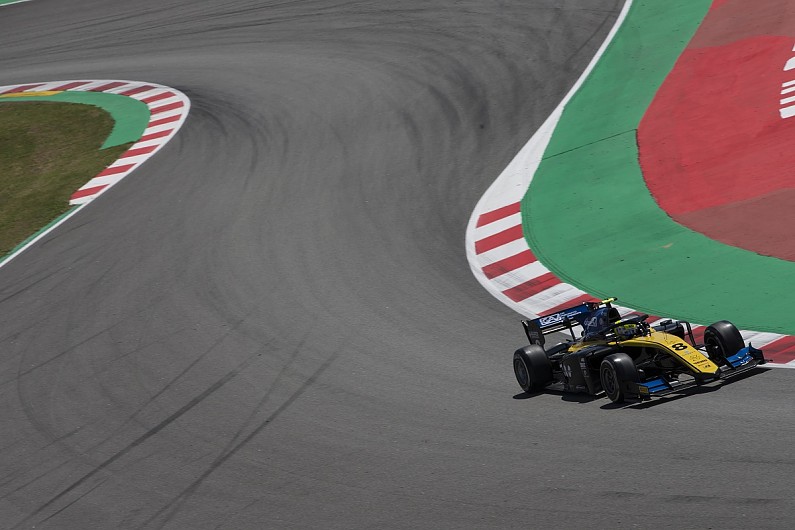 "To be honest I was a bit afraid of what I was doing, when I was just out of the pits - I was alone, last, and I had no car in front to compare with to see how quick I was going.
"[At] Barcelona, it's not that often you have safety cars in the middle of the race so I knew that nothing was going to happen so I just started to push and the tyres lasted very well, that's a good thing about the car, many other teams struggle.
"The tyre was still good at the end. "It's just a shame not to deliver what we could [have]. The car is proving to be mega.
"P4, we saved a lot of points for sure. It could have been really bad."
Ghiotto had clutch and misfire issues after hitting the Turn 9 kerb in qualifying, but was still able to take pole.
He said the issue at the start of the race felt similar to an issue he had in Bahrain, where he also got a bad getaway from pole, and that his team would investigate.
"I don't know if it's my mistake, the clutch felt weird going to the grid, and that felt like Bahrain," he added.
"It felt OK again and then at the start of the race it was bad again. We need to check.
"There were some issues yesterday [on Friday] with the clutch after I hit the kerb, so we have to check if it's something we carry from yesterday. I want to look at it.
"Luckily my team-mate did a great start and we have that to compare to."