Nyck de Vries says some of his Formula 2 rivals have "poor knowledge" of the rules following restart drama in the Baku feature race.
ART Grand Prix driver de Vries controlled the first restart early in the race without incident, taking full advantage of the new rule for 2019 forbidding overtaking before the start-finish line.
He kept the pack bunched up for as long as possible and protected his lead heading into Turn 1.
But the next restart, which occurred within the last 10 laps, was fraught with incident.
Drivers were accelerating and braking in the train, causing a chain reaction. Luca Ghiotto hit the rear of Sergio Sette Camara's car spinning him out of the race.
A few places behind, the ensuing drama meant Louis Deletraz hit Dorian Boccolacci and speared into the outside wall.
Sette Camara and Deletraz retired, while Ghiotto was given a post-race penalty.
"First it's worrying that most people didn't even realise the regulations have changed, and the safety car restart is done from the control [finish] line now, instead of safety car line 1," said de Vries, who lost out to Jack Aitken on track after a slow pitstop and took second in the race behind the Campos Racing driver.
"After the [drivers'] briefing there were a few people who were surprised hearing that.
"That was one of the issues, because everyone was expecting the leaders to start ahead of safety car line 1. In fact we were waiting to approach the control finish line to reduce the effect of the slipstream.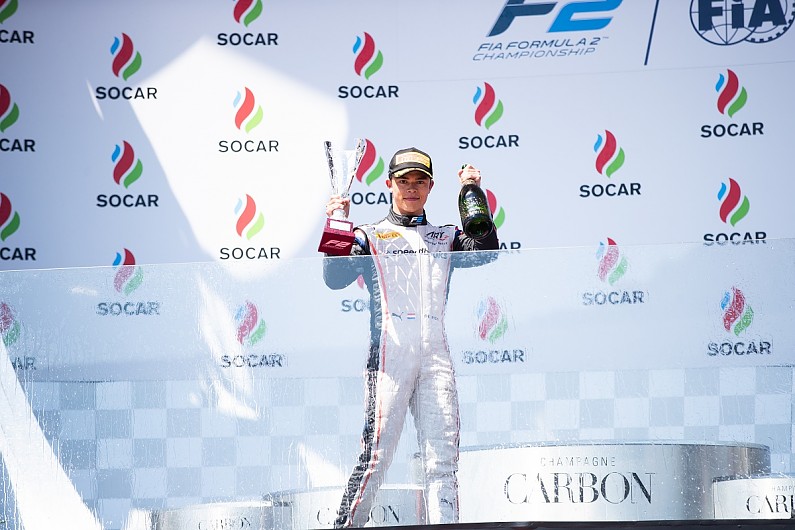 "Second, [because] conditions are still quite cold here, you lose [tyre] temperature quite quick, you could almost allow the rule which is applicable in Macau in the very tight hairpin [Melco] - attacking in Turn 1 is not allowed because it's really asking for trouble.
"If you're at the front you've just got to be sensible. I've made a mistake before [he took out George Russell at the same corner in last year's Baku feature race], so I've learned at least today.
"I'm certain if you asked people ahead of the race, 'where is the safety car restart?', a lot of people would reply 'safety car line 1'.
"That's why we get crashes and people becoming a victim of other people's poor knowledge.
"The regulations changed this year, and it's quite new. In Bahrain the chances of a safety car are quite low so people didn't experience it, so I'm certain people were not aware of that rule change."
Deletraz of reigning teams' champion Carlin said that allowing drivers to brake and accelerate at a safety car restart is "ridiculous".
"We were actually eighth at this moment, I think, and quite in good shape coming back on the cars ahead, and then those safety car restarts were ridiculous, honestly," he told Autosport.
"They just accelerate, brake, accelerate, brake and crash together. We are just behind it, we cannot avoid it.
"It shouldn't be allowed, to weave that much, because the only reason they make contact is because they are weaving and they touch wheels."