Formula 2 championship leader Luca Ghiotto says Alex Albon's under-funded path to a Toro Rosso seat gives him hope he can earn a drive in Formula 1.
Like Ghiotto, Albon has regularly struggled for funding. After starting last year's F2 season with DAMS, Albon took three pole positions in the first four races, allowing him to earn a deal to stay on with the team.
Albon went on to finish third in the F2 standings behind now Williams driver George Russell and current McLaren driver Lando Norris, and was poached from a Nissan e.dams Formula E seat to drive for Toro Rosso despite being dropped by Red Bull in the past.
"For sure Alex's case is one of those, lets me have a bit of hope that I can get there [to F1]," Ghiotto told Autosport.
"It looks like there is a lot of turnaround of drivers in F1.
"I just need to work and do my best and then we'll see what happens.]
"The goal for the year has to be to win the championship, there's nothing else to say.
"About next year, I always have the hope to find a place in F1, because that is the number one target on the list.
"I have to be smart, I don't have a rich family and I won't get to F1 with money. I need help from teams."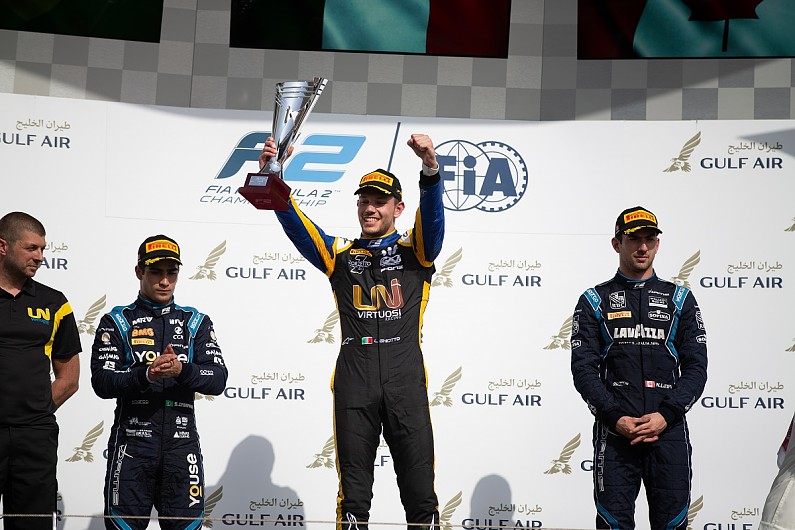 Like Albon, Ghiotto has had a turbulent junior single-seater path, having won five races to Esteban Ocon's one in the 2015 GP3 season although the latter won the title.
A debut year which yielded a victory with Trident in GP2 was followed with fourth in the championship in 2017 with Russian Time and then a test with Williams in F1, which ultimately came to nothing.
An ill-fated move to Campos Racing was a step back for the now 24-year-old Italian in 2018 as he finished eighth in the standings.
Back with Russian Time - now Virtuosi Racing which ran the former in previous years, Ghiotto was the star of the opening F2 weekend of the season in Bahrain.
He fell from his pole position to sixth in the early running in the opening race due to a clutch sensor issue, but fought back to second.
He scythed through from seventh on the reversed-grid race into the lead and then made the unusual strategy of pitting in the sprint race work, as Charles Leclerc had two years earlier, winning the race.
"For the first time in the last four years I felt like that year in GP3 [with Ocon]," added Ghiotto.
"The car was doing what I wanted, I was having fun while driving, I really enjoyed it.

"When you are doing well and the car lets you do what you want, I think as a driver that's probably the best feeling in the world, it's the final goal.
"For the first time, I felt that in an F2 car.
"It's been quite tough the last three years but maybe, finally, now we are in good shape and I am too."