Formula 2's announcement on Friday night that it would switch to rolling starts behind the safety car was a shock even considering its new car's problems. JACK BENYON explains more
Safety. It seems to be at the root of most motorsport decisions, and it was cited in Formula 2's call to have rolling starts for its races in Austria and Britain after a season full of stalls and startline problems.
"As the 2018 F2 season is currently in the middle of a triple-header, where making validated changes is difficult, the FIA has decided that for safety reasons the Formula 2 formation laps of rounds six and seven at Spielberg and Silverstone will start behind the safety car and follow procedures set out in Article 39.16 of the F2 sporting regulations," read an organisers' statement.
The first thought there was that the F2 clutch and start issues have been consistent through the season. Why, after 10 races, can a decision to implement a rolling start be put down to safety? Were the drivers not at risk at previous rounds?
The FIA had even called for assurances that the clutch was fixed before Monaco, and while the clutch has been constantly updated, it has not been fixed.
The championship leader, Lando Norris, had also stated before Monaco that any issues there could be problematic as the straight on which the cars start is so narrow.
But, context is key, as when the word safety is used, it's not in relation to just F2.
Last weekend the European Formula 3 Championship was thrust into the limelight at the Norisring, when Ameya Vaidyanathan crashed into the stationary Dan Ticktum in what can only be described as a horror crash.
There's no doubt in the F2 paddock that this has contributed to its situation.
"I think right now it's the best thing they can do," said Norris. "After the F3 crash I think it's very easy for something to happen here.
"I think we're very lucky nothing has happened yet.
"I would say it's not ideal and it's not the way we want to do it, but at least everyone will be able to start the race and participate."
This is a single-make formula, where the driver, not the car, should decide the outcome of performance.
And it must be said that the drivers stalling must take some responsibility, as it's clear some teams have it mastered.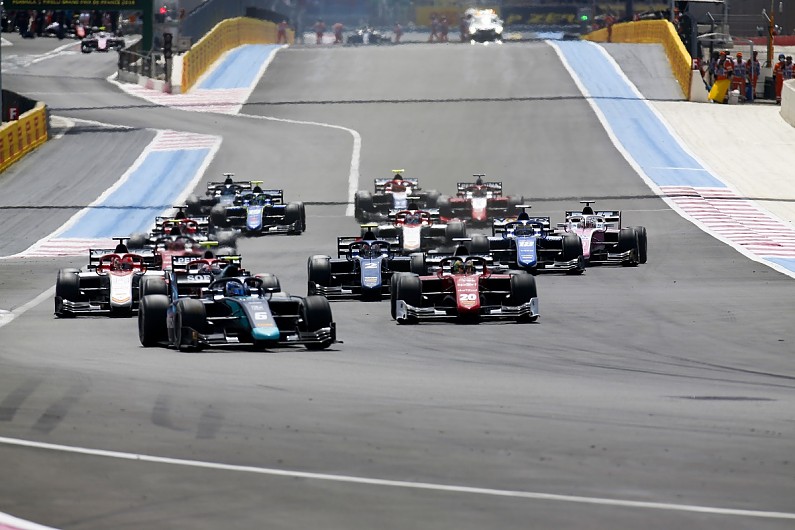 Louis Deletraz - the Charouz Racing System driver with two podium finishes in the last two rounds - said: "I think it's a shame, we are racing in Formula 2 and we do a rolling start, I don't think it's a good solution.
"There's a problem in the clutch, I don't think it's major and if you work with your team and understand it I think it's quite clear you can make it work."
But it's not 'all' down to the driver. The system is tough, and until it stops deciding multiple drivers' races, the rolling start move is the best solution.
Taking all that into account, as Norris stated, this change at least allows all drivers to participate and fight, in what is one of the highest-quality F2/GP2 grids of recent seasons.
There's yet to be a dull race this year, with two standouts in Norris and George Russell targeting F1 drives and some behind them also in the picture for a place at the sport's pinnacle.
It's sad that a rolling start will be used, and that the clutch problems haven't been solved after 10 races, but given the context of the above, it's a brave and bold decision that ultimately was necessary.
"Everybody would prefer to have a standing start in a normal situation, I think now they did the right thing," said MP Motorsport boss Sander Dorsman. "It at least gives them some time to fix it for Hungary.
"For the FIA and the promotors I suppose it's a must do and I think everybody understands."
Autosport has produced a standalone special magazine to celebrate our 70th birthday. All current print subscribers will receive a copy for free. To order your copy of the 196-page Autosport 70th Anniversary issue, please go to: autosport.com/autosport70th