The FIA will analyse clutch updates on the new-for-2018 Formula 2 car that were implemented at Barcelona last weekend before it allows the system to be used in Monaco.
More than 15 stalls were recorded during the opening two rounds of the F2 season in Bahrain and Baku, due to difficulties operating the new car's clutch system.
After updates were introduced at Barcelona, Nicholas Latifi was the only driver to stall in Saturday's feature race.
The bite point had been particularly difficult to find on the clutch, while a recurring issue with the electronics at the first two rounds made the situation worse.
Drivers would, for example, release the clutch 30%, and the system would take it to 40% before returning to 30%. That 10% difference was often enough to stall the car, although the software update for last weekend in Spain helped solve that problem.
A number of drivers have cited safety as a reason to improve the start procedure, with cars stationary on the grid as others approach while accelerating away.
F2 race director and FIA safety delegate Charlie Whiting said the system would be examined before next weekend's round on the Monaco Grand Prix street circuit.
"We need to analyse the data to see if we feel comfortable with taking that system to Monaco, for obvious reasons," said Whiting.
"We'll have to look at the data but on the face of it, it looks a lot better.
"We really need to talk to the drivers, and try to find out what their reaction is. I think it's a lot better."
Consensus among the drivers was that the clutch was a step forward, but that further work is required to make it more useable.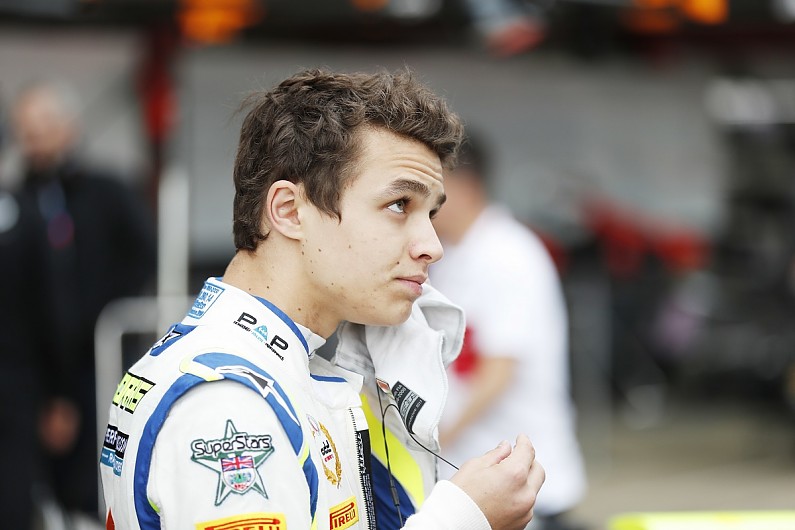 Lando Norris believes the safety issue is still relevant. The McLaren Formula 1 junior was sat behind the stalled Latifi on the grid at Barcelona and almost spun avoiding him.
"Sometimes there are problems [with new cars] and this is a problem that has a bigger effect than others and therefore could have bigger circumstances, for example a problem like a crash off the start line," said Norris.
"There's always problems with some cars but this is something that could lead to much worse and that's why people are complaining about it."
ART Grand Prix feature race winner George Russell added: "We still need more progress with the clutch.
"It's definitely a massive improvement from the previous race, but in my opinion the travel we have on the steering wheel is extremely short.
"It makes it very difficult to find the perfect biting point.
"I think that will be the next step to make it easier for the drivers to somehow try and improve the travel on the steering wheel with the clutch paddle.
"But we're going in the right direction I think, which is the most important thing."