FIA Formula 1 race director Charlie Whiting says adding the halo cockpit protection device to the new Formula 2 car was "a bit of a late call".
The F2 2018 - which was unveiled at Monza on Thursday - is the first single-seater car outside of F1 that will feature the structure.
At the Silverstone round of the F2 season, series boss Bruno Michel told Autosport that a cockpit protection device had not been added to the new car's design but explained that it could be incorporated once the FIA had decided on its approach to driver safety systems for 2018.
It was announced in July that F1 would adopt the halo in 2018, and not the shield system trialled by Ferrari's Sebastian Vettel during British Grand Prix practice.
The F2 2018 was revealed with the halo device incorporated into its design.
When asked by Autosport how easy the halo was to implement, Whiting said: "It was a bit of a late call.
"There were two chassis already made, so we had to stop that and make a second mould to produce enough chassis for the start of the year [2018].
"But I'm told it was relatively straightforward."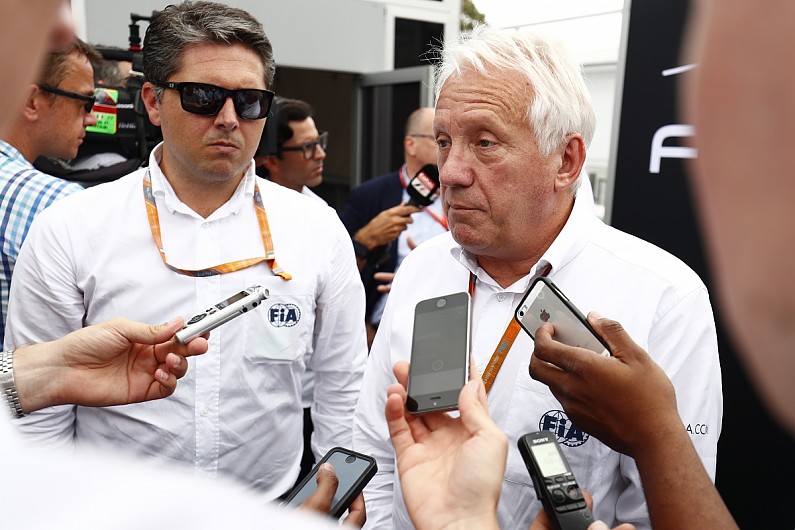 As well as outlining the halo's price structure, Whiting also explained that the device on the F2 2018 matched the one being added to F1 designs next season.
"[It's] identical - made from titanium as well - [the] same as the F1 version," he said.
"It's impossible to say what a package would cost, but depending on steel/titanium, you're looking at €2000 for a steel one, 4-5 times [that price] for a titanium one."
The shield approach has been put on the backburner as the FIA believes it requires further research.
Whiting explained that if a new system was introduced in F1 at a later date, it would be incorporated into the lower categories as soon as it was feasible to do so.
Those series that do not already have a cockpit protection device will get one when they release a new car.
"Whenever a new car is introduced, they will be fitted with the halo," Whiting said.
"In 2019 there will be a new Formula 3 car, that will feature a halo.
"If something much better came along, [adding a new system into the categories below F1] would naturally happen.
"Anything new that comes into F1 does naturally filter down.
"It just depends on the rate of how practically it can be introduced.
"It's not like a crash helmet which they can all go out and buy, it depends on how complicated it is to integrate.
"We're looking at ways it can do that and how that can be done - like a halo update package.
"There's lots to be discussed and lots to be researched before it can be done."