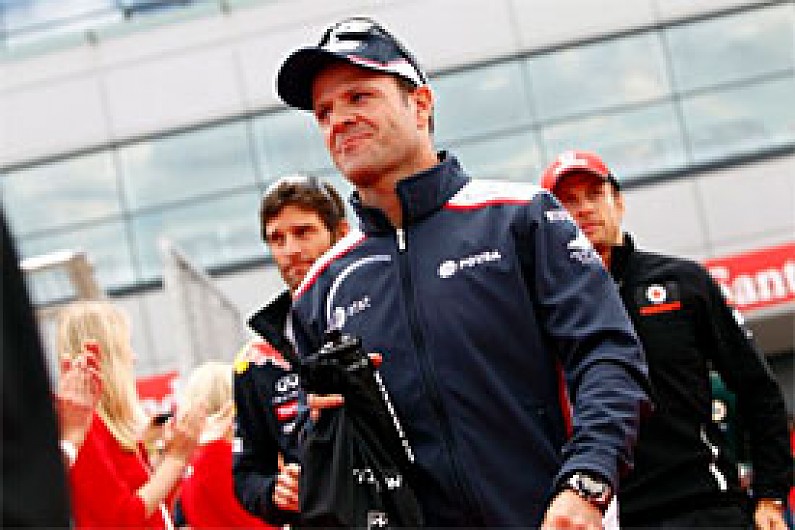 Rubens Barrichello is set for contract talks with Williams chairman Adam Parr during the German Grand Prix weekend, although admits that he is in no rush to finalise a deal.
Parr said two weeks ago that he is keen to keep the veteran Brazilian at the team for a third season next year. Barrichello admits that his first choice is to remain a Williams driver and that agreeing a deal should be "straightforward" even though it is unlikely to be finalised in German.
"We've emailed one another saying we would continue the conversation over here, so I'm looking forward to that," said Barrichello when asked by AUTOSPORT what the status of his contract talks are.
"It will be on the same basis as the last contract, so I don't think it will take very long.
"I'm just enjoying myself while I'm still driving. I need nothing more apart from my pleasure driving the car, so that makes me very cool to the point that if a late call is made, so be it."
Barrichello, who would enter his 20th season if he stays on in 2012, admits that he is relaxed about the situation.
He came close to dropping out of F1 entirely after Honda withdrew from F1 at the end of the 2008 season, and his position at Williams appears to be far more secure that what proved to be an eleventh hour to race for the Brawn team in 2009.
"Right now, I'm in a situation in my career that I'm enjoying very much because there's not the pressure like there was in 2008/2009 where I went for months without a drive," he said.
"All I want in my Formula 1 career is for a car that is competitive again for me to use all my knowledge and my speed to get to the top again and try to win the championship."
If Barrichello does agree a new deal, he is likely to partner Pastor Maldonado in 2012. The Venezuelan rookie has made a good impression with his speed despite failing to score any points so far this year and also brings significant sponsorship to the team.
Parr described retaining his current driver line up in 2012 as "vastly the most likely outcome".