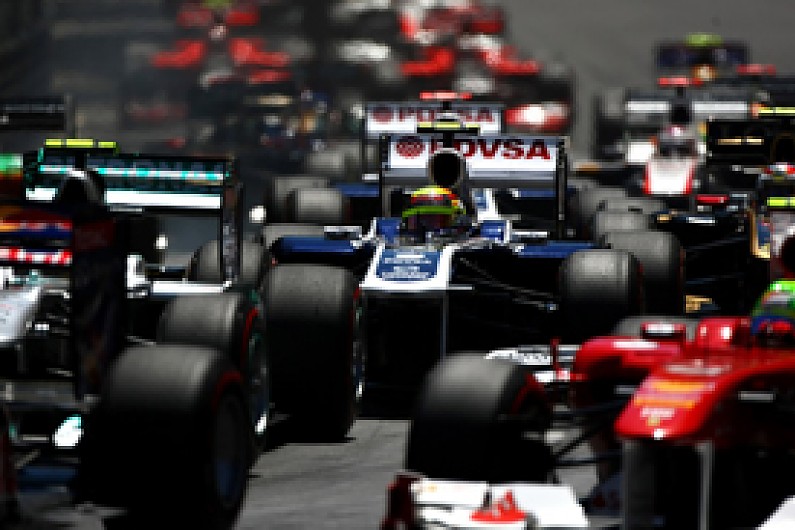 Formula 1 teams and the sport's commercial rights holder Bernie Ecclestone should work together to try and better improve grand prix racing's exposure on the Internet - and especially in social media.
That is the view of Williams chairman Adam Parr, who feels that although Ecclestone has done an amazing job in making the sport successful at events and on television, more could be done to expand its profile online.
"What I feel very strongly is that as a sport what Bernie has created at the events, the quality of the events, the places we go, the standards we operate to, everybody is blown away," explained Parr.
"If they come to F1 and have been to tennis, or squash or golf or anything else, this is a different level and the logistics of what we do is phenomenal.
"The second thing is that on the media side, the historical side of creating the global audience we have, the quality of the TV feed and the race direction, which is a very difficult task, is unbelievable; and it's world-class.
"The thing I do believe is that social media, the Internet and even pay TV, how it has grown up in the last decade, must change the landscape. Not only how you communicate with people and how you distribute content, but also economically what is possible.
"Rubens [Barrichello] has more than a million followers on Twitter, of whom a significant proportion are Brazilian. For Renault, Brazil is a key market and when Rubens is sitting in Grove at the launch of our new partnership and he's tweeting that we're back with Renault and this is fantastic news, a million people, who have opted to follow him, get an endorsement of Renault which is not commercially driven. It is what he genuinely feels about that company and that brand.
"How do you quantify what that's worth? How many TV adverts of a Clio is that worth? Someone they admire, someone they personally chose to follow, saying Renault, a world-class engine, we are so happy to be back. He didn't charge anything for that, there is no cost to that, but it just gives you an insight into the possibility. And that is nothing to do with how you broadcast race feeds."
Ecclestone has long acknowledged that he would like to do more on the Internet - especially when it comes to video footage - but says his hands are tied by the television rights deals he has in place with broadcasters.
In a recent interview with Channel 10 in Australia asking about doing more on the Internet and with social media, Ecclestone said: "You hear a lot about these things. When we do a deal with a broadcaster we give them the rights to broadcast by whatever method they wish in their country.
"So if they want to broadcast through a mobile phone - which in effect is a small television, even more so with these pads and what have you - [they can] but they don't seem to want to do it. People still want to turn the TV on."
He added: "Anything that could be done, we're doing it. We've looked into it. All these different methods of broadcasting. The minute we allow other people to broadcast by other means it would upset the people we've got (TV) contracts with."
That stance explained why Ecclestone recently sent a letter to McLaren, which was circulated to all teams, warning about the posting of F1 videos on YouTube.
Ecclestone was referring to a garage video from inside the McLaren garage taken by rap star Ice-T at the Canadian Grand Prix which became a cult hit - as much for its foul language as for who took it - but which kept being repeatedly taken down.
In the letter to Whitmarsh, Ecclestone said: "I am quite sure it has been brought to your attention that one of your guests recorded activities in the pits and placed it on YouTube.
"You will understand why I am so strict on access and allowing people in the pits with cameras. Perhaps you would make sure that these things do not happen as it could cause unforeseen problems."
When asked about Ecclestone's explanation that television rights deals prevent him doing more, Parr said: "That is fine, and he has created this rarity value around our materials, but maybe that is a strategy, and maybe there are other options.
"Maybe relying on a great broadcaster like the BBC...to me the BBC website is very good, iPlayer is a fantastic product, and the actual quality of the broadcast is stunning but does that mean they are optimising the stuff on the iPhone and iPad? I don't think so."
Parr also made it clear that his comments, and statements he made at a FOTA Fans' Forum in Canada, should not be viewed as an attack on Ecclestone.
"It was portrayed that I was having a crack at Bernie, which, if you read one sentence, I suppose was fair. But that wasn't actually fair if you looked at the discussion at the Fan Forum.
"We cannot just look backwards and say we have done a fantastic job, a brilliant, brilliant job. We have to think about what the future is, and challenge ourselves as a sport, and challenge Bernie because he controls the commercial rights, to look at what is possible.
"I don't regard that as being a war of words, I don't regard it as being an insult. He is an amazing guy and I have enormous respect for him, but we cannot sit here and be smug about our achievements."
Speaking about if he had let his feelings known to Ecclestone, Parr said: "Whenever we have a chat, it is very friendly and he gently puts me back in my box - and reminds me how little I understand and I accept that. But it is not going to stop me asking the question..."
Autosport has produced a standalone special magazine to celebrate our 70th birthday. All current print subscribers will receive a copy for free. To order your copy of the 196-page Autosport 70th Anniversary issue, please go to: autosport.com/autosport70th