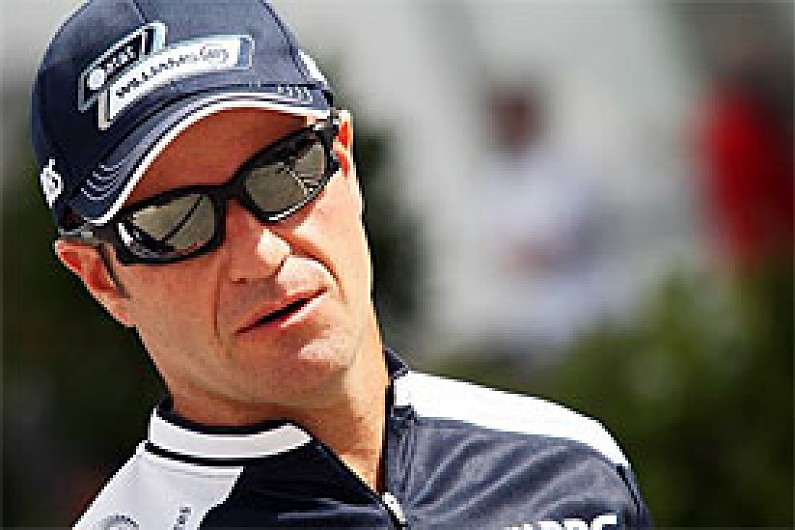 Rubens Barrichello came within an inch of having a big accident at the Hungarian Grand Prix after an incident with Michael Schumacher.
The angry Williams driver felt Schumacher's driving was very dangerous and set a perilous precedent.
AUTOSPORT heard the Brazilian's thoughts on the incident after the race.
Q. What happened when you saw the race stewards after the grand prix?
Rubens Barrichello: I've just went to see them. It was the very first time I saw the [television] image from the front and with it you can see his helmet is tucked to the side. So he is looking into my wheel - so he is at that point not choosing his line. He is choosing his line against my wheel - and that is what I complained about on the radio two laps before. I said, 'he is choosing his line too late.' And when you choose your line too late, then people touch and go up in the wall.
He made a mistake at the last corner, and came out much slower, so he knew I was coming. If I was him, I would have chosen to go right on the inside and let me go on the outside. But he was just measuring me by my wheel. So for me that is the wrong bit - even though I was already alongside.
And thank god I was lucky that the wall finished because at the end of the day, it was millimetres from the wall. My attention to the stewards was that we are one of the most experienced guys out there and if Michael does that then it means kids can do that - and that is where it is wrong in my opinion. Today, I would not back off for anything and I had fun, but for me it was not necessary.
Q. Have you spoken to him?
RB: No, and I won't - because it won't resolve things. You know Michael - you talk to him and he will always feel that he is right. I just think I am a just guy, and justice was made today in a way because I think he has been stopped three years and he didn't change a thing. He is still the same guy.
Q. Do you think he did it on purpose?
RB: What, because it was me? I don't know.
Q. No, in order to intimidate you?
RB: Well, to intimidate me would be a bit presumptuous. For me, what I was shocked about by the image was that he is looking at my wheel coming. I didn't know that until when I saw the stewards, and they showed me. He is looking at me coming, coming, coming - and that is wrong. We say amongst ourselves - the driver - you choose one line and that is it because otherwise you will flip somebody over.
Q. In such a situation was it more dangerous - that you hit the wall or that the tyres are interlocking?
RB: If we touched there, then to be honest with you I think he would flick over and go into the wall head on. So it was more of a danger for him. I couldn't move any more to the right because the wall was there, and if you take a photograph of the wall and us there is not [enough room for] a hair in there. It is unbelievable. Then you can see that I had to move it back because I went through the grass and so on. I am very glad and very lucky that we are here to talk, honestly.
Q. What speed were you doing then?
RB: I don't know. I didn't have time to watch the speed limit.
Q. Was that one of the worst defensive moves you've experienced in your career?
RB: I would say so. I would say it is probably one of the worst because first of all you would not expect after so many races for someone to do that. You would expect someone with 10 races to do that kind of thing. But for him, who has been through so many things. He is carrying something from the past that it just not necessary today. I just think that it was a loose moment for both of us.
Q. Did you back off when you saw the wall coming?
RB: If I backed off at that time, then the interlocking would happen. When I choose my line, then you can see from the stewards' camera that whenever I move right he is right in the middle of the track. So, he can say whatever that I should have gone on the outside, but from that camera you can see that whenever I decided to go right he is in the middle of the track, so I have the choice to go either way. Obviously going to the inside was more of a chance for me to overtake, and I went for it. He kept on coming and that is where the disgrace is.
Q. After all you went through against Michael at Ferrari, how much satisfaction did you get out of the move?
RB: The satisfaction is from winning. I told my Brazilian friends today, I did something in 2002, and the whole situation made me do it, and I felt straightaway afterwards that I should not have done that because it was not fair. I left the team before the end of the championship to become just normal again, and I didn't want that thing. In no way, if I had a chance to overtake him, would I have backed off today. I don't like revenges. For me, I keep my feet on the ground. I am such a simple guy. I love racing, I do love racing and what has been done to me today is literally over the wall. It was too much.
Q. For a guy who used to be inch-perfect, is he losing it do you reckon?
RB: I don't know. I've said too much already.
Access even more news on Autosport.
Register for free to increase your monthly limit from 15 to 25 stories - or subscribe today and get unlimited access.
Get unlimited news
Full access to our news and in-depth Autosport Plus features - all in an ad-free enviroment.
Subscribe to Autosport Plus
Get 10 free extra stories
A quick upgrade and you'll boost your monthly news limit instantly - for free.
Register for free