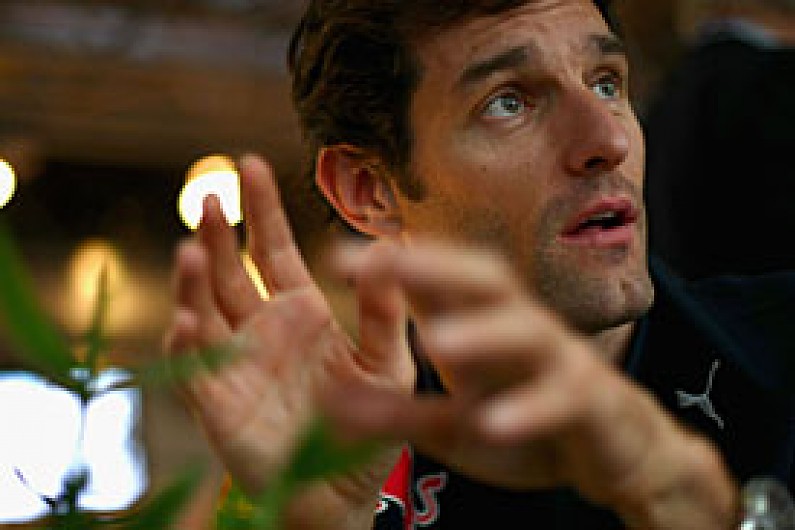 Mark Webber may have delivered a brilliant performance to win the British Grand Prix a fortnight ago, but all the talk in the days after the race was of the front wing controversy that erupted after qualifying.
The Australian and his Red Bull Racing team have sorted out their problems now though, and the focus has very much returned to on track efforts to try and win the world championship.
So with the dust having settled on the favouritism controversy, AUTOSPORT caught up with Mark Webber for an exclusive chat about some of the background to Silverstone, the struggles he has faced in his career and why he would not trade in his place at Red Bull Racing for anything.
Q. At Silverstone you talked about the hardships you've been through in your career. Do you think it coincidence that almost every top F1 driver has faced difficulties on their way up?
Mark Webber: I didn't grow up in Monaco with silk sheets, but I had a very good upbringing - very balanced. I had sensational family values, good family people around and a good sports community. So that was good. I know Michael [Schumacher], his dad was a bricklayer, so lots of guys did come through with support from other people. And they got through testing themselves with adversity on the way, and perhaps taking bigger risks than some other people.
But I was probably referring on Sunday to a lot more, I suppose, that it took me a while to get to F1. I had the stuff at Le Mans, I had to restart [my career] after Le Mans in single seaters, and I got there through Paul Stoddart. Then I had Williams and a few unreliable cars, broke my leg, ran out of money...
It is not unusual, but when you have a bit of adversity, it helps you deal with it. Saturday [at Silverstone] was, not going back on it, a bit of adversity. I wasn't rapt with the decision - but we press on, let's get on with it, and that is what we did.
Q. Is adversity necessary to be a winning driver?
MW: I think adversity is certainly very good to have at certain stages of people's lives. You need that roundness and fullness of being tested - whether it is as a youngster growing up, or someone in business. You do a lot of learning when you are on the ropes. A boxer that wins every round, he doesn't learn much. You need to have some tough times every now and again in life for sure.
Q. Last season you were outqualified 15-3, whereas this year you've been neck and neck with Sebastian Vettel. What has suddenly come right?
MW: It is the high fuel [qualifying] - I was never a big fan of the high fuel. Now with low fuel, it is something that has helped me a bit. It is always close between us now and I think the biggest gap, apart from Bahrain, was Silverstone which was a tenth and a half. It is normally down to hundredths. So it is a very good fight between the both of us, and qualifying is important. It has been good for me this year.
Q. So you haven't got faster within yourself, it's just down to circumstances with qualifying?
MW: I think I am a little bit quicker. As a modern F1 driver, we are always having to constantly adjust with the regulations. Whether it is with tyres, higher fuel loads - we have always got micro challenges within the regulations. It is up to us to get on top of it, and sometimes they go a little bit for you, and sometimes they don't go for you. Nobody is interested in listening when they don't go for you, so it just means you've got to get on with it. I think it was [Robert] Kubica and [Nick] Heidfeld at BMW, they had a total 180-degree turn based on the tyres.
Q. So you think this year the regulations play to you?
MW: They certainly haven't hurt me. I seem to like them at the moment, yeah.
Q. There is the situation where there is perceived favouritism within the team, which one hopes has been ironed out in your discussions last week. But is there still a question mark in your mind that perhaps you don't speak the right language for the team, or that Helmut Marko has a lot of power?
MW: I certainly speak the right language for the team because the people that run the team are English, and that is no problem. I have a sensational relationship with Christian [Horner] and Adrian [Newey], plus all the design people there. We've been through a lot together. With Helmut - he has obviously been at Red Bull for quite a period but I don't deal with him on a day-to-day basis, so he isn't that important to me. But the people at Milton Keynes are.
Q. But aren't decisions being taken at a top level that could in some way influence your career?
MW: It could happen. But, I'm very, very confident that they are not. Technically the cars are identical. I think you know me well enough to know that I am not going to be driving around in something that is half a second slower than somebody else every weekend. I would not turn up to work for that. That is why I have been massively motivated with this team in the past and I will be in the future, because it is the best team in the pit lane to work for.
Q. When you say that you have a good relationship with Christian, I know you have business links through your GP3 team. Is it not strange that there was not more direct communication with you at either Turkey or Silverstone?
MW: I think that this is a team that is still growing. It is achieving some amazing things for how long we have been together as a group. And all of us are learning along the way. There have been some very smooth waters, with winning races and designing sensational racing cars. And there have been some choppy waters here and there, and that is inevitable at this level.
You can look back with 20/20 vision and say, okay communication here or there, and different things we could have done - I could have done, we could have done, lots of us. But that didn't happen and the most important thing is that you learn from them and go forward.
Q. Do you really believe the team has learned from the two big situations this year?
MW: Yes, I do. Both were very different. The one in Turkey obviously was a bigger mess, because obviously we lost some points with that - and it was two drivers making contact. The one at Silverstone wasn't a massive deal, but my comments after the race did not help that.
Q. Were you not aware that your comments could be broadcast? Had you not considered that?
MW: Of course. If I had an opinion, and they could ask, 'Mark, do you want that to go out?' then probably you would say no. But it did. There has been a lot worse going out than that, though.
Q. The team has had two situations, and you've also had two tricky situations - Australia and Valencia. You say the team has learned from its two. Have you learned from your two?
MW: Certainly, as always, with any incident you try and learn from it. You are always going to have incidents when you race cars, but you want to try and keep them to a minimum. The one with Heikki [Kovalainen] was a very freakish one, and one that you don't want to happen again. The one with Lewis [Hamilton in Australia], I got in there a bit deep and Lewis was trying to cut back and get past Fernando [Alonso] on the way, so there were three of us trying to get into that corner where it is greasy on the inside. It looked clumsy in the end, and I wasn't happy that it happened, but you always try and learn from your mistakes.
Q. One of the things that has been said is that if you look at the points lost by Red Bull Racing this season, is there a case of the team not wanting to win the title this year? It may sound a crazy question, but a team with slower cars is leading the championship.
MW: Of course we do. They [McLaren] are slower cars on Saturday, but you don't get points on Saturday. There were a few races where they have been a match for us if not better. Yes we have undoubtedly given points away, but it is not like in Turkey we were cruising at the front and tripped over each other. And in Canada we got what we deserved.
Q. And your qualifying advantage. Do you put that down to tyre usage?
MW: Drivers! We just can't drive that fast for two hours!
No. We've got some very good advantages at times for sure. We would like to have hit all of those 1-2 results with 1-2 finishes, but it is impossible. You cannot finish every race in first and second. McLaren have had a phenomenal run in the last few races, and that won't continue either. Statistically it just doesn't happen. Ferrari will come back and we may have a few bobbles. That is just the way it goes.
Access even more news on Autosport.
Register for free to increase your monthly limit from 15 to 25 stories - or subscribe today and get unlimited access.
Get unlimited news
Full access to our news and in-depth Autosport Plus features - all in an ad-free enviroment.
Subscribe to Autosport Plus
Get 10 free extra stories
A quick upgrade and you'll boost your monthly news limit instantly - for free.
Register for free