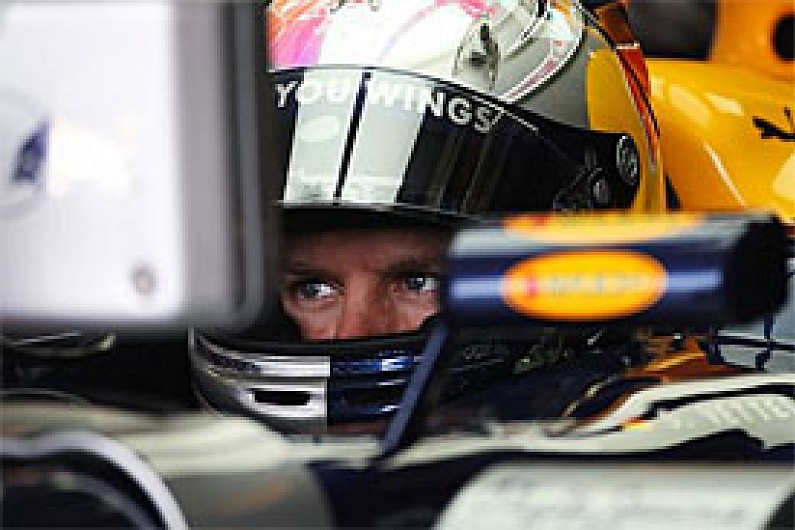 Sebastian Vettel set the pace in the opening practice session ahead of this weekend's British Grand Prix.
The Red Bull driver finished three tenths clear of Lewis Hamilton's McLaren, but the 90-minutes were more about drivers learning Silverstone's new Arena layout than about setting fast times.
Most spent as much time getting to grips with the new Silverstone layout as they did fine-tuning their set-ups. Several experienced problems with a bump at the turn-in of the new Abbey right hander, and also with the slippery surface in the new Village loop.
Michael Schumacher was first to spin off at Village, losing the rear end of his Mercedes on the way in and spinning off to the outside. He made the same mistake two laps later, but was far from the only driver to hit trouble there. Hamilton ran wide and off the road at the same place, as did Felipe Massa, Nico Hulkenberg, Adrian Sutil and Fairuz Fauzy.
The bump at Abbey caused more problems as drivers experimented with different set-ups, lifting and even downshifting to attempt to keep the car settled on the entry to the quick right-hander.
Hamilton, Schumacher, Paul di Resta, Timo Glock and Karun Chandhok were those disturbed the most. Hamilton was quicker than Vettel's best time on several occasions, only for mistakes in the new section to ruin his laps.
Fauzy had spent the first hour of the session in the pits after a fire in the airbox of his Lotus earlier this morning. Glock also only got out for the last half hour due to a fuel pressure problem, while Lucas di Grassi completed just 10 laps in the other Virgin car.
Robert Kubica's Renault ended the session third fastest, ahead of Mark Webber, Sutil and Nico Rosberg.
Di Resta ended practice 14th on his latest run for Force India, while Fauzy set the 23rd quickest time once he joined in. Sakon Yamamoto, in at HRT in place of Bruno Senna, was 24th.

Pos  Driver         Team                   Time              Laps
 1.  Vettel         Red Bull-Renault       1:32.280             22
 2.  Hamilton       McLaren-Mercedes       1:32.614  +  0.334   16
 3.  Kubica         Renault                1:32.725  +  0.445   21
 4.  Webber         Red Bull-Renault       1:32.747  +  0.467   23
 5.  Sutil          Force India-Mercedes   1:32.968  +  0.688   18
 6.  Rosberg        Mercedes               1:33.318  +  1.038   21
 7.  Hulkenberg     Williams-Cosworth      1:33.377  +  1.097   19
 8.  Button         McLaren-Mercedes       1:33.519  +  1.239   20
 9.  Schumacher     Mercedes               1:33.955  +  1.675   18
10.  Barrichello    Williams-Cosworth      1:34.016  +  1.736   17
11.  Buemi          Toro Rosso-Ferrari     1:34.132  +  1.852   21
12.  Petrov         Renault                1:34.365  +  2.085   22
13.  Alonso         Ferrari                1:34.490  +  2.210   20
14.  di Resta       Force India-Mercedes   1:34.580  +  2.300   22
15.  Kobayashi      Sauber-Ferrari         1:34.710  +  2.430   16
16.  de la Rosa     Sauber-Ferrari         1:34.901  +  2.621   17
17.  Massa          Ferrari                1:35.037  +  2.757   21
18.  Alguersuari    Toro Rosso-Ferrari     1:35.318  +  3.038   27
19.  Kovalainen     Lotus-Cosworth         1:36.747  +  4.467   16
20.  Glock          Virgin-Cosworth        1:37.330  +  5.050   11
21.  di Grassi      Virgin-Cosworth        1:37.518  +  5.238   15
22.  Chandhok       HRT-Cosworth           1:38.735  +  6.455   21
23.  Fauzy          Lotus-Cosworth         1:39.510  +  7.230   11
24.  Yamamoto       HRT-Cosworth           1:39.673  +  7.393   27

All Timing Unofficial