Williams will hand both its Formula 1 drivers a "powerful" upgrade for the British Grand Prix which it has been alternating across its cars so far this season.
George Russell got use of the developments in last weekend's Hungarian GP and proved its potential as he secured 12th place on the grid, out-qualifying the Red Bull of Alex Albon as a result.
The Grove-based outfit has been pushing hard to bring improvements to its car, but it has been limited to just one set of a package that it thinks shows great promise.
Reflecting on how qualifying played out for the team at the Hungaroring as it got both cars in to Q2, Williams' head of vehicle performance Dave Robson reckoned that the parts were key in helping Russell - and explaining why Latifi could not match him.
"The cars are a little bit different - and with the media not being here or the photographers not being here, not everyone has picked it up," explained Robson.
"We've had an upgrade that has been alternating on one car and then the other for the last couple of races, as we've only had one set.
"George has got that this week and I think that probably played the part.
"It is quite powerful here, so probably Nicholas was always going to find it a little bit harder here relative to George.
"That is why he felt the need to really go for broke in a Q2 lap, but it didn't quite pay off."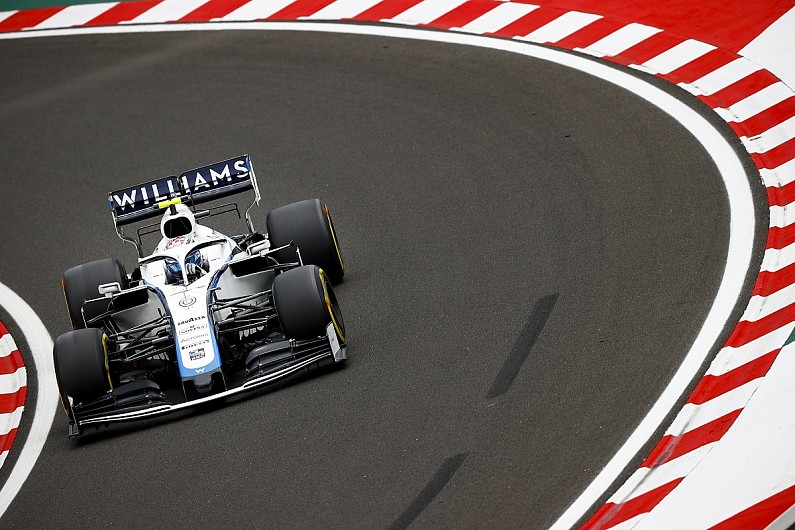 Robson did not elaborate on what the upgrade package was, but its cars have been seen running with a host of new components so far this season.
In Austria it evaluated a slimmer suspension upright extension, as it looks to make aerodynamic gains without losing structural integrity.
The team has also been spotted running a fin on the right-hand side of its FW43, which is an interesting asymmetric feature given it has an air-to-air intercooler on one side of the car and a normal engine coolant radiator on the other.
In Hungary, these chassis wings have been extended to being used on both sides.
Williams is unable to define exactly how big the advantage of the upgrade is, but knows it is good enough to have decided to get in on both cars from the British Grand Prix.
Asked about the time difference with it, Robson said: "They have been alternating it. We had wet qualifying [in Austria] so it is hard to say, but I think that having both experienced it on and off, they are very convinced that it is a clear advantage.
"So they will both be furnished with it in the next race at Silverstone. But I couldn't put a number on it."