Daniel Ricciardo says his former Red Bull Formula 1 team-mate Sebastian Vettel will only need one strong race to bounce back from his difficult 2019 season with Ferrari.
Ferrari was able to make the most of its straightline speed advantage at Spa and Monza to take back-to-back victories through Charles Leclerc, raising further questions about Vettel after he entered the season as Ferrari's team leader.
Vettel's habit of making mistakes has also put him just three penalty points away from a race ban after earning nine points on his license in the last year.
Ricciardo partnered Vettel at Red Bull in 2014 after graduating from Toro Rosso and took all three of Red Bull's victories in that campaign, playing a part in Vettel's move to Ferrari for the following year.
When Ricciardo was asked if Vettel could recover from his difficult spell of form, he said: "Yeah I think he absolutely [he can].
"[I'm] probably a decent one to answer for it because it's in times, in a similar position to maybe where he was in 2014 and he bounced back.
"I think [in the] second race in 2015 he won in Malaysia, if memory serves.
"He has the ability to bounce back, and all it will take is one race."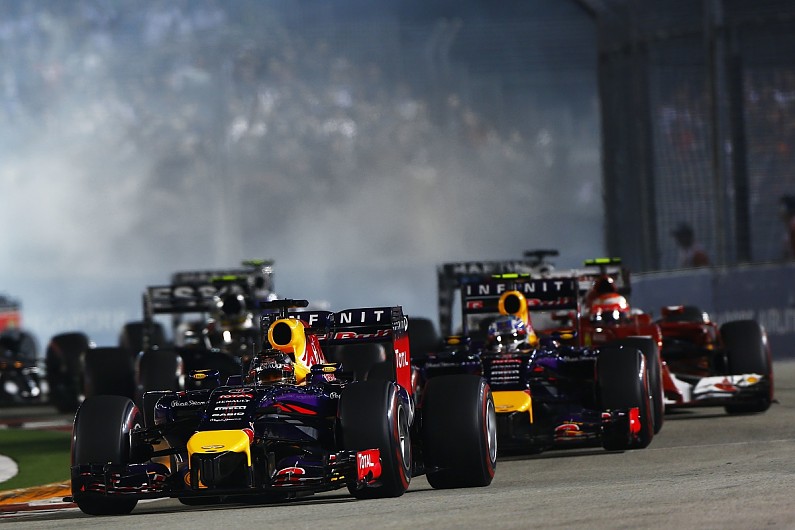 Ricciardo added that Vettel's season could have changed for the better if his Canadian Grand Prix victory had been allowed to stand.
Vettel lost what would then have been his and Ferrari's first win of the season after being judged to have rejoined unsafely and forced Lewis Hamilton off-track following a mistake while leading the race, handing victory to the Mercedes driver.
"I think it's been a bit of an effect [Vettel's poor run], [and] it probably started - trying not to speak for him - in Canada.
"Obviously the controversy there it could've been his first win of the year.
"If that got done differently, it could've changed the whole outcome of these next few races. You never know."
Vettel has taken four wins at the Singapore Grand Prix - tied for the most alongside Hamilton - with his last win coming in 2015.
"In the past, he's always been strong here in Singapore, so this could be the weekend for him that he does turn it around," said Ricciardo.
"It's just one [example] where he's one race from turning it around. Obviously there's a lot of things to deal with in this sport, especially when you're at the top.
"It's not just talent anymore, it's pressure, it's headspace, where you're at in your personal life and all this.
"You don't lose your talent, so can he still drive very fast? Absolutely, and I think he's just waiting for that weekend to put it together and get himself back.
"It could very well happen this weekend."