Ex-Mercedes driver and 2016 Formula 1 champion Nico Rosberg says the penalty Ferrari's Sebastian Vettel was awarded in the Canadian Grand Prix was 'absolutely fully deserved'.
While the majority of fans appeared to side with Vettel that the FIA was wrong to punish him for rejoining the track in an unsafe manner and forcing Lewis Hamilton off the circuit, Rosberg has an alternative view.
Speaking on his YouTube channel, Rosberg said: "Vettel was screaming, 'I had dirt on my tyres, I was out of control, where do you want me to go? I was struggling to control the car, and I couldn't see Lewis.'
"Okay, great. But Lewis is there. The rule says when you go off the track, you need to rejoin safely.
"So Vettel went all the way across and I think he could have easily left a little bit more space, especially in the latter phase like after Lewis started braking.
He could easily have left more space, but he didn't.
"He went right, right, all the way there and left hardly any space to Lewis.
"And so Lewis saw it as a dangerous situation because Vettel was coming more and more, so he had to back out of it.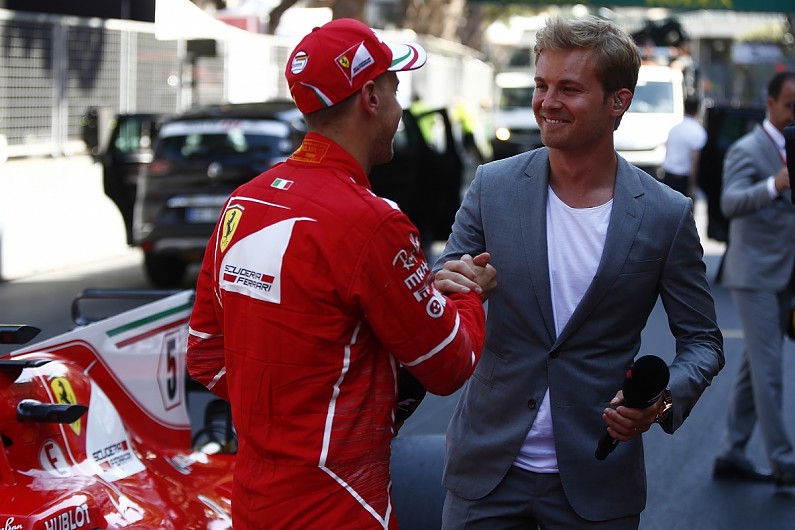 "I looked at the replay many, many times.
"Lewis would have been in the wall had he stayed there because right afterwards Vettel continued to move over more and more and it was so tight that Lewis would have touched either Vettel or the wall.
"So it is very, very clear that unfortunately it was an unsafe return to the track.
"That is the rule. You have to return safely and that is the way it is. A penalty is deserved in that case.
"Absolutely full[y] deserved penalty."
Rosberg said he had spoken to his father Keke about the incident, and that Keke had said it was 'probably 60/40 - 60 penalty, 40 not'.
Nico Rosberg was also critical of the way that Vettel let the emotions intervene as he still had a chance of winning after the penalty, according to his compatriot.
"Instead of complaining on the radio when a decision is made, which you know you cannot influence any more any way, he just keeps complaining and complaining rather than just focusing on the damn driving and trying to get those five seconds out, when he was already at 3.3 seconds," he added.
"Damn! Like, just focus - and nail those laps.
"You have a chance there still to win this thing.
"That was a weakness again from Vettel.
"He has such strong self belief and always thinks that he is in the right, and then always wants to blame other people.
"And then he just loses focus in those moments, and doesn't make the most of it.
"That was not great to see from him. And then after the race, all those gestures and disrespectful comments calling the stewards 'blind' men and all that.
"It is just unnecessary. It is not very good."