Renault Formula 1 driver Nico Hulkenberg was left "a bit upset" after the team ordered him to stay behind Daniel Ricciardo in the Canadian Grand Prix, says Cyril Abiteboul.
Hulkenberg made his sole pitstop eight laps after Ricciardo, and seemed to have more pace in hand at the end of the race - closing in on his team-mate after Ricciardo had been passed by Red Bull's Max Verstappen.
But the two Renault drivers remained in formation from then on to the chequered flag, with Ricciardo crossing the line just four tenths ahead of Hulkenberg to secure sixth place.
Abiteboul and Hulkenberg were seen in discussion outside the Renault motorhome after the race, and when subsequently asked whether the German was upset about the team's decision, Abiteboul said: "He's a bit upset. And I understand why he's upset."
Abiteboul confirmed to Autosport that the team had intervened in its drivers' late-race battle, ordering them to maintain position.
"Daniel was on slightly older tyres than Nico, also because he had a go at a couple of fast cars, clearly his tyres were not in such a good shape," Abiteboul explained
"Probably Nico would have had the pace to overtake him, but frankly we said 'we need that result'.
"I don't like to have to do that, it's not the style of the team, that's something that we don't intend to do on many occasions.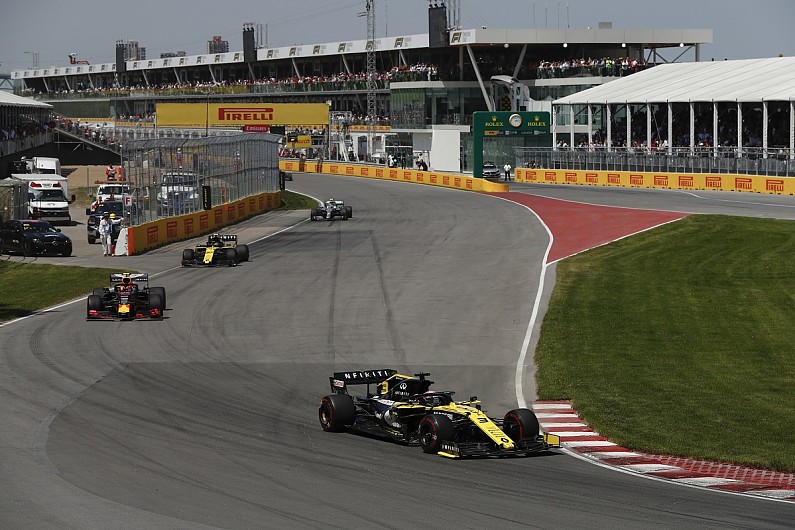 "I wanted to make sure that the team's back in the game, and the drivers will also be back in the game, their own game, from next week onwards - but for this weekend it was important to get back as close as possible to the team that's still fourth, which is McLaren."
The 14 points Renault picked up in Canada doubled its points tally for 2019, elevating it from eighth to fifth in the constructors' standings.
Renault had endured a difficult start to the season, but is now just two points behind its fourth-placed customer team McLaren - which failed to score in Montreal.