Red Bull Formula 1 driver Pierre Gasly has been penalised for impeding Romain Grosjean in the second segment of qualifying for the Monaco Grand Prix.
Grosjean was baulked by Gasly in the closing stages of Q2 exiting the Casino Square right-hander, prompting an expletive-filled radio rant from the Haas driver, who complained: "Honestly, people don't give a shit".
The incident cost Grosjean a final chance to improve his lap time and left him consigned to 13th on the grid, as he was eliminated in Q2 while team-mate Kevin Magnussen advanced to the final segment.
Gasly had advanced too, and ended up qualifying in fifth place, one spot ahead of Magnussen.
But after hearing from Gasly, Grosjean and their respective team representatives, the stewards imposed a three-place grid penalty on the Red Bull driver, as well as awarding one penalty point on his licence.
"The driver of car #8 [Grosjean] had to brake hard to avoid colliding with car #10 [Gasly], which was clearly going slowly on a preparation lap, and was on the race line," the stewards' decision read.
"At the time car #8 was clearly the only car on a fast lap in the area, and while the stewards accepted that it was unlikely that the driver of car #10 had any opportunity in that sequence of turns to see car #8, the team admitted that they had failed to give any warning."
Grosjean later defended Gasly, saying the incident was purely down to the Red Bull driver not being informed.
"Poor guy, he wasn't told anything," said Grosjean.
"They almost sent him to the moon and it has got big, big consequences for me because I could've made it into Q3 and obviously I ended up in 13th
"I think Red Bull massively fucked up that one. Pierre couldn't do anything."
The penalty demotes Gasly to eighth on the grid, as he is moved behind Magnussen, Renault's Daniel Ricciardo and Daniil Kvyat from the sister Toro Rosso team.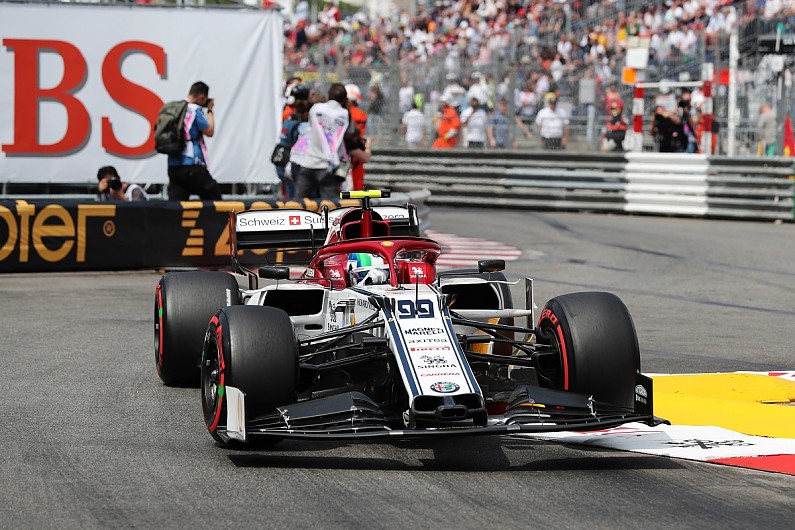 Alfa Romeo's Antonio Giovinazzi was another driver to incur a three-place grid penalty and one point on his licence.
Giovinazzi was judged to have "unnecessarily impeded" Nico Hulkenberg in the opening qualifying segment at Rascasse.
The stewards accepted that Giovinazzi was "warned exceptionally late" about Hulkenberg coming up behind him, but ruled that the Italian "had the opportunity to give more room regardless of whether he received a warning from the team".
The incident happened early in Q1, with both drivers still able to progress into the second segment.
Giovinazzi ended up qualifying 15th, and will now be moved behind Ferrari's Charles Leclerc and the Racing Point duo of Sergio Perez and Lance Stroll on the grid on Sunday.
Like Grosjean, Hulkenberg also felt that his incident was down to poor team information to the driver that who baulked him.
"Basically the team told him way too late, and as a driver, it's not very forgiving that, because with these bends here you cannot see a car coming," said Hulkenberg of Giovinazzi.
"It was not really his mistake, but it didn't really help my Q1."