Nikita Mazepin topped the second and final day of the final in-season Formula 1 test of 2019 at Barcelona.
Mazepin, having his first runout in the 2019 Mercedes after a private test programme in the '17 car, set a best time of 1m15.775s on the final afternoon using the C5 Pirellis.
The Formula 2 driver completed a series of performance runs in the afternoon, eventually breaking the 1m16s barrier on his final quick lap with 25 minutes remaining.
His time was only 0.264 seconds off fellow Mercedes driver Valtteri Bottas's fastest time of the test overall, set on Tuesday.
Toro Rosso driver Alex Albon prevailed in a battle for second place using C5 rubber with Ferrari's Antonio Fuoco in the final half-hour.
Albon initially jumped up to second with around 30 minutes remaining before Fuoco displaced him 13 minutes later.
Albon then immediately reclaimed the position with a lap 0.205s quicker to make sure of second, before causing a red flag that ended the day with nine minutes remaining when he stopped in the vicinity of Turn 10.
Charles Leclerc was fourth fastest in the Pirelli test Ferrari, using unmarked development tyres.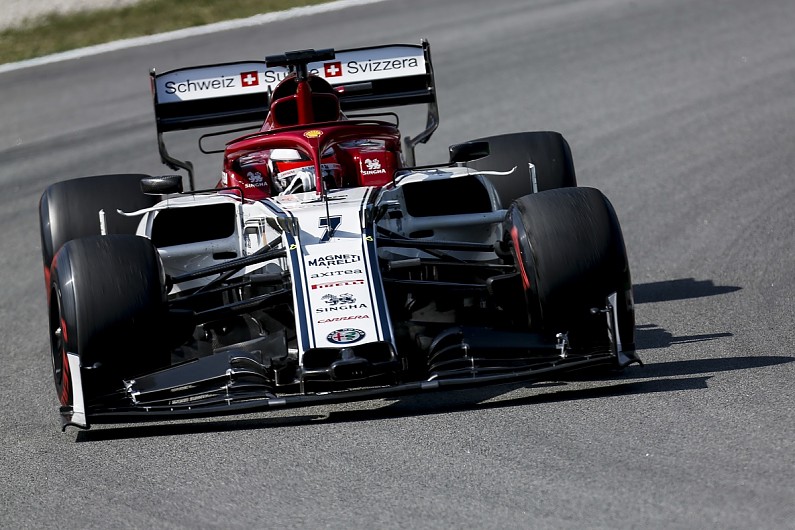 Alfa Romeo driver Kimi Raikkonen was fifth fastest, just 0.044s slower than Leclerc.
Renault test driver Jack Aitken was sixth, 1.846s off the pace using C5 rubber on a series of performance laps in the closing stages of running.
Haas driver Kevin Magnussen's fastest time from the morning's running, using the C3 Pirellis, put him seventh fastest after he failed to improve in the afternoon.
Racing Point simulator driver Nick Yelloly moved up to eighth in the afternoon, and lapped 0.361s faster than the Williams of Nicholas Latifi.
Dan Ticktum completed the top 10 for Red Bull with his time on C3s, 1.077s quicker than McLaren morning driver Oliver Turvey, who handed the car over to F2 race winner Sergio Sette Camara in the afternoon.
Sette Camara managed only 19 laps, setting the 13th-fastest time of the day 5.790s off the pace, before stopping on track with a technical problem and causing the only red flag of the afternoon other than Albon's stoppage.
That put him behind the second Pirelli test car, the Racing Point of Lance Stroll.
Wednesday times
| Pos | Driver | Car | Time | Gap | Laps |
| --- | --- | --- | --- | --- | --- |
| 1 | Nikita Mazepin | Mercedes | 1m15.775s | - | 128 |
| 2 | Alexander Albon | Toro Rosso/Honda | 1m17.079s | 1.304s | 110 |
| 3 | Antonio Fuoco | Ferrari | 1m17.284s | 1.509s | 120 |
| 4 | Charles Leclerc | Ferrari | 1m17.349s | 1.574s | 127 |
| 5 | Kimi Raikkonen | Alfa Romeo/Ferrari | 1m17.393s | 1.618s | 110 |
| 6 | Jack Aitken | Renault | 1m17.621s | 1.846s | 75 |
| 7 | Kevin Magnussen | Haas/Ferrari | 1m18.101s | 2.326s | 106 |
| 8 | Nick Yelloly | Racing Point/Mercedes | 1m18.212s | 2.437s | 83 |
| 9 | Nicholas Latifi | Williams/Mercedes | 1m18.573s | 2.798s | 88 |
| 10 | Dan Ticktum | Red Bull/Honda | 1m19.458s | 3.683s | 79 |
| 11 | Oliver Turvey | McLaren/Renault | 1m20.712s | 4.937s | 52 |
| 12 | Lance Stroll | Racing Point/Mercedes | 1m20.745s | 4.970s | 119 |
| 13 | Sergio Sette Camara | McLaren/Renault | 1m21.565s | 5.790s | 19 |