Lewis Hamilton says he is still struggling to unlock the one-lap pace of his Mercedes Formula 1 car compared to team-mate Valtteri Bottas.
Hamilton has taken pole position only once so far in 2019, for the Australia Grand Prix season opener, and has lost out to team-mate Valtteri Bottas in the qualifying for the last three races - although Hamilton has won three grands prix to Bottas's two.
The five-time world champion said he and Bottas are running essentially the same set-up, and that his issues are therefore not down to personal choices.
"The cars are pretty much set the same," Hamilton said when asked by Autosport.
"So that's how I drive the car, I drive the tyres slightly differently in the race, and often I'm able to eke them out a little bit more, longer.
"That currently is still a benefit and advantage.
"The car is obviously great, but I've generally struggled [in qualifying] since Australia, had similar kinds of problems since Australia.
"When I get things right, it should be different to that. Valtteri has settled nicely into the car, he's quite happy.
"There are definitely areas I'll continue to focus on at the factory and this week, so I'll be dialling in to try to really understand.
"I'll go round and talk to different departments, engineer-wise, and try to create as much data and information as possible so I can apply it better in the next race.
"Friday and Saturday have not been great days for me, so the goal is to improve on that.
"The races have been really strong, performance-wise, and purely delivering on Sunday, I've been really happy."
Hamilton leads the drivers' championship after wins in Bahrain, China and last weekend in Spain.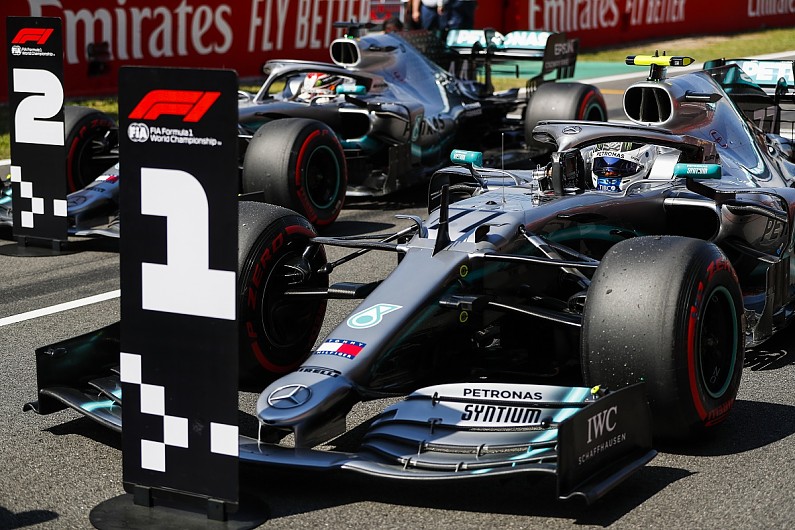 But he reckons team-mate Bottas is "performing better than ever", which is keeping the pressure on him to resolve his one-lap pace deficit.
"The closest car to you is the one that is always the biggest threat," said Hamilton.
"At the moment it's still too early, but naturally the closest person is Valtteri, so I have to keep delivering, especially as he keeps pulling out really quick laps through the weekend.
"He's performing better than ever.
"So I think it's great for the team, he truly deserves his position in the team, and I think it's really great to see him step up again to another level this year."