Nico Hulkenberg says his Renault Formula 1 team must get on top of its reliability problems "sooner rather than later" after a second consecutive retirement in the Chinese Grand Prix.
Both Hulkenberg's retirements in the Bahrain and Chinese GPs were related to his MGU-K, with the Sakhir stoppage particularly costly after Daniel Ricciardo also stopped at the same time. (https://www.autosport.com/f1/news/142772/hulkenberg-issue-related-to-renault-mguk-change)
Renault had provided an upgraded MGU-K in China and Ricciardo had a trouble-free run to seventh place and his first points of 2019.
The team believes that Hulkenberg's retirement was a result of a software problem related to the change of MGU-K spec and that the revised hardware itself is not at fault. Hulkenberg has urged Renault to resolve its problems.
"It's not good news," said Hulkenberg. "We really have to get on top of these things, because we're costing ourselves results, experience and points.
"I think we know that we have homework to do on that side. We need fixes rather sooner than later." Hulkenberg said he had attempted to resolve the problem by making adjustments suggested by his engineer.
"It happened a couple of laps before I stopped, but we couldn't fix it, so the team asked me to park the car," said Hulkenberg.
"I lost power and it didn't go anywhere. It looks like it's related to the MGU-K again, unfortunately.
"So it looks like we have more work to do there."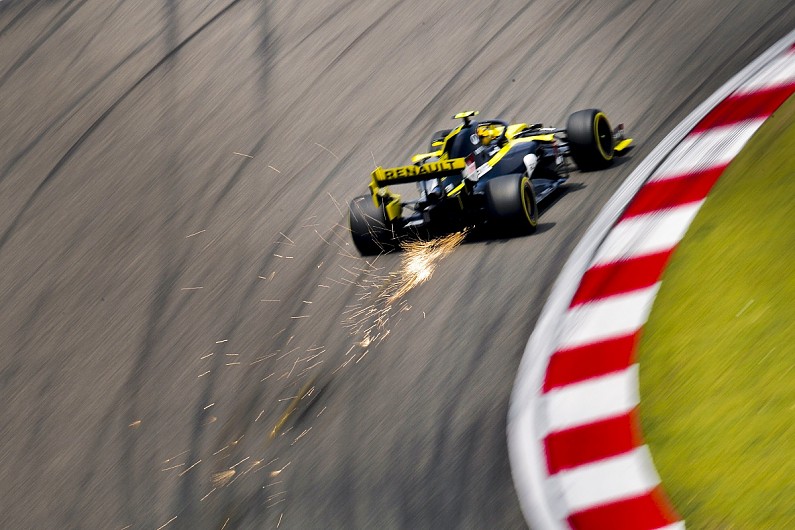 Hulkenberg had qualified eighth behind Ricciardo and then lost a place to Racing Point's Sergio Perez at the start.
An early stop then dropped him down the field before his retirement and Hulkenberg admitted he was set for a difficult race.
"It wasn't looking entirely OK. Unfortunately, I lost a position to Checo during the first lap, and then just sitting in traffic was really tough for me," said Hulkenberg.
"Following another car today was impossible, you were just sliding. We all kind of had the same pace, so it was really difficult.
"Then I pitted, a slow pitstop, and I came out on traffic, so it would have been a difficult recovery anyway."