Fernando Alonso hopes to understand the "limitations" of McLaren's 2019 Formula 1 car next week, even though the team might have "more interest than myself" in him testing in Bahrain.
The two-time world champion will drive a contemporary F1 car for the first time since the 2018 season-ending Abu Dhabi Grand Prix when he takes part in Pirelli's tyre testing programme for McLaren next Tuesday and Wednesday.
Alonso's testing opportunity has arisen through a new ambassadorial and advisory role he has taken on for McLaren after stepping away from F1 at the end of last year.
He drove an older, Mercedes-powered McLaren during a car swap with NASCAR star Jimmie Johnson in Bahrain the day after the Abu Dhabi finale, but the Pirelli test will give Alonso genuine on-track development work to do.
However, he has made it clear that sampling McLaren's current MCL34 for the first time is not part of a considered plan to return to F1 next year.
"In my case obviously it's more a test for myself to go back to this driving style, to understand a little bit the car," Alonso said.
"And the limitations of the car, if the tyres allow me to feel the limitation [and] what the limitation is - which part of the corner are we strong, which part of the corner are we weak.
"Maybe the team has more interest than myself being in the car."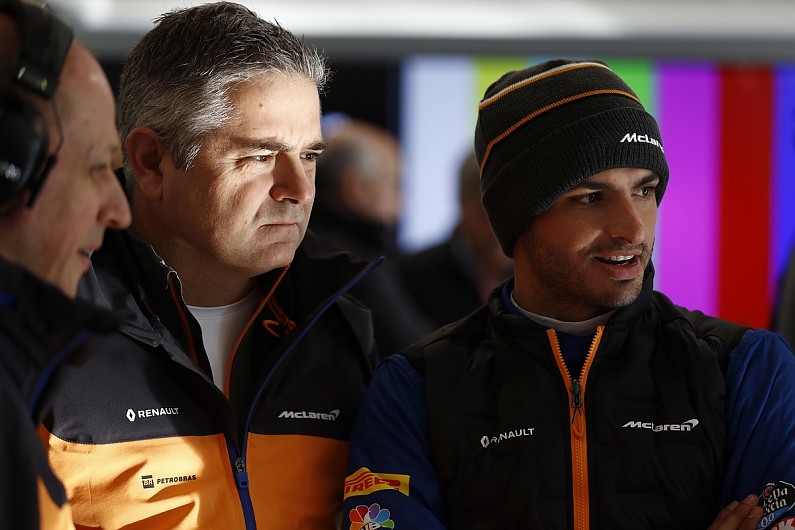 McLaren sporting director Gil de Ferran said Alonso had "hit the nail on the head".
"The opportunity came up to do a test early in the year," he said.
"Fernando has obviously been driving McLaren cars for quite a few years now, so having his feedback on how this year's car is nothing but beneficial to the team."
Alonso admitted that he has not been closely involved in McLaren's F1 efforts so far thanks to a busy 2019 schedule that has included winning the Daytona 24 Hours, the Sebring World Endurance Championship round and testing a Toyota Dakar machine.
He jokingly pointed out that his two days working with McLaren left them top of the times in Barcelona, having been present when Carlos Sainz Jr and Lando Norris each went quickest in pre-season testing, but said he was committed to helping beyond next week's test as well.
"I'm part of the McLaren family and whatever contribution can help the team, I'm happy to do it," he said.
"I will be in the car on Tuesday and Wednesday but I will be here from now until Sunday and hopefully giving some input.
"If I see something in the race or set-up, or hear something on the radio I can understand differently compared to what an engineer can understand from the drivers.
"It's not only testing. Whatever help, 360 degrees, I can give, I will be happy [to]."