Formula 1 cars' floors are the latest area where teams have been exploring unique technical concepts.
Ferrari first raised some eyebrows at the United States Grand Prix when it fitted a series of fins to the floor's outside edge.
These fins, and the slots they enhance, sit in an area of the car that was not amended when the 2017 regulations were conceived. This has allowed teams to exploit some regulatory weakness.
These appendages are expected to drive and improve the airflow passing through the slots, increasing the vorticity already present.
This helps to 'seal' the edge of the floor from the turbulence created by the front tyres ahead, and improves the yield of the diffuser behind.
One other potential benefit unique to Ferrari has been the way the fins could help divert rubber debris from a new slot that appeared in front of the rear tyres - and had got blocked by tyre marbles during practice in Japan.
But the new floor has proved tricky to gauge by the team, as it tested it in both United States and Mexico practice but elected against racing it because it could not be sure of performance benefits.
Getting to the bottom of why what has looked promising in the windtunnel has not transferred across to track will be critical for Ferrari over the next few weeks.
Ferrari's idea has still been jumped on by rivals - as Red Bull copied the concept for its own tests in Mexico.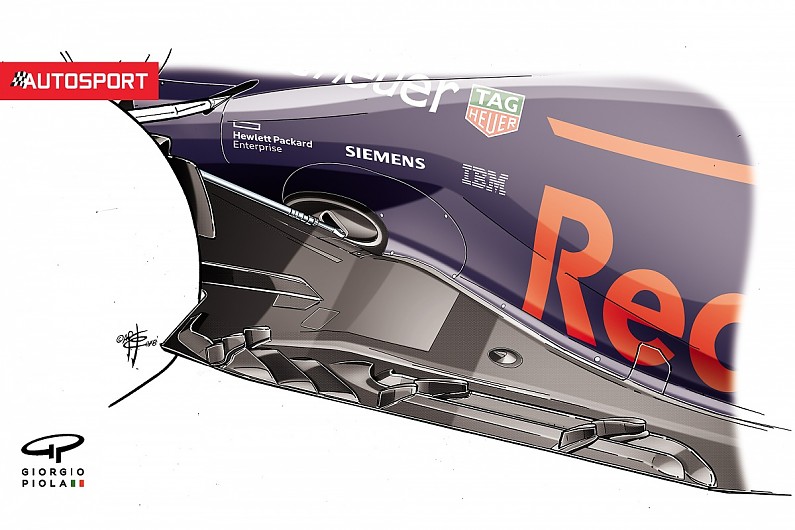 Far from refined, but available in record time, the vertical fences were flown in having been rapidly prototyped back at the Milton Keynes factory and were glued to the Red Bull's floor.
Having reportedly seen some interesting figures during the fences' first tests in CFD, the team was keen to capture some real world data and fitted the fins to Max Verstappen's RB14.
Unlike the Ferrari, which features three longitudinal floor slots, the Red Bull only has two, meaning that two pairs of fins were used to match the slot arrangement toward the front of the floor. A triple fin arrangement - the same as Ferrari - was favoured ahead of the rear tyre.
Red Bull only used the fins for a test in Friday practice and it remains to be seen whether either it or Ferrari will resurrect the concept in the remaining 2018 grands prix.