The Mercedes Formula 1 team says the hydraulic failure that stopped Valtteri Bottas in final Mexican Grand Prix practice was a problem not seen "for many years".

Bottas was forced to stop on track in the Saturday morning session and Mercedes then had to change his engine from the older specification he was using to a newer version already in his pool and used a week earlier at Austin.

Mercedes motorsport boss Toto Wolff said the team was confident its title contender Lewis Hamilton was not at risk of similar problems in the race.

"The failure we have seen on Valtteri's engine is a failure we haven't seen for many years," said Wolff.

"You can call it an unusual failure, with mileage where it shouldn't have happened, so we need to investigate. The engine is going to go back to England.

"We've just heard that Valtteri's reliability issue shouldn't affect Lewis's engine.

"Nevertheless, it is a reminder how fragile the situation is, and how much everybody is pushing in order to extract performance.

"Reliability will continue to play a crucial role in this championship, and that's why [Sunday] is about finding the right focus in finishing the race with the best possible performance."

Wolff stressed that Mercedes could not be too complacent about sealing the title on Sunday, when Hamilton will be champion unless Sebastian Vettel outscores him by 21 points. They start side by side on row two with Hamilton ahead.

"We have it in our hands with having a good result with Lewis that could be the decisive result for his championship, with emphasis on 'could'," said Wolff.

"It's not done yet, we mustn't drop the ball.

"It's about actually carrying the ball over the line, and this exercise needs to happen [on Sunday], or in Brazil.

"This is why none of us really wants to speak about the championship, and just really concentrating on task at hand."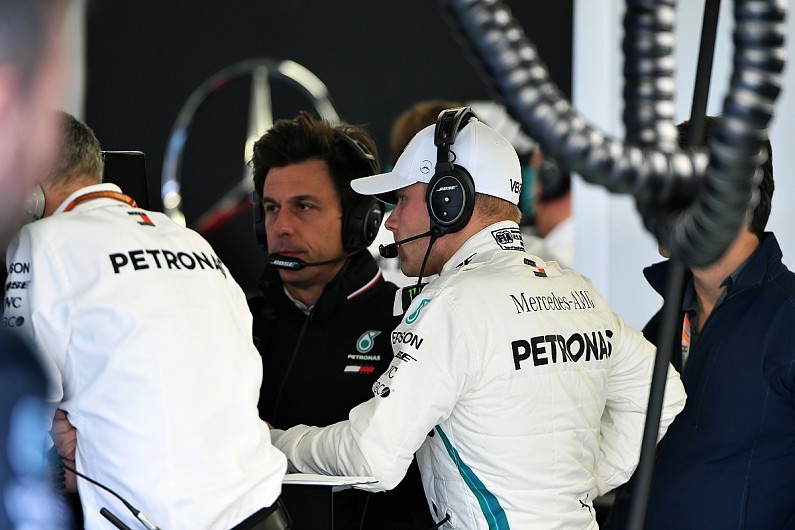 Wolff added that Mercedes did a good job to deal with the late change of engine specification for qualifying, which was made more complicated than usual by the special requirements of the high altitude in Mexico.

"The HPP guys and the mechanics have done a really incredible job in first of all putting the engine onto the car in time, and then calibrating it so it can run here on the Mount Everest," he joked.

"That is not trivial. Valtteri said he couldn't feel a big difference and that's really making me very happy."

Bottas was relieved just to be able to participate in qualifying, where he claimed fifth on the grid.

"It wasn't ideal that I only really had one lap in FP3," he said.

"And it was pretty busy between the sessions, but they got the car back together.

"We had to go to another engine, but a good job on that. The car felt OK, so everything was fine."