Max Verstappen topped the final Formula 1 free practice session for the Mexican Grand Prix.
The Red Bull driver, whose hydraulic problem on Friday was caused by two wires rubbing together that caused a hole in a pipe, completed a clean sweep of practice by setting a best time of 1m16.385s with three minutes remaining using hypersoft Pirellis.
Despite complaining his front tyres were not up to temperature on that lap, this was enough to give him top spot, and he subsequently improved to a 1m16.284s as he took the chequered flag.
Lewis Hamilton was second fastest, 0.254 seconds down and just ahead of the Ferrari of Sebastian Vettel.
The session started in cool conditions but with the track damp following rain.
The majority of drivers went out for tentative installation laps in the early stages, mostly using intermediate rubber, Hamilton taking the chance to wave to the crowd as he rolled round.
It wasn't until there were 28 minutes remaining that anyone posted a time, with McLaren driver Fernando Alonso briefly going fastest during the early flurry of times being set on slick rubber.
Alonso, Kimi Raikkonen, Stoffel Vandoorne and Charles Leclerc were among the drivers to have spells at the top during this phase, with the quickest lap times then coming at the end of the session once the track had dried up.
Daniel Ricciardo pipped Raikkonen to fourth fastest, with Leclerc topping 'Class B' in sixth place and just 0.775s down off the outright pace.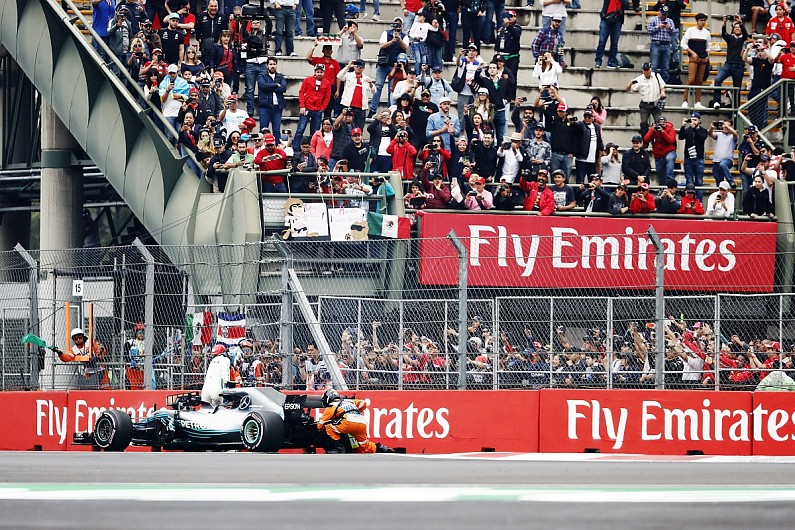 This is one place higher than the midfield leader normally occupies, because Valtteri Bottas's Mercedes ground to a halt with a hydraulic problem with 15 minutes remaining.
Team boss Toto Wolff suggested at the end of the session that this could lead to an engine swap.
Carlos Sainz Jr was seventh fastest ahead of Pierre Gasly, with Marcus Ericsson and Nico Hulkenberg completing the top 10.
Racing Point Force India pairing Esteban Ocon and Sergio Perez were 11th and 12th, three tenths ahead of Haas driver Romain Grosjean behind.
The McLaren drivers were shuffled down to 14th and 15th, Vandoorne ahead of Alonso.
Haas driver Kevin Magnussen was last, completing only one installation lap thanks to an intercooler problem.
FP3 times

| Pos | Driver | Car | Time | Gap | Laps |
| --- | --- | --- | --- | --- | --- |
| 1 | Max Verstappen | Red Bull/Renault | 1m16.284s | - | 9 |
| 2 | Lewis Hamilton | Mercedes | 1m16.538s | 0.254s | 9 |
| 3 | Sebastian Vettel | Ferrari | 1m16.566s | 0.282s | 11 |
| 4 | Daniel Ricciardo | Red Bull/Renault | 1m17.028s | 0.744s | 7 |
| 5 | Kimi Raikkonen | Ferrari | 1m17.045s | 0.761s | 16 |
| 6 | Charles Leclerc | Sauber/Ferrari | 1m17.059s | 0.775s | 13 |
| 7 | Carlos Sainz Jr. | Renault | 1m17.336s | 1.052s | 11 |
| 8 | Pierre Gasly | Toro Rosso/Honda | 1m17.525s | 1.241s | 16 |
| 9 | Marcus Ericsson | Sauber/Ferrari | 1m17.565s | 1.281s | 14 |
| 10 | Nico Hulkenberg | Renault | 1m17.623s | 1.339s | 10 |
| 11 | Esteban Ocon | Force India/Mercedes | 1m17.731s | 1.447s | 10 |
| 12 | Sergio Perez | Force India/Mercedes | 1m17.819s | 1.535s | 10 |
| 13 | Romain Grosjean | Haas/Ferrari | 1m18.145s | 1.861s | 10 |
| 14 | Stoffel Vandoorne | McLaren/Renault | 1m18.445s | 2.161s | 15 |
| 15 | Fernando Alonso | McLaren/Renault | 1m18.548s | 2.264s | 11 |
| 16 | Brendon Hartley | Toro Rosso/Honda | 1m18.637s | 2.353s | 10 |
| 17 | Sergey Sirotkin | Williams/Mercedes | 1m18.669s | 2.385s | 9 |
| 18 | Lance Stroll | Williams/Mercedes | 1m18.698s | 2.414s | 8 |
| 19 | Valtteri Bottas | Mercedes | 1m18.839s | 2.555s | 5 |
| 20 | Kevin Magnussen | Haas/Ferrari | - | - | 1 |