Sebastian Vettel does not want Ferrari to impose team orders on Kimi Raikkonen, despite Formula 1 title rival Mercedes' Italian Grand Prix instructions to Lewis Hamilton's team-mate Valtteri Bottas.
Mercedes left Bottas out on a long first stint at Monza and instructed him to keep erstwhile race leader Raikkonen behind him when the Ferrari caught the Mercedes on fresh tyres after its pitstop.
Hamilton, on even fresher rubber, then caught Raikkonen while he was stuck behind Bottas although Hamilton's eventual winning pass owed more to Raikkonen's tyre problems than the Bottas delay.
Vettel had been racing Raikkonen, who had beaten him to pole, for the lead on the first lap when he made contact with Hamilton and spun.
Asked if Ferrari had discussed how to handle the start, Vettel replied: "No, I think we are old enough and we don't need to go through the start.
"I'm doing my job and I'm prepared to race everybody.
"I was trying to use my chances in the first corner, a little bit in the second chicane, but it didn't work. Then it was a bit unfortunate with how things turned out.
"Everybody's free to have whatever approach they want. For us, it's pretty clear and straightforward."
Pushed further on whether he felt he was at a disadvantage because he had to fight his team-mate and Hamilton did not, Vettel retorted: "I don't know. Obviously I can see the points of the questions coming up.
"But for me it's pretty clear: I'm happy to fight three cars, I'm happy to actually fight 19 cars.
"I think I've never been in a different position to that. That's fine. I don't expect anything else."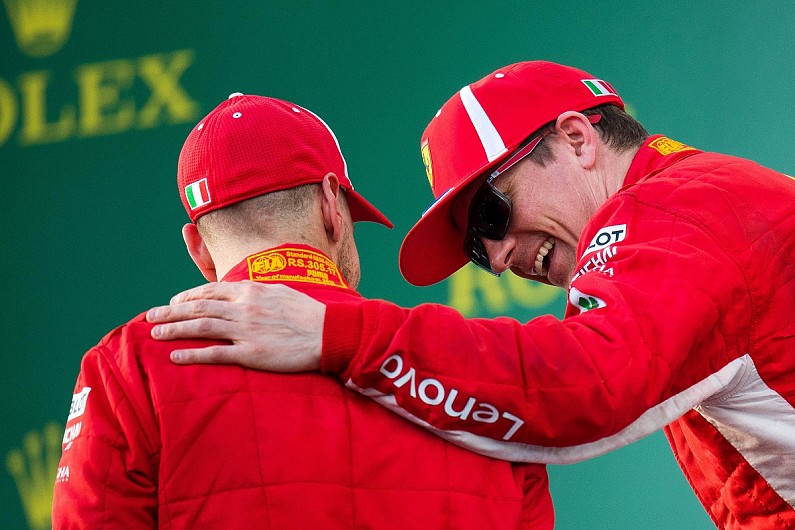 Hamilton is now 30 points clear of Vettel in the championship, with Raikkonen and Bottas 92 and 97 points off Hamilton respectively.
Mercedes had said ahead of the Italian GP that it would decide after the race whether Bottas would be moved into a support role to help Hamilton.
However, Toto Wolff sees no need to impose team orders yet because Bottas was able to help his team-mate at Monza without wrecking his own race.
Wolff said: "I don't really like team orders, they are not cool and not good for the sport, and they are not good for either driver.
"Lewis doesn't want to have anything gifted and Valtteri doesn't want to give anything up. We are looking at it from race to race.
"We discussed it [on race morning], various scenarios and there was no necessity and we will see what happens in Singapore.
"I want to push that moment back as far as possible."
Bottas has already said he would accept a request to assist Hamilton but insists he was not sacrificed at Monza, where extending his first stint helped him beat Max Verstappen to the podium.
"I don't think we really compromised my result," he said. "The points difference between me and Lewis is now very big, so I'm willing to cooperate when it makes sense."