Kevin Magnussen has hit out at Fernando Alonso following their clash in qualifying for the Italian Grand Prix, saying he "laughed in my face" and "thinks he's a god".
Alonso tried to pass Magnussen round the outside into the first chicane on the final lap in Q2, but the pair ended up scrapping for position and ruining each other's laps as they both missed out on a berth in the top 10 shootout.
The two-time champion laughed off the encounter on team radio and aimed derisive comments at Magnussen after the session, with the Haas driver now firing back.
"I don't care to speculate why he did it. I think it was just pretty stupid and not necessary," said Magnussen, who earlier this year compared Alonso's complaints to Neymar's diving in the 2018 football World Cup after they clashed in multiple sessions of the British Grand Prix.
"He thought he could have the perfect slipstream and overtake me. He gained - I don't know how many tenths - but you gain a lot if you do that.
"But I'm not going to let him pass me, and sacrifice my own lap. No way. I know he thinks he's a god, but no way."
Alonso had pointed to Magnussen passing him on the out-lap as a cause of the incident, with the Haas driver offering his take.
"We were kind of six or eight cars, in a bit of a group," Magnussen recalled. "And at the exit of Ascari, Fernando was warming his brakes, I think, so not going fast.
"And I'm going fast, so I just cruised past him. But then for some reason he decides to try and accelerate and get close to me, rather than create a gap, as everyone else is doing.
"Obviously he got a perfect slipstream and thought he could overtake into Turn 1 - but I'd rather hang myself."
Asked about Alonso's jovial reaction on the radio, Magnussen said: "He came to me after qualifying and laughed to my face.
"Just outright disrespectful. I can't wait for him to retire."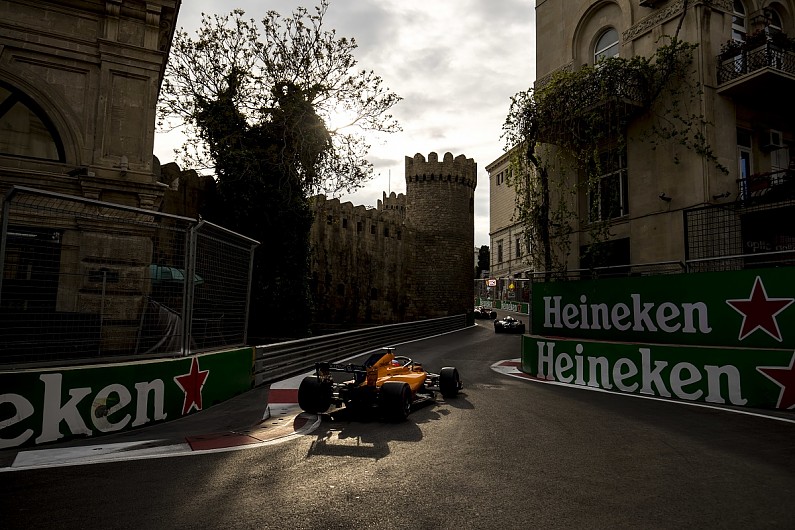 When prompted, Magnussen also commented on the Spaniard's perceived tendency to compliment himself, specifically his comments in Baku: "He's talking about his laps being divine and whatnot.
"He literally thinks he's a god. It's pretty amusing."
The stewards investigated the run-in after the session and called up both drivers, but ultimately ruled that the incident "did not specifically constitute unnecessary impeding by either driver".
"If you impede someone while you're on a push lap yourself, it's not impeding apparently," Magnussen said. "That part is the same as with Kimi [Raikkonen] in France.
"Perhaps something we need to look at. I don't really mind, as long as it's the same for everyone, it's fine.
"It'd be interested to see, if it was the other way [around], how it would be. But [I] can only speculate."